13 Iconic 'Real Housewives' Moments That Fans Will Never Forget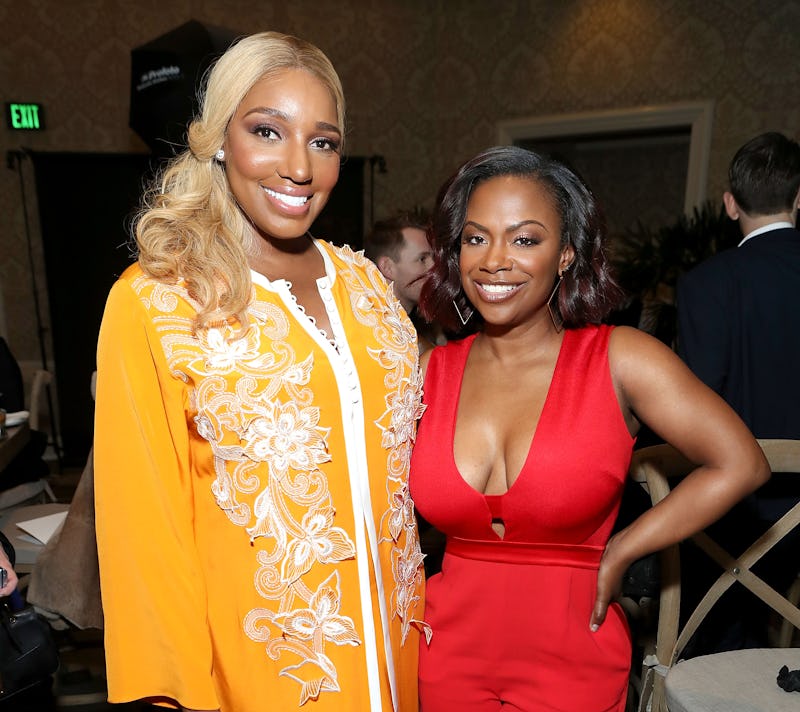 Randy Shropshire/Getty Images Entertainment/Getty Images
If you're a fan of The Real Housewives franchise, then you already know that some pretty epic things can go down when the cameras are rolling. Resulting in a number of Real Housewives moments that fans simply won't ever forget. It could be shade so real that you literally gasp, or it could involve a Housewife doing something that seems like a scene straight out of a daytime soap opera. There really is no shortage of notable Real Housewives moments to choose from.
The first Real Housewives show to premiere was The Real Housewives of Orange County, which debuted on March 21, 2006. Crazy to think that the stars of Real Housewives have been entertaining us for more than a decade. But since '06, there have been a total of nine different franchises in the series starring Housewives from locations like Atlanta, Beverly Hills, New York City, New Jersey, Miami, and most recently Potomac. Some of the stars in the show came and went with only one season, while others (like New York City's Ramona Singer) have been part of their respective shows since they began.
Between all of the different series in The Real Housewives franchise and the dozens of women who have starred in the shows, there have been dozens of intense moments that are truly unforgettable.
1. The Table Flip
Of course, this list had to start with the episode of RHONJ where Teresa literally flipped a table during a fight. Like, is there another episode of any of the shows in the Real Housewives franchise that was as memorable as Teresa's table flip?
2. "I Am Very Rich"
Another timeless classic. The entire scene leading to NeNe's most iconic quote was one of the best few minutes in reality television history. Remember how incredible it was when Sheree brought up the story abut NeNe's car supposedly being towed from a local Home Depot?
3. Strong Opinions At The RHOC Reunion
Oh, Tamra. The heat between her and Vicki during the RHOC Season 9 reunion was legit.
4. Pat The Puss
Probably the best dance move to emerge from the Real Housewives franchise. Erika really has been a great addition to the RHOBH cast.
5. The Leg Throw
Aviva totally surprised everyone when she threw her prosthetic leg to help make her point in an argument during an episode of RHONY. "The only thing that is artificial or fake about me," she said, "is this!" And with that Aviva slammed her prosthetic leg on the table before throwing it.
6. When Phaedra Nearly Lost It
Phaedra almost got physical with Kenya when she mentioned Phaedra's rumored lover Chocolate in this memorable scene from Season 7 of RHOA.
7. Karen Being Done With Her Co-Stars In Potomac
Unarguably once of Karen's most epic moments.
8. The RHOBH Limo Argument
The argument between sisters Kim and Kyle during the final (non-reunion) episode of the first season of RHOBH definitely left viewing wondering what would happen between these two siblings in the future.
9. Meghan's "Shut Up" Delivery
Saying "shut up" multiple times in a row while you slam your hands on a table is a sure-fire way to get your point across, just ask Meghan.
10. Brandi Throwing Wine At Eileen
Brandi had a lot of memorable episodes during her short stint on RHOBH, but none as bizarre as when she threw a glass of wine at Eileen.
11. Sheree's Best Line
She's had a lot of them, but my favorite thing Sheree ever said was absolutely, "Who gon' check me, boo?"
12. When We Met Siggy
Being a new addition to a long-running show like RHONJ can be tricky, but Siggy's introduction to the series was filled with humor, thanks to her recent face lift.
13. Bethenny's Perfect Knife Skills
The game of truth-or-dare during Season 9, Episode 14 of RHONY reminded us all how hilarious Bethenny can be.
Being that there always seems to be at least one Real Housewives show airing new episodes, it surely won't be long before someone says or does something that makes another episode forever memorable. And that's part of the reason why so many fans love the Bravo franchise.