The '13 Reasons Why' Season 2 Cast Just Got Even Bigger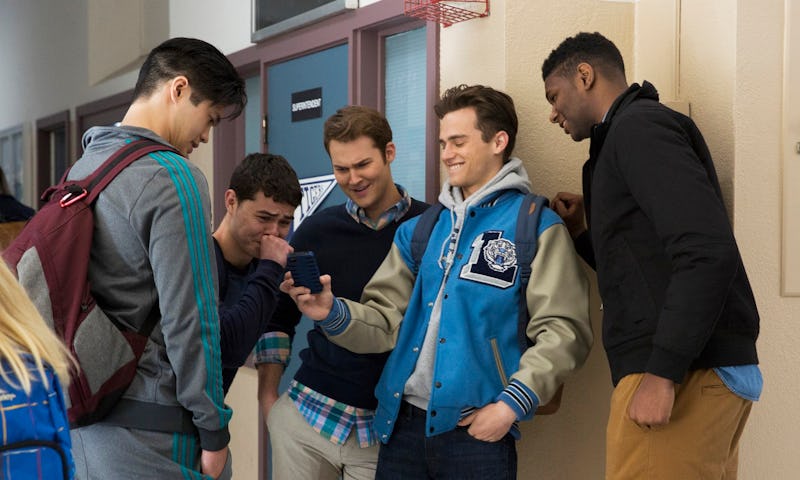 Beth Dubber/Netflix
Despite a controversial freshman run, 13 Reasons Why is pushing full steam ahead. The Netflix drama cast seven new actors earlier this week and has now added four more characters to its upcoming second season. Per Deadline, Jake Weber (Medium), Brenda Strong (Supergirl), Meredith Monroe (Criminal Minds) and R.J. Brown (The Carrie Diaries) have all signed on in recurring roles.
Strong will play Nora Walker, Bryce's mother, and Weber will portray his father, Barry, "a successful hedge fund manager and pillar of the community." Monroe will play Carolyn, a hardworking nurse and the mother of Alex — whose fate is still hanging in the balance — while Brown will play Tony's boxing trainer, Caleb, who's described by Deadline as "a fierce competitor and dedicated coach" with "a warm smile" and "wry sense of humor."
The influx of new faces reinforces the writers' promise to expand the story. Season 1 was told entirely through the perspective of Hannah Baker, a conflicted teen who dies by suicide and leaves behind a series of cassette tapes detailing the reasons and people she deems responsible.
By the end of Season 1, however, Hannah's story had finished quite definitively, leaving viewers curious about how 13 Reasons Why would continue. In June, creator Brian Yorkey revealed that they'll feature a new narrator and broaden to different points of view, though Hannah will still be returning.
Among the previously announced additions are Jackie, a warm, intelligent anti-bullying advocate (Kelli O'Hara); Nina, a well-respected track star with a secret (Samantha Logan); Rick, Liberty High's beloved baseball coach (Ben Lawson); and Sonya, a smart and ambitious young litigator (Allison Miller). Other students include head cheerleader and resident It-girl Chloe (Anne Winters), cynical mischief-maker Cyrus (Bryce Cass), and Cyrus' artistic sister Mackenzie (Chelsea Alden).
If you or someone you know has been sexually assaulted, you can call the National Sexual Assault Telephone Hotline at 800-656-HOPE (4673) or visit online.rainn.org.