'13 Reasons Why' Won't Shy Away From Dark Moments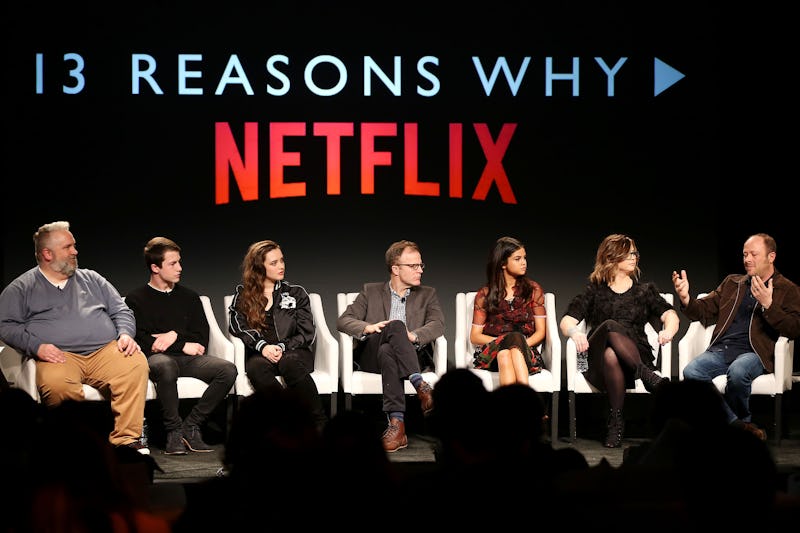 Marion Curtis / Netflix
On March 31, the adaptation of Jay Asher's novel 13 Reasons Why will premiere on Netflix. Katherine Langford stars as Hannah, a girl who leaves a series of messages detailing the reasons behind her decision to end her life, and the story is not your average YA entertainment. That's what makes it such a perfect fit for Netflix, which is known for shows that are a little out of the box in different ways. And though it's not a common story, executive producer Selena Gomez and other people behind the series said at a Netflix panel that they believe 13 Reasons Why will be relatable for viewers, which is why they worked so hard to bring it to the screen.
In fact, it's been a long time coming. Gomez and her mother Mandy Teefey are both producers on the series and when Teefey first read the book, she envisioned it as a feature film. She thought it could be a transitional project for her daughter after her time on the Disney Channel, but even as they continued to develop the project and Gomez aged out of playing Hannah herself, they stayed on board.
"A lot of people in the industry were afraid to touch this issue," Teefey said. "One of our concerns is we didn't want it to come out as a PSA because kids who are actual bullies would not tune in to watch a PSA or a documentary." But since it's geared at teens, it can teach without lecturing, which, in my opinion, is usually the best way to learn or absorb anything.
Teefey wondered if the series would actually be harder for parents to watch, and creator Brian Yorkey said, "We're not going to shy away from it ... We're not going to be delicate about the very, very brutal things to watch." The central question of the novel revolves around not just Hannah's life, but how many secrets one high school has and, as he said, "which, as we all know, is a lot."
The fact that 13 Reasons Why is now a full 13-episode series contributes to its ability to really delve and tell that story. "I think it was just a great idea to deliver it that way," said Tom McCarthy, who directed several episodes. "Brian's concept for the show was so smart and really allowed us to have all these varying textures. Humor and drama side by side. The quirky, weird things that make high school so enjoyable, and the deeply tragic and difficult things that makes high school so difficult. We had the space to really explore that."
Characters who weren't as prominently featured in the book (and surely would be left out of a feature film) have their space on the show as well. "We're all aligned in the idea of making a show where young people could really reach up to," McCarthy said. "I think that was the term we kept coming back to. Something that felt sophisticated, and elegant, and real, and honest."
And yes, that means 13 Reasons Why is a dark series. These things are "difficult to talk about in first person," as Yorkey put it, but that's what makes art and storytelling so great.
Gomez herself discussed the importance of art being relatable as a person who has grown up in the public eye with a lot of transparency. She's glad that she has fans who feel comfortable sharing their stories with her because she's so open as an artist. "I've had to deal with it on a different scale," she said, speaking of her own teenage experience. "It definitely hits home."