13 Romantic Movies To Fall In Love With In 2017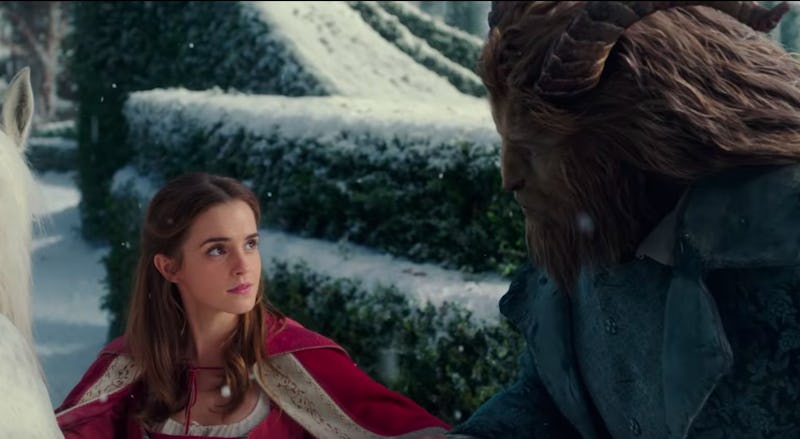 Walt Disney Studios
Sometimes it feels like Hollywood doesn't really care about romance. Big studios are so focused on launching the next franchise or superhero remake that pure romance films often get left behind. So, no, 2017 isn't exactly overflowing with romantic films, but if your favorite thing is to watch two people fall in love on screen, there are at least 13 romantic films to see in 2017 that might satisfy your romantic craving. So get ready to cry, laugh, and fall in love, because these 2017 films are coming your way faster than you think.
Before you get completely turned off by the small number of romantic films coming out in 2017, know that these 13 romance films feature everything from innocent, teenage love to sexy, dangerous love and even a handful of historical fiction love. And don't forget to keep in mind that these are just the films that have been announced. Because it's so early in the year, a lot of smaller, independent romantic films don't yet have release dates, which means that there could be many more romance movies coming in the year that we just don't know about yet. So, don't lose hope, romantics. There's always more romance movies on the horizon, but for now, take comfort in these 13 romantic films coming your way in 2017.
1. The Space Between Us — Feb. 3
A science-fiction take on a classic first love tale, The Space Between Us is about a boy born on Mars who falls in love with an Earth girl. It seems pretty cheesy, but, hey, sometimes that can be just what the doctor ordered.
Stream The Space Between Us here.
2. Fifty Shades Darker — Feb. 10
Romance, intrigue, and sex — if you're looking for an R-rated romance then Fifty Shades Darker is pretty much it. Just don't turn to this movie for a realistic road map to love. The Fifty Shades series is a lot of things, but realistic is not one of them.
Stream Fifty Shades Darker here.
3. A United Kingdom — Feb. 10
A period movie about a controversial interracial relationship? Count me in. A United Kingdom stars David Oyelowo and Rosamund Pike as a pair of unlikely lovers in the late 1940s who struggle to find acceptance in her native London and his native Botswana. Sounds like a romance we can all get behind, right?
4. Tulip Fever — Feb. 24
17th century Amsterdam has never been so sexy as in Tulip Fever, which tells the story of a young painter who falls in love with a married woman after he's commissioned to paint her portrait.
5. Bitter Harvest — Feb. 24
Another historical romance, Bitter Harvest takes place in a post-WWI, pre-WWII Europe during a period of political turmoil. If you love big, epic romances, then Bitter Harvest is perfect for you.
6. Table 19 — March 3
Table 19 is a romantic comedy starring Anna Kendrick — need I say more?
7. The Ottoman Lieutenant — March 10
Is 2017 the year of the romantic period film? The Ottoman Lieutenant definitely supports this theory. The movie also gets bonus points for allowing '90s kids another chance to lust after Josh Hartnett on the big screen. #Bless
Stream The Ottoman Lieutenant here.
8. Beauty and the Beast — March 17
Obviously, Disney's live action Beauty and the Beast is the must see romantic movie of the year. Good or bad, Beauty and the Beast will never not be the stuff romantic dreams are made of.
Stream Beauty and the Beast here.
9. Their Finest — March 24
Their Finest tells the story of a British film crew making a propaganda film to boost morale during WWII. I'm not exactly sure how much of a romance it really is, but it stars Sam Claflin and Gemma Arterton and takes place in 1940, so, I'm gonna go ahead and declare it a romantic movie of 2017.
10. My Cousin Rachel — May 5
Sam Claflin will also star in a new adaptation of My Cousin Rachel, a mystery/romance about a man who becomes seduced by his mysterious cousin, played by Rachel Weisz, despite the fact that he believes she killed his guardian.
11. Midnight Sun — July 14
Bella Thorne and Patrick Schwarzenegger will star in Midnight Sun, a teenage romance about a girl who can't go out in the day time because she's deathly allergic to the sun (yes, seriously).
12. Everything, Everything — Aug. 18
Everything, Everything is a movie about a teenage girl who has been kept from the world due to her allergies to everything. The film, based on the book by Nicola Yoon, stars Amandla Stenberg as the girl and Nick Robinson as the next door neighbor she falls in love with.
Stream Everything, Everything here.
13. The Mountain Between Us — Oct. 20
Alert — Kate Winslet and Idris Elba are starring in a romantic drama together. This is not a drill, guys. Winslet and Elba will come together to make what is sure to be the best looking onscreen couple of 2017 in The Mountain Between Us, a film about two people who survive a plane crash in the mountains. I am already obsessed.
Stream The Mountain Between Us here.
My own romantic life may be bleak, but these romantic movies coming out in 2017 should help me keep romance alive — at least throughout the year.