13 Sexual Assault Support Organizations You Can Donate To On Giving Tuesday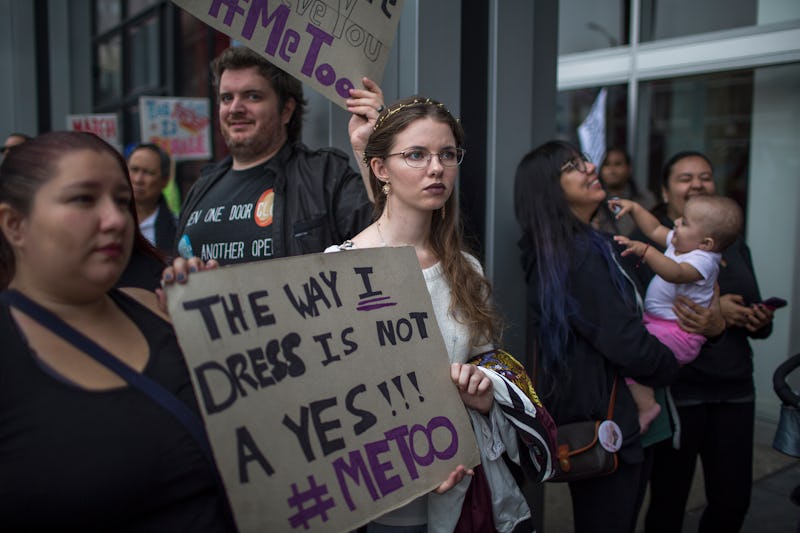 David McNew/Getty Images News/Getty Images
Now that Thanksgiving is over and Giving Tuesday is here, you can help sexual assault survivors by donating to or volunteering for survivor-oriented organizations. For many people, this year's Thanksgiving may have been an upsetting and potentially triggering one with the recent and ongoing national conversation on sexual violence and workplace abuse.
In October, the issue picked up considerable momentum and visibility after The New York Times published a list of violent and persistent sexual misconduct accusations against millionaire film producer Harvey Weinstein. In spite of Weinstein's denial of accusations detailing nonconsensual sex, American reckoning with sexual harassment has yet to slow down. Powerful figures in tech, journalism, and politics have been accused of abrasive sexual misconduct against women in vulnerable positions. And the resulting national discussion might inspire you to contribute what you can to help stop this type of behavior.
The list below includes organizations that help survivors of sexual assault through counseling, rehabilitative measures, and demanding policy makers take sexual violence seriously in their legislative efforts. Even if you aren't financially capable to help, don't worry. You can still be an ally to sexual assault survivors by being mindful in your language, objective and thoughtful in your conduct, and up-to-date on the statistical coverage of sexual violence in the United States. Compassion and knowledge can make for long lasting solidarity.
1. No More
No More is an organization centered on eradicating sexual and domestic abuse that hurts women and men. You can make a donation to the group in whatever amount most feasible to your budget.
2. American Bar Association Commission On Domestic & Sexual Violence
The American Bar Association's Commission on Domestic and Sexual Violence raises awareness and accessibility for victims of sexual and domestic abuse. You can help victims through the association by checking out the donations page.
3. National Center On Domestic and Sexual Violence
The National Center on Domestic and Sexual Violence takes donations but you can also help the organization by spreading the word about it on social media and offline.
4. INCITE! Women Of Color Against Violence
Created to address the needs of women of color, INCITE! is an organization for women, non-conforming, and trans people of color, according to the vision statement. The organization helps racial minorities to cope with trauma and loss after different kinds of abuse, including sexual violence.
5. End Rape On Campus
For students who have experienced sexual violence on campuses, End Rape On Campus provides counseling and education but also works on policy reform and offers comprehensive guidance for people interested in learning more.
6. Forge
For transgender individuals who have been affected by transphobic sexual violence, Forge is a group that offers counseling, advocacy, and other services. The group takes donations and workshop events to better educate people about minority rights and abuses.
7. Washington Coalition Of Sexual Assault Programs
Washington Coalition of Sexual Assault Programs offers detailed information about oppression and sexual violence against black women. One of its recent seminars was titled "Anti-Oppression Institute on Black Women and Sexual Violence."
8. It's On Us
It's On Us, like other organizations mentioned in this list, sheds light on sexual violence and first began in September, 2014, during Barack Obama's presidency. Still going on, the organization helps survivors with counseling and rehabilitation.
9. National Organization For Women
National Organization For Women does policy reform advocacy for sexual violence survivors. You can get involved as a donor or an activist.
10. California Rural Legal Assistance
The California Rural Legal Assistance group published a study titled "Farmworker Sexual Violence Technical Assistance Project" and detailed the various rights violations women farmers face during their work. The group offers comprehensive representation for female farmers among other services. And if you want to be part of the efforts, you can get in touch with the group to learn more.
11. Promoting Awareness: Victim Empowerment
"From victim to survivor to thriver" is how Promoting Awareness: Victim Empowerment describes its mission. With a victim-oriented approach, the organization helps those who've experienced sexual assault and violence find social stability through counseling and educational programs.
12. The Rape, Abuse and Incest National Network
The Rape, Abuse, and Incest National Network is the country's largest organization tackling sexual abuse and violence. You can join the chorus of anti-sexual assault workers by either donating or fundraising for the organization.
13. Asian & Pacific Islander Institute On Domestic Violence
For Muslim, Asian, and Pacific Islander women, the Asian and Pacific Islander Institute on Domestic Violence offers prevention programs on domestic and sexual violence as well as educational resources and counseling on forced marriages and inter-community abuse.
While there are 13 groups in this list that seek to reduce sexual violence, there are many other organizations that are currently and tirelessly helping survivors. You can be part of the efforts by donating, organizing fundraising efforts, promoting social media advocacy, educating people about boundaries and privacy, speaking up when you see abuse taking place, and more.