Nick Offerman & Megan Mullally Are Comedy Gold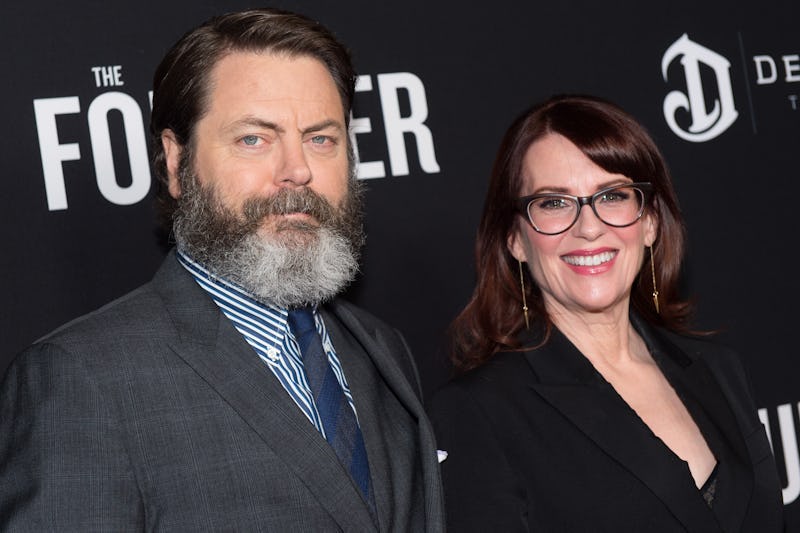 Emma McIntyre/Getty Images Entertainment/Getty Images
If there's one celebrity couple in this wild world that I deeply love, it's Nick Offerman and Megan Mullally. According to Vulture, Offerman and Mullally's show, Summer of 69: No Apostrophe, will be coming to Epix on May 19 and will see the goofy celebrities once again bringing their comedic chops together in harmony. It's going to be glorious. It's going to be grand. It's going to probably delight the pants off of you (metaphorically speaking).
Now, fans know that Offerman and Mullally are plenty funny on their own. Offerman made a name for himself with his Parks and Rec character Ron Swanson. His deadpan style of comedy has also helped endeared him to fans over the years. Of course, you probably also remember Mullally as the great Karen Walker from Will & Grace. She's popped up in funny roles since then, including the recent comedy Why Him? It's not difficult to see how together, they'd make a hilarious comedy special.
In real life, Offerman and Mullally often prove that together, they are the funniest duo in show business. They not only show great affection for one another and support each other's work, but they know how to have fun. Don't believe me? Then why not take a look at some of the moments that proved Offerman and Mullally are the greatest unsung comedy team.
1. As Ron & Tammy Swanson On Parks & Recreation
The original, the greatest: It's the Swansons. Mullally was perfect as Tammy (Two) Swanson, Ron's deplorable librarian of an ex-wife. Together, they were bad news, but also comedic gold.
2. When Mullally Gave Conan A Peek Into Her Home Life With Nick
Mullally offered Conan an exclusive look into the private life she and Offerman share and yes, it was hilariously revealing.
3. When They Answered Our Burning Relationship Questions
Offerman and Mullally know a thing or two about making a marriage work after nearly 14 years. Why not take a page or two outta their playbook with these, er, interesting answers?
4. When They Had A Cook-Off With Stephen Colbert
Can I please have the Smooshed spin-off and can they please host it? Thanks.
5. When They Said "Adios" To 2016
Now that's how you say goodbye to a terrible year.
6. When They Bared It All For Anderson Cooper
They gave the nation an eyeful, but bless their hearts, they made the most of it.
7. When They Went To The White House
What's better than a trip to the White House? A little jokin' around in the White House, that's what.
8. When They Chilled Out In The Dressing Room
Try and tell me you don't chuckle just a little when Mullally sings about showbiz. Go on, I'll wait.
9. They Just Casually Dressed In Costume & Goofed Around
Offerman loves to pop into Mullally's videos with a little "Hello!" and it's just the greatest thing on the planet.
10. Just Casually Recreating Some Classical Art Poses
Look at these beautiful humans celebrating their bodies. I mean, it's applause-worthy.
11. When The Had A Dance Break During Their Show
If this appears in their Summer of 69 special, count me all the way in.
12. When They Made Some Jokes During A Road Trip
The happy Hollywood duo knows how to take a moment to enjoy the delightful and sometimes crude things in life. Mad props.
13. When Offerman Created A New Art Form Called "Dance"
Because Offerman is a freakin' genius, and yes, he can dance you under the table.