Vanessa's IG Reveals A Lot About The 'Bach' Star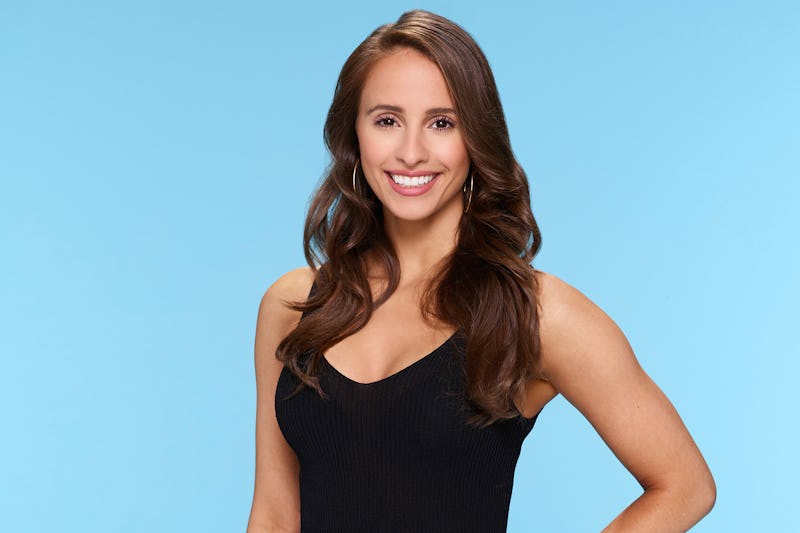 We're only a few episodes into Nick Viall's season of The Bachelor, but if last week's one-on-one date was any indicator, it would seem we officially have a frontrunner, and no, I'm not talking about Corinne. Bachelor contestant Vanessa Grimaldi is beautiful, smart, and has no problem confronting Nick about his intentions. Besides what we learned on the show last week during their zero gravity date, we don't know much about Vanessa and her life in Canada. So in order to learn more, I went through Vanessa's Instagram for clues about her post-Bachelor daily life, and there's a lot to learn about her.
On the show fans like myself have learned the basics about Vanessa. We know that she's a special education teacher who lives in Montreal, Canada and can speak three languages. I mean, that's pretty freaking impressive as it is. On last week's date, after she was done throwing up, she revealed to Nick that right before she came on the show, her grandfather passed away and she almost considered staying home. Her family convinced her that she should still go. Thanks to her ABC bio, we also know that someone once gave her a promise ring. She hasn't really revealed anything about her past relationships and her Instagram has hidden any details about it as well, but I were able to find out some fun facts about the Canadian contestant.
1. She Knows How To Rock Out
Maybe Vanessa and the other women found their true calling after the show. It seems that, as usual, the contestants bonded during the time on the show and have continued to hang out together after filming wrapped. I love a good Bachelor friendship.
2. She's Very Proud Of Being Canadian
No one who wasn't a Canadian native would be rocking Mountie onesies. Somehow, she's managed to pull them off. Not an easy feat.
3. She's An Aunt
She posts a ton of photos of her adorable nephew. It seems he's the main man in her life. Watch out Nick, you may have some competition.
4. She's Got An Adorable Pup
Seriously though, how cute is this dog? I would be overloading Instagram if I owned a puppy that adorable.
5. She Loves Hiking
Her Instagram is filled with pictures of her hiking with her friends. It's always good to get in some solid scenic shots.
6. Working Out Is Seriously Important To Her
This looks pretty challenging. Also, with the amount of work out shots she posts on Instagram, it seems she and Nick could be a match made in heaven. Fans know that after his first season of The Bachelorette, Nick hit the gym hard.
7. She's Learning How To Golf
So she's not great, but she's working on it.
8. She Loves Food
I imagine this is her Italian side coming out, but she posts lots of photos about eating delicious food. Especially this one of her eating pizza super up close.
9. She Cares About Her Friends
You can always learn a lot about someones social life based off their Instagram. In Vanessa's case, she's been a bridesmaid for a few of her friends, she travels around with them a lot and she writes a lot about not being able to live without them.
10. Vanessa Is Close With Her Family
After learning about her grandfather passing away in last week's episode, it's not super surprising that there are adorable photos of him throughout her feed.
11. She Marathons Old Shows
Charmed is the best.
12. She Laughs At Herself
Adding to reasons she's the best woman for Nick, Vanessa posts ridiculous photos of herself proving she doesn't care what anyone thinks of her. That attitude is what you need to be in the public eye.
13. She Was A Pretty Cute Baby
Look at this adorable pic of Vanessa and her older sister. Too adorable.
Nick, just pick Vanessa already.