13 Edible Valentine's Day Bouquets For The Foodie In Your Life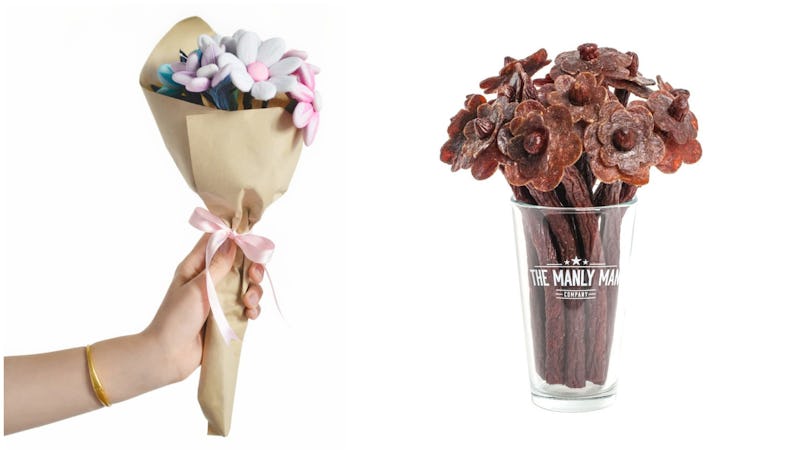 Sugarfina, Manly Man Co.
For those of us who like flowers, but have trouble caring for them, the 2019 Valentine's Day season has been a boon: While course bouquets of gorgeous greenery remain a perfectly acceptable gift, Valentine's Day bouquets you can eat have been on the rise. Not only are these kinds of bouquets delicious, but more importantly, we do not have to keep them alive. Everybody wins!
The tradition of giving not just flowers in general, but roses in particular to our sweethearts on Valentine's Day stem from the Victorian preoccupation with floriography, or "flower language" — a coded way to communicate your emotions during a strict, laced-up era. Red roses in particular were said to communicate "an expression of passionate or true love," as Bustle's Lily Feinn put it in 2017, while pink roses meant "warm affection" and yellow roses "joy, friendship, [and] new beginnings. We've since broadened out to giving bouquets of all kinds of flowers — not everyone digs roses, after all — and even beyond flowers, too.
Of course, edible bouquets aren't new, either; over the past 20 year or so, though, they've really gained steam. Edible Arrangements no doubt helped popularize them after the company's founding in 1999 — and now, edible bouquets have truly come into their own. They're not just sweet anymore, either; quite a few options are savory, so if you'd rather munch on something salty than sugary, these bouquets have you covered.
It is, however, anyone's guess what a bouquet of beef jerky says according to "flower language."
I'm just… gonna let that one sit there.
Anyway, here are 13 edible bouquets to gift your favorite person this year:
1. Reese's Bouquet
2. Salami Bouquet
3. Doughnut Bouquet
4. Oreo Bouquet
5. Beef Jerky Bouquet
6. Cake Pop Bouquet
7. Chips & Snacks Bouquet
8. Butter Cookie Bouquet
9. Doughnut Pop Bouquet
10. Bacon Bouquet
11. Chocolate-Covered Strawberry Bouquet
12. Candy Flower Bouquet
13. Pickle Bouquet
You're going to have to assemble this one yourself, but if you have a pickle lover in your life, it'll be totally worth it. Find out how to do it here.
Happy Valentine's Day! Treat yourself. Treat someone else. We all deserve it.