The Internet Is Going To Love These Highlighters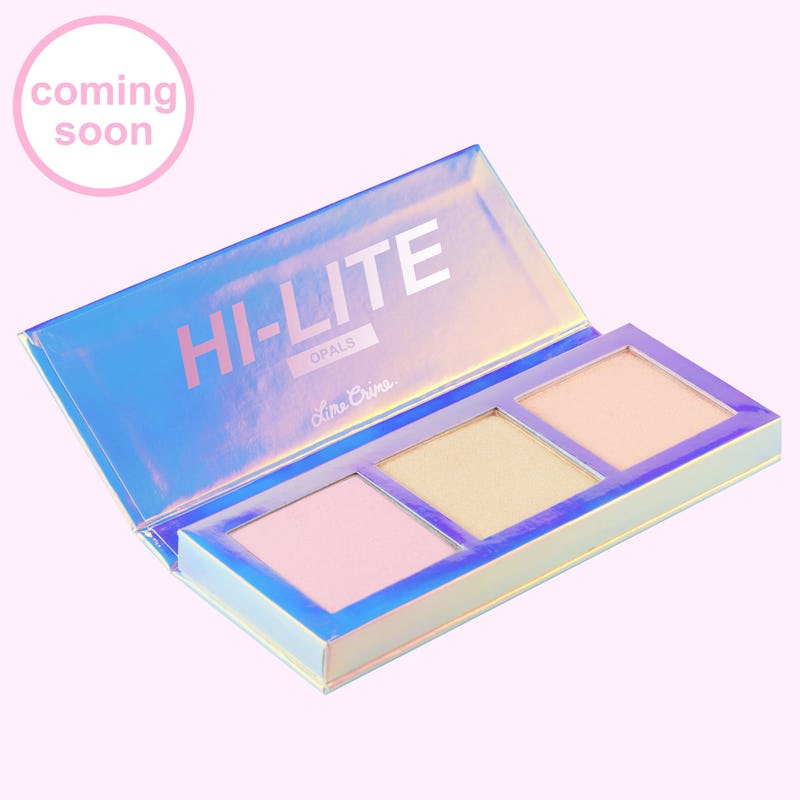 Lime Crime
If there's one thing that everyone loves right now, it might just have to be highlight. Luckily for us all, there have been a lot of exciting new launches lately, as well as a whole slew of covet-worthy products slated to hit the shelves soon — suffice it to say, there are a lot of new highlighters the Internet is going to love in 2017.
Everyone from your favorite luxury brand at the department store, to that quirky cult-fave brand from Sephora, to your go-to bargain drugstore brand is getting in on the ultra-popular highlighting trend, so you definitely have your pick of the litter when it comes to new products. And with so many brands getting in on the fad, the technology is getting better and better, with new formulas coming in every texture, finish, and formula — which means that you can really customize your shopping to your skin type and personal taste.
Honestly, the world is your oyster when it comes to new complexion-illuminating products. Whether it's a subtly alien-esque iridescent lavender glow, or a Instagram selfie queen-worthy high-octane metallic rose gold, there's something for everyone on this list. So, read on for some of your new future faves!
1. COVER FX Custom Enhancer Drops
COVER FX's Custom Enhancer Drops are quite the cult fave, and now they're about to release three new shades, all of which are basically pure fire. The three shades are all gorgeous, but you should especially keep your eyes peeled for Halo, an ethereally iridescent lavender.
2. Lancome La Rose Blush Poudrer
Have you ever seen a more beautiful highlighter in your life? With this new powder highlighter, looks alone are basically worth the price of purchase, but the lit-from-within subtle glow sure doesn't hurt either.
3. Kat Von D Alchemist Holographic Palette
This palette completely lives up to its name, transforming eyeshadows while also imparting an iridescent glow to your complexion.
4. Givenchy Limited Edition Mémoire de Forme Highlighter
This exciting new product from the ultra-luxurious Givenchy has quite the unique formula — it has a jelly-like consistency, and it's made up of 72 percent water which makes it extra comfortable and light.
5. Lime Crime Hi-Lite Opals Palette
Lime Crime's website jokes that this palette is for unicorns — and it totally is: The translucent, opalescent shades claim to adjust to your skin tone for a custom glow. It hasn't launched yet, but it's definitely something to look forward to.
6. Kevyn Aucoin Neo Lights
These ombre highlighters, which launched at the end of January, are seriously gorgeous, both in the pan and on the face.
7. Guerlain Meteorites Happy Glow Pearls
Guerlain's iconic Meteorites are nothing new to the beauty scene — but the Happy Glow Pearls version is. It mixes various shades for a flawless complexion, focusing on brightening soft pinks and shimmery champagnes.
8. Too Faced Love Light Highlighter
Too Faced's Love Light Highlighters are set to hit shelves in March 2017, and the date couldn't come soon enough. They're gorgeous, yet fun and quirky like something straight out of Sailor Moon — and knowing Too Faced's amazing track record with their other blushes, bronzers, and highlighters, it's sure to be a great new product.
9. Stila Heaven's Hue Highlighter
Stila's known for their subtly gorgeous products, and their recently-launched Heaven's Hue Highlighter is no different. It comes in four shades, and my personal favorite might just be Transcendence, described as an opalescent pink.
10. Anastasia Ultimate Glow Glow Kit
Launched back in October, this palette is not for the faint of heart when it comes to glow.
11. Tarte PRO to Glow Highlight and Contour Palette
This new contour palette has a velvety texture, and offers a considerable amount of glow. No one does buttery smooth powders quite like Tarte, and this palette is no exception.
12. Maybelline Master Strobing Liquid
Maybelline's Master Strobing Sticks made quite a splash when they hit the beauty scene last year, and now there's a liquid version that's every bit as fabulous. It's super affordable, and it imparts a high-impact shine to your cheekbones — all while blending effortlessly and lasting all day long.
13. Make Up For Ever Star Lit Powder
These multipurpose powders can be used as highlighters and eyeshadows — and they've got a shine like no other. The pigments are quite finely milled, and a little goes a long way.
14. J. Cat Beauty You Glow Girl Baked Highlighter
These affordable highlighters are a lot of bang for your buck — though you can nab them for less than $10, they're very finely milled, and they have a great metallic glow.
What do you think? Which new highlighter has most caught your eye for 2017?