Twitter Loves These Too Faced Heart Highlighters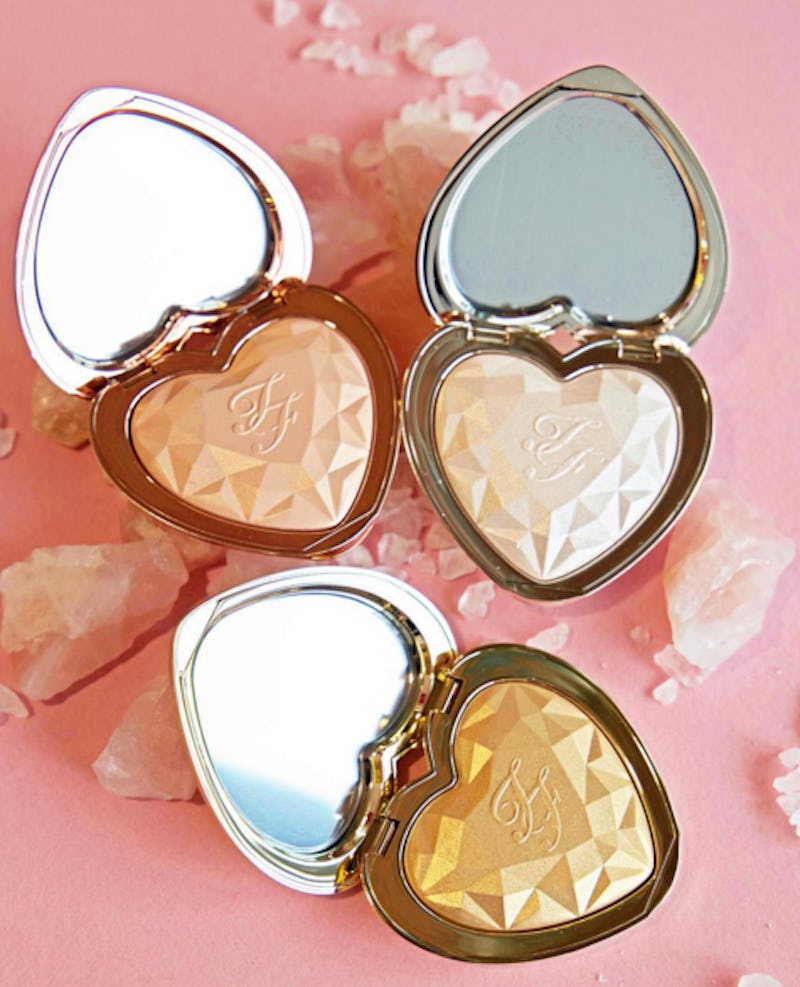 jerrodblandino/Instagram
Too Faced Cosmetics is in the business of making dreams come true. I mean, peach-scented palettes? Come on. That's every makeup maven's fantasy, for sure. And now the Too Faced's heart-shaped highlighters are proving to have just what it takes to make beauty gurus everywhere fall in love.
The brand's Co-Founder and Chief Creative Officer Jerrod Blandino teased the most beautiful products you've ever seen on Instagram recently, and people online can hardly contain their excitement. Very few details have been released as of yet, and the only things to know for certain is that these are a) amazing and b) coming Mar. 2017.
The three shades (a champagne hue along with a white gold shade and pure gold color) are each housed in the most beautiful metallic hearts. Folks on Twitter were immediately reminded of the Cosmic Heart Compact the character Usagi from the Sailor Moon anime series used to transform into Sailor Moon upon seeing these heart-shaped beauties, as Cosmo pointed out. So, when I say there are a lot of reasons to fall for these babies, I mean it. A highlight that's bright and simultaneously makes you feel totally fierce and ready to take on the world? What more could you ask for?
Cue the "oohs" and "ahhs." These are seriously stunning.
These lovelies really can't get here soon enough!
1. Up The Ante
Don't ever underestimate the amount of joy this brand can bring!
2. Hyped
There's no way products this amazing could ever let you down.
3. Sailor Moon
Do these remind you of the incredible Sailor Moon? Of course they do!
4. On-Point Packaging
They're so beautiful.
5. Combined Interests
When your love of makeup and anime combine, it's the best.
6. Add It To The Collection
You may not need another highlight, but you should definitely still add at least one of these to your collection. Why would you deny yourself such beauty, you know?
7. Save Your Money
Start saving up because there's no way you'd want to miss out on these.
8. Comparison
I can see the resemblance, for sure.
9. Sailor Moon-Approved
Want to get a little Sailor Moon IRL action? Scoop these up as soon as humanly possible.
10. Take My Money
People are all for anything reminiscent of Sailor Moon, and I can't say I blame them.