What To Bring To The Women's March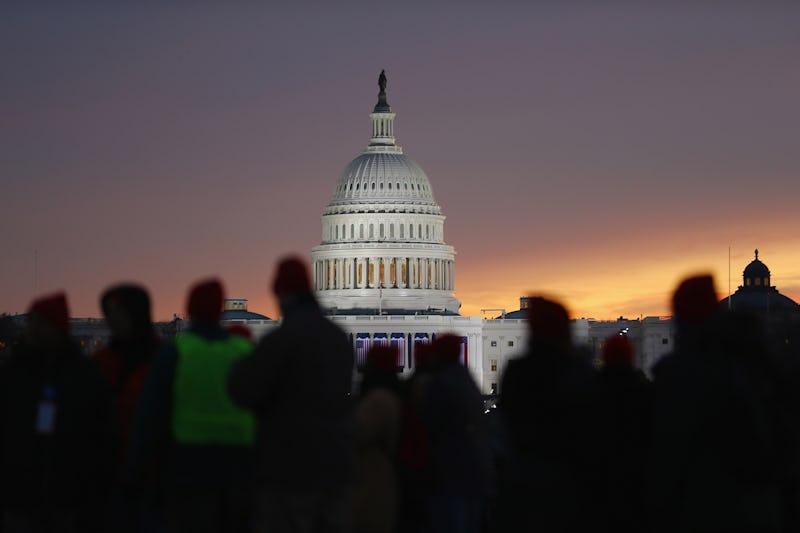 Joe Raedle/Getty Images News/Getty Images
Inauguration Day is steadily approaching, and hundreds of thousands of demonstrators are expected to attend the Women's March on Washington this weekend. If you're able to attend the primary event or any of the sister marches taking place across the world, you've hopefully started making preparations already, including figuring out what to bring to the Women's March. But there's a difference between forgetting to pack something and not realizing you needed it in the first place, which is why many women have been sharing preparation tips online.
In case you somehow managed to avoid the news for the last three months, Donald Trump's inauguration as president is taking place on Jan. 20. Turnout isn't exactly expected to break any records, but the Women's March on Washington, which takes place on Saturday, Jan. 21, is anticipated to draw enormous crowds demonstrating against the upcoming conservative administration. The rally has been something of a grassroots movement, growing from an idea posted by a retired woman on Facebook to a widely-publicized, intersectional event.
Whether you're headed to the main event in Washington, D.C., or a sister march, it's important to prepare well beforehand for what's guaranteed to be a historic event. Here are 14 items you might not realize you need to bring to the march. They're all small; bag restrictions are pretty tight, after all. But they're all valuable, and they can pretty much all fit in a pocket. Better to have something like change for a pay phone and not need it than need it and not have it, right?