These 'Will & Grace' Revival Spoilers Will Make You Strike Your Best "Just Jack" Pose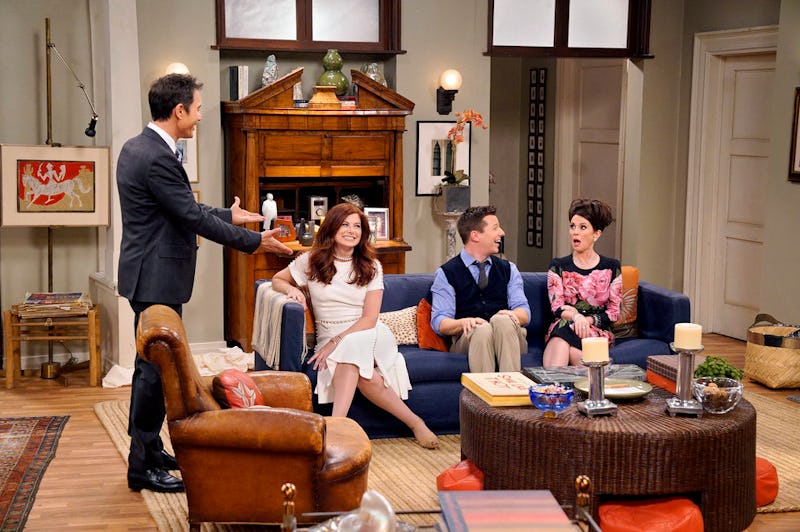 Chris Haston/NBC
In 2017, all good things must come into a reboot, and the iconic sitcom Will & Grace is next up on the return train. At the Tribeca TV Festival on Sept. 23, new details about the Will & Grace revival were revealed by actors Debra Messing, Eric McCormack, Megan Mullally, and Sean Hayes along with creators Max Mutchnick and David Kohan. The Season 9 teases will have you anxious to see Will, Grace, Jack, and Karen again after an 11-year hiatus.
The 2016 Will & Grace election special reunion that started the fervor revealed that not only is Karen Walker a close personal friend of the President of the United States, but that she helped "Donnie," in her words, "pick out" his current wife and First Lady Melania. (Karen calls her "Melanio" in the revival, according to Mullally.) So the new episodes will likely touch upon Grace's assistant's Mar a Lago lifestyle.
It has also been previously announced that the writers are ignoring the season finale, which featured a flash forward to a time where Will and Grace had had a falling out after they stopped living together. As if! In the new episodes, their friendship is as solid as ever.
Other than that, here's what the Will & Grace team revealed about the upcoming season: