14 Ways Paris Hilton Influenced Your '00s Style & How Her Inspo Is Still Relevant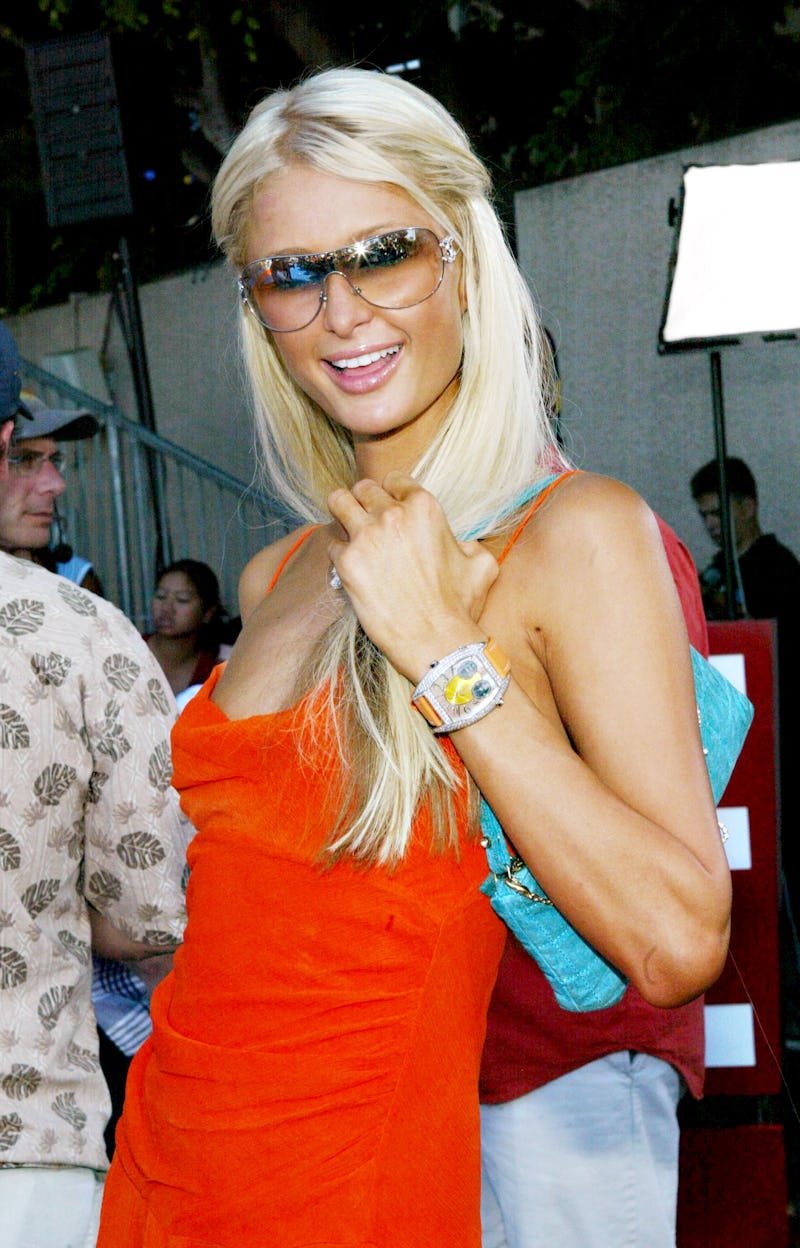 Frederick M. Brown/Getty Images Entertainment/Getty Images
Fashion is cyclical. Things go in and out of style with incredible frequency. Many fashions of the '00s — track suits, platforms, flared low-rise jeans, crop tops, tinted aviators, personalized necklaces, and more — are back in style. No celeb was more emblematic of '00s fashion than Paris Hilton. The hotel heiress' style defined the decade. While so many of her critics oversimplified her pop cultural influence as "famous for being famous," Hilton had an eye for style and undoubtedly inspired your '00s look more than you may have realized.
In fact, some of those '00s accessories and aesthetics, like tinted aviators and millennial pink everything, have survived beyond the aughts and have carried over into this decade.
Hilton just partnered with fast fashion retailer Boo Hoo for a capsule collection that will totally awaken your inner '00s child with its pieces. The line updates those trends, like matching branded tracksuits. It's also proof that what's old will always eventually be new again.
Hilton's influence on your '00s style is actually better than you remember. Don't worry — there is absolutely nothing to cringe over. These were the popular looks of the period and many of them are back in vogue in a modern and stylish way.
If you've not had a chance to check out the Hilton x Boohoo collection, have a peek below.
Here are 14 ways Paris Hilton influenced the '00s you and why her inspo remains relevant.
1. Matching Track Suits
Color-coordinated track suits were Hilton's fashion calling card in the '00s. You no doubt had at least one matching hoodie and flared-leg sweats — very likely by Juicy Couture. As Hilton herself said in her W retrospective, the track suits need to be colorful and bejeweled or else they'll look like gym attire and that's no bueno! How does this look apply today?
Well, track suits of yore were essentially proto-athleisure, which is a top streetwear trend today and one you likely rock. You can't deny that Hilton helped kick off athleisure.
2. Giant Aviators
Aviator sunglasses are a classic. However, Hilton was responsible for rocking giant, shield-like, and tinted versions in the '00s. She often paired hers with trucker hats, which is another trend she owned through the period. It's the ultimate execution of glamsual, which remains a popular style vibe RN.
3. Trucker Hats
As mentioned, Hilton could always be counted on to slay a trucker hat, usually by Ed Hardy or Von Dutch. Because...
4. Logos
... were another trend that Hilton further popularized. She wasn't shy about wearing Von Dutch or Juicy accessories — proudly so. While the trucker cap silhouette isn't nearly as popular today as it once was, dad caps are a thing and are like second generation trucker toppers. A thread of Hiltonian influence remains!
5. Millennial Pink
Before millennial pink was "millennial pink" and so entirely definitive of Instagram, Hilton was a big fan of the hue.
She often wore pale pink minis when out and about.
Paris loves her some pink.
She can be credited for the earliest days of millennial pink-dom.
The shade has always been her thing. It's one of the most popular colors online in this era. Hilton obviously have had something to do with that.
6. Low-Rise Jeans
Low-rise, wide-leg jeans were favored by Britney Spears, J. Lo, Li Lo, and Hilton through the aughts. While they've been supplanted by high-waisted styles during this decade, Hilton did state to W that high-waisteds are so '90s.
What that means is that low-waisteds will return to prominence in around two years or so! #Cyclical
7. Belly Chains
Low-slung jeans can be paired with crop tops and belly chains. Who needs belts when you can crush belly bling? Even Kendall Jenner has been seen wearing jewelry with bathing suits. One can't help but trace that back to P. Hilt.
8. Crop Tops
Hilton loved to show off her bellybutton piercing and her abs in cropped tops. Crop tops come in all sorts of shapes and silhouette in the post-'00s.
While Kendall and Kylie Jenner are often seen as responsible for crop top dominance in the here and now, we can credit P. Hilt as the launchpad.
9. Graphic Tees
Nothing makes a statement more voluminously than a graphic tee. Hilton slayed so many of those during her heiress heyday. Who doesn't have a few message-driven tees in their closet these days? The main difference is that today's statement shirts are more politically driven and announce your affiliation, beautifully so.
10. Pink Gloss
While liquid mattes have unseated gloss as the go-to lip product of this decade, a sweet, soft pink slick of shine was always Hilton's signature. It remains a classic now.
Power pink pouts unite!
Gloss has been making a comeback in recent months and Hilton's millennial pink hallmark is right there with it.
11. Side Bangs
Bangs are another classic — it's just the shape and lengths that change over time. Hilton resurrected bangs in the aughts with her side-swept version. It was much more non-committal than a blunt or straight bang. How many of you rocked this a variation of this style, faux or otherwise, in the aughts? You know you did and you looked, well, bangin'.
12. Tiaras
They may not have been practical or have served a functional purpose. But Hilton's beloved tiaras sure were cute. They were sold at Claire's and at other accessories stores in the '00s so fans could crib that style move...
... because you can't always wear a trucker hat.
13. Celeb Fragrances
While the celeb fragrance market has waned in recent years, it was a huge category in the '00s. Hilton was right there, leading the charge. Her perfume portfolio remains plentiful. You know you wore one of her earliest Eau de Paris offerings. It's totally cool if you love her latest fragrances.
14. Bedazzled Cell Phones
Decorated cell phones were also something Hilton was known for in the '00s. Our phones are attached to our hands in the digital age — moreso now than ever. We can thank Hilton for reminding us that decking out and bedazzling our phones is a total "do."
There are easily remnants of Paris Hilton's style in your current look and much if likely carried over from the '00s. Her signatures remain relevant — and updated to the "Hilt."