Here Are All The Pumpkin-Flavored Items You Need To Get Excited About This Fall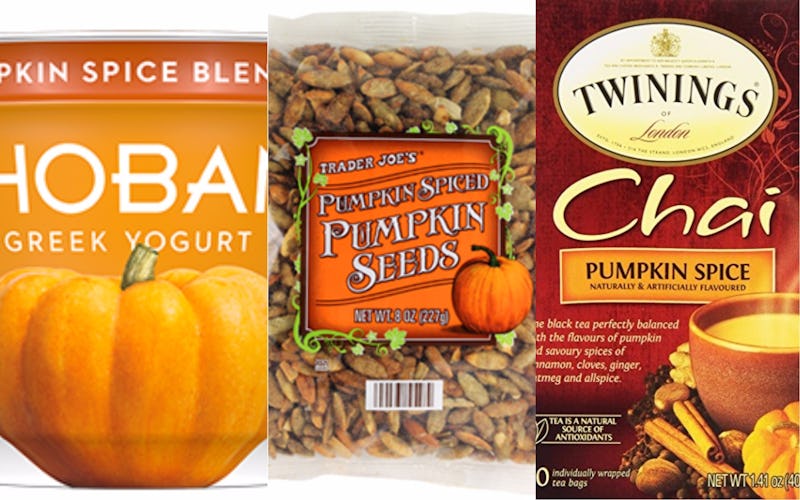 Courtesy of Brands
Fall is upon us, and we all know what the best thing about fall is. Stepping on crunchy leaves? No, the other thing. Halloween everything? No, the other thing. Squishy sweaters and crocheted hats? NO, THE OTHER THING. Pumpkin! Redditors have compiled a list of the 14 pumpkin items we're most excited about this year, and the basic witch inside of me is squealing with joy and can't wait to whip out her Ugg boots and sweatpants that say "sexy" across the butt.
Pumpkin has become iconic of autumn the way garland is iconic of Christmas, the way white doves are iconic of peace, the way Cheetos and small hands are iconic of POTUS. Nobody can be in a grumpy mood when our favorite stores, restaurants, and cafes whisper those sweet, seductive words in our ears: "Seasonal flavors have arrived."
Arguably the most famous of the squash family, the pumpkin has a global fanbase that loves working it into every edible item imaginable. The seasonal ingredient is so delicious that even people who hate pumpkin love pumpkin. And if you somehow have any friends who argue against the delectable delight that is pumpkin-flavored everything, it's time to get new friends.
In celebration of fall (I know, I know, it doesn't officially start until September 22, whateverrr), here are 14 items we're itching to get our hands on.