15 Beauty Products That Will Help You Get The Most Glorious Sleep Of Your Life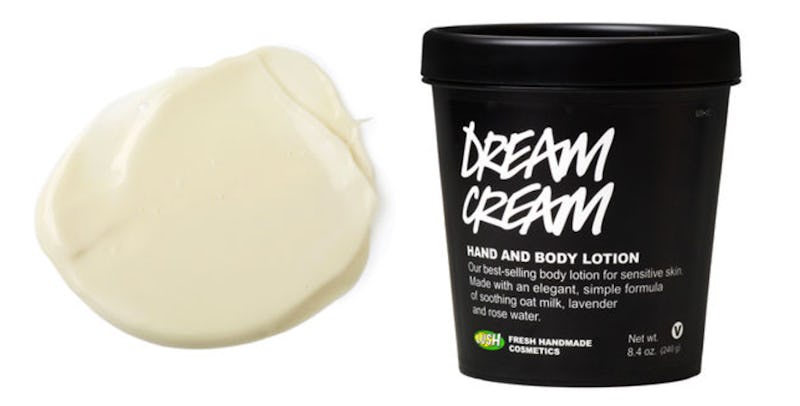 A good night's rest surely does wonders for the body, but reaching a full, glorious eight hours isn't always easy. No matter how hard you try, sometimes it's nearly impossible to fall asleep. An investment in the right beauty products to help you sleep may be in order to ensure you get the precious ZZZ's you so deserve.
You don't have to resort to counting sheep or taking sleeping pills when you're struggling to wind down. Adding a few beauty sleep essentials to your bedtime routine can do a world of good when nothing seems to do the trick. From before bed skin creams to therapeutic mists infused with natural sleep aids, there's something out there to help you drift off faster. Some overnight beauty products even come packed with skin care benefits, doing double duty as they send you into a deep sleep. You just can't beat waking up to looking and feeling more refreshed than ever.
Even on your most exhausted days, hitting the sheets and closing your eyes just isn't enough sometimes. To get that highly coveted ticket into dreamland, incorporate any of these 15 beauty sleep inducers into your nightly ritual asap.
1. Neal's Yard Remedies Organic Beauty Sleep Concentrate
Beauty Sleep Concentrate, $53, us.nyrorganic.com
Achieve supple, soft, and revitalized skin overnight by massaging this serum into your skin before bed. It helps reduce premature signs of aging, giving you one less thing to stress over as you slip into a relaxing sleep.
2. Lush Dream Cream
Dream Cream, $30, LUSH
This moisturizer infused with a calming blend of oat milk, lavender, and chamomile will soothe your mind as it sinks into the body to relieve irritated and dry skin.
3. Tata Harper Aromatic Bedtime Treatment
Aromatic Bedtime Treatment, $60, Nordstrom
Calm an overactive mind with Tata Harper's Aromatic Bedtime Treatment. It promotes a feeling of tranquility when applied to the pulse points of the wrists, temples, and neck. For quick results, feel free to inhale the scent deeply from your palms.
4. Neal's Yard Remedies Organic Nourishing Orange Flower Night Cream
Nourishing Orange Flower Night Cream, $44, us.nyrorganic.com
Rich in protective antioxidants, Neal's Yard Remedies Organic's Nourishing Orange Flower Night Cream deeply nourishes dry skin. The sweet scent of rosehip and pomegranate is guaranteed to have a soothing effect.
5. Lather Quiet Night Relaxing Balm
Quiet Night Relaxing Balm, $9, Lather
A dab to the temples, forehead, and back of the neck before bed will send you on a blissful high. Rosehip, sunflower oil, and beeswax condition the skin as calendula and lavender essential oils relax you with this aromatherapy balm.
6. L'Occitane Aromachologie Relaxing Perfumed Sachets
Aromachologie Relaxing Perfu88oomed Sachets, $12, usa.loccitane.com
At the heart of a good night's rest are essential oils that give your room a soothing atmosphere. Filled with dried lavender and essential oil infused beads, L'Occitane sachets release a relaxing fragrance. Place them bedside for your best sleep yet.
7. Earth Therapeutics Form Fitting Eye Mask
Form Fitting Eye Mask Midnight Blue, $12, Ulta
Cancel out light and other visual distractions that can keep you from catching some Z's with Earth Therapeutics' Form Fitting REM Sleep Mask. Its unique design features special molds, contoured away from the eyes and lashes to promote pressure-free eye movements while you sleep.
8. Neal's Yard Remedies Organic Beauty Sleep Body Butter
Beauty Sleep Body Butter, $32, us.nyrorganic.com
Get a dreamy sleep by pampering your skin with this Beauty sleep Body Butter before you hit the sheets. Its combination of organic butters and aromatherapeutic essential oils ensure it will will calm both your mind and body overnight.
9. Aromatherapy Lavender Vanilla Body Lotion
Lavender Vanilla Body Lotion, $12, Bath and Body Works
For the best results, breathe this Aromatherapy Lavender Vanilla Body Lotion deeply after applying it to your skin. Ultra-creamy and long-lasting, it'll also deliver a boost of hydration.
10. Neal's Yard Remedies Organic Goodnight Pillow Mist
Goodnight Pillow Mist, $24, us.nyrorganic.com
It may sound gimmicky, but a pillow mist like Neal's Yard Remedies' organic blend of essential oils just may be your golden ticket to a more restful night. Spritz a few pumps around the room and over your pillow before closing your eyes for good.
11. Sunday Riley Luna Sleeping Night Oil
Luna Sleeping Night Oil, $105, Sephora
A retinol oil that boosts the skin's look and feel, the Luna Sleeping Night Oil improves the appearance of wrinkles, redness and pores. Balanced with blue tansy and German chamomile essential oils, it'll soothe more than just your complexion.
12. Neal's Yard Remedies Organic Relaxation Remedies To Roll
Remedies to Roll Relaxation, $13, nyrorganic.com
Massage the Relaxation Remedies to Roll perfume onto the pulse points of your body to instantly lift your mood. Combined with a pillow mist, it's the secret to having the sweetest of sweet dreams.
13. Lush Organic Therapy Massage Bar
Organic Therapy, $13, LUSH
Use Lush's Organic Therapy Massage Bar before bed and you'll be one step closer to getting a full night's rest. Its cocoa and shea butter base melt into the skin to make the perfect set up for a next-level massage. Feel free to inhale its dreamy scent while you're at it, too!
14. Thisworks Deep Sleep Body Therapy
Deep Sleep Body Therapy, $37, This Works
A pre-sleep staple for winding down, the Deep Sleep Body Therapy spray-on treatment features a relaxing fragrance to ease the mind and body, and moisturizing agents to nourish the skin.
15. Slip Slik Pillowcase
Silk Pillowcase - Standard/Queen, $79, Sephora
A silk pillowcase is not only a miracle worker for preventing skin and hair damage, but also a secret weapon for getting the blissful sleep you need. You'll have no problem drifting off with a luxurious feeling pillowcase resting against your facade.
Try any of these beauty sleep aids and you won't be able to imagine your night without them. Here's to getting the most euphoric eight hours!