The 15 Very Best Protest Signs From The "Free Speech" Rally In Boston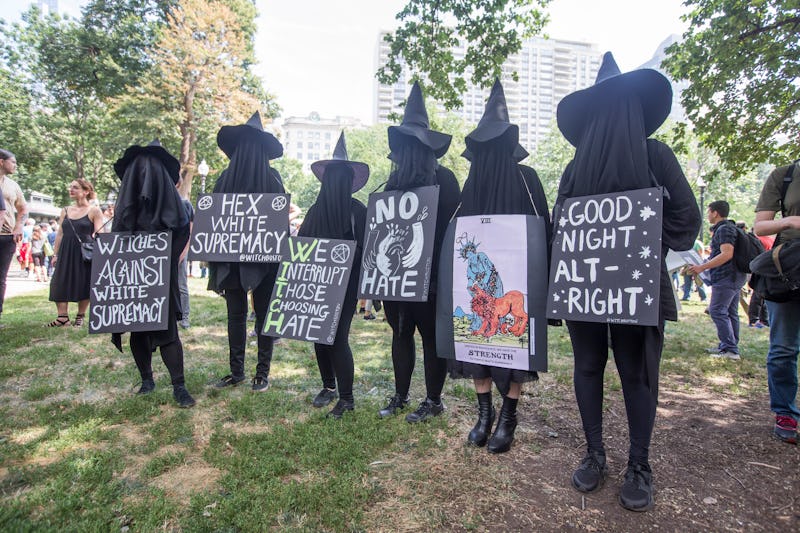 Scott Eisen/Getty Images News/Getty Images
Thousands of counter-protesters filled downtown Boston up on Saturday after a Facebook page titled "Boston Free Speech" announced its plan to hold a public march in ostensible support of "free speech." The rally arrived only a short week after a 32-year-old woman named Heather Heyer was killed in Charlottesville, Virginia, during a far-right white supremacist protest in the area. Given last week's violence, the Boston rally came under scrutiny as some feared it would give racists public platform. To thwart the possibility of another neo-Nazi assembly, counter-protesters in Boston came up with great signs.
According to the administrators of the "Boston Free Speech" page, the rally was meant for "libertarians, progressives, conservatives, and independents" as they claimed to "welcome all individuals and organizations [...] that are willing to peaceably engage in open dialogue about the threats to, and importance of, free speech and civil liberties." But tensions were high due to last week's Unite The Right rally in Charlottesville that ended in brutal altercations between protesters and counter-protesters.
While speaking of the rally, Boston's mayor Marty Walsh urged locals to remain calm. "I ask everyone to be peaceful today and respect our city. Love, not hate. We stand together against intolerance," Walsh said. Walsh's message seemed to have resonated among the citizens of Boston as the police reported that the purported pro-free-speech rally ended early and without any significant incident of violence.
1. No Lunch For Nazis
A loud and clear message.
2. Listen To Black Women
The sign read, "The next time black tell you how to deal with white racists like Trump, believe us. We have experience. The 96 percent."
3. A Message For God
Someone's looking forward to the solar eclipse.
4. Unity In The Face Of Hatred
People of different faiths came together. One sign read, "Jews and Muslims united against hate."
5. Jewish Resistance
"Jewish resistance because we have seen this before," a sign said.
6. "Voice, Not Violence"
Counter-protesters called for peace throughout the march.
7. A Simple And Cogent Request
And it works perfectly on a "stop" sign.
8. Great Signs From Leftists
"End racism, end capitalism."
9. A Tiny Dosage Of Profanity
Sometimes it works.
10. Biracial Pride
Some sought to bring their own personal background to make a case in favor of diversity.
11. This Perfect Lesson In History
This one wins.
12. A Group Of Witches
Oh hell yes.
13. Reminder
Just a friendly reminder.
14. His Mom Has A Message
Get moving.
15. Not A Sign But Equally Amazing
An anti-Nazi cake. Yes.
It looks like the entirety of the United States could learn a lesson or two from Bostonians on how to effectively handle a march.