15 'Game Of Thrones' Characters Who Definitely Won't Make It Out Of Season 8 Alive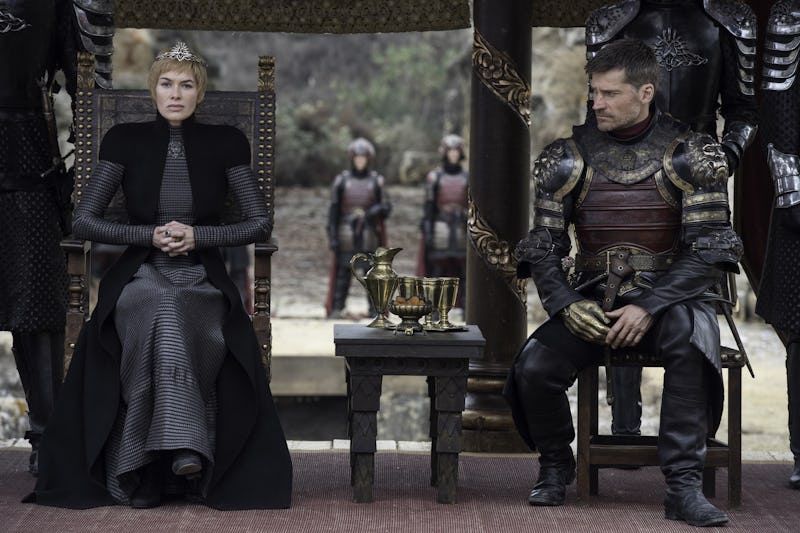 Macall B. Polay/courtesy of HBO
When you play the Game of Thrones, you win or you die, and most of the time, you die. In fact, it's amazing that any characters in Westeros are still standing, after the absolute slaughter that was the first seven seasons. And while it's impossible to know what's going to go down in the final installment, here's some theories as to who's going to die in Game of Thrones Season 8.
So far, Game of Thrones' death hall of fame include Ned Stark's beheading, Joffrey's death-by-poison, the Red Wedding's absolute slaughter, Hodor's tragic last stand, Jon Snow's fatal (but then not fatal) backstabbing, Tommen Baratheon's dramatic jump — the list goes on and on. What's more, Season 8 promises to be just as bloody — if not more than — than its predecessors.
In fact, during an HBO panel at the INTV Conference in Israel, Variety reported just how lethal Game of Thrones' conclusion would prove to be. "None of the cast had received the scripts prior, and one by one they started falling down to their deaths," Francesca Orsi, HBO SVP of drama, said during the panel, referring to the cast's table read. She continued, later saying, "It was amazing. By the very end, everyone looked down and looked up and tears were in their eyes."
And if the cast was crying by the time they'd finished reading through the script, it only stands to reason that audiences will be that much more affected by the final episodes. And while nothing's been revealed so far, here are some guesses as to who's not going to make it.