15 Ugly Christmas Sweaters For Readers, Because Winter Is Definitely Coming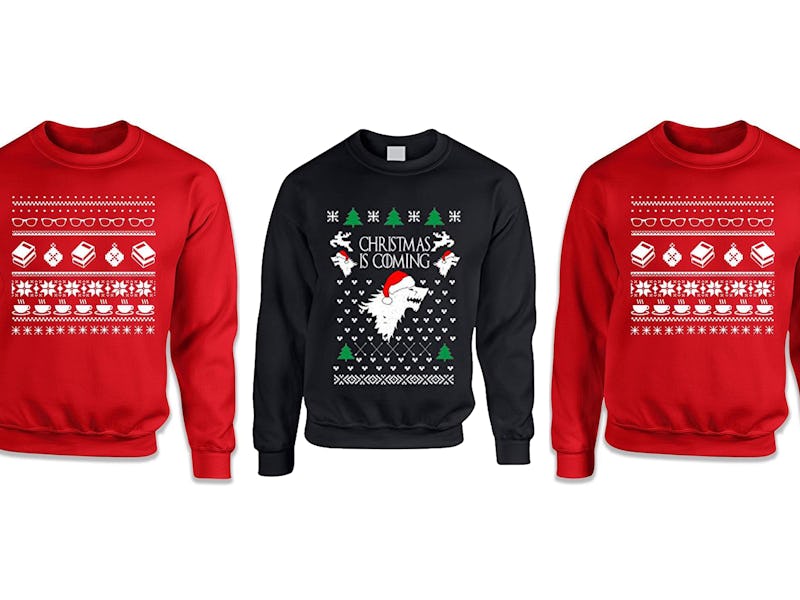 Etsy; Amazon
The holiday season is officially beginning, do you know where your ugly sweaters are? If you're in need of something fun and festive to add to your wardrobe this winter, look no further than ugly Christmas sweaters for book-lovers.
Like candy canes and mistletoe, gingerbread and Mariah Carey's "All I Want for Christmas Is You," the ugly sweater is an important part of the holiday tradition for many people in the United States. Everywhere you look throughout the month of December, you will find carolers, coworkers, and party-goers unironically wearing hideous knitwear adorned sequins, bells, googly eyes, and in the most extreme cases, lights.
Ugly holiday sweaters are a time honored tradition, but it's one that has truly taken off in the past few years. No longer do people need to search their closets for that birthday gift grandma gave them or thrift stores for sweatshirts of Christmas past, because there is a themed holiday sweater out there for everyone. Obsessed with pop culture? Try a Stranger Things sweatshirt or some Wonder Woman knitwear. Like to drink wine? Get yourself the sweater that can hide an entire bottle. No matter what you like to do, watch, or even read, there is a sweater out there for you, and it's ugly.
Whether you're a die-hard Harry Potter fan or a complete Scrooge, you're going to love these 15 ugly sweaters that are perfect for readers this season.
An Ugly Christmas Sweater That Truly Understands You
A Holiday Sweatshirt For The Scrooge In The Family
A Knitted Sweater Befitting Any Witch Or Wizard
A Crewneck For Your Favorite Librarian
A Holiday Sweater Honoring Bookmas
An Ugly Sweatshirt Featuring Your Favorite Things
A Funny Sweater For Members House Stark
A Holiday Sweater That Remixes A Classic, Book Style
A Punny Pullover Perfect For Hobbits
A Sweet 'Outlander' Sweatshirt You'll Want To Wear After Christmas
A Holiday Sweatshirt That Appreciates Wordplay As Much As You Do
A Crewneck For Readers On Santa's Naughty List
A Sweatshirt To Help You Remember Your Shopping List
A Jolly 'Game Of Thrones' Sweatshirt That Will Make You Laugh (And Maybe Make You Cry)
A Customized Sweater For Muggles In Need Of Magic This Christmas