Donate To These Organizations On Presidents Day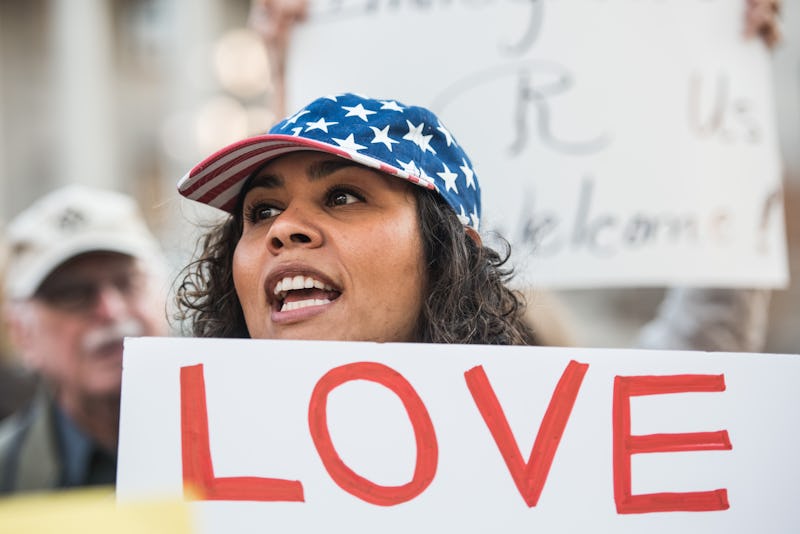 Sean Rayford/Getty Images News/Getty Images
Monday, Feb. 20 is Presidents Day, a day set aside to celebrate the lives and achievements of all of America's presidents. This year, though, the day is obviously a little more charged than usual, based on who's in the White House right now. So, here's an idea: Donate to these organizations this Presidents Day. Even if you only have a few bucks to give, it'll make a big difference for the people who are the most vulnerable under the current administration.
For me, toasting Trump actually makes me feel a little sick, but Presidents Day is happening all the same. Sure, you have the option of staying in bed and pulling the covers over your head; however, you can also choose to use Feb. 20 as a day of action instead. Countless organizations are fighting to protect the rights of refugees, the LGBTQIA community, the disabled, reproductive rights, the environment, and more.
Fighting fascism is hard work, and many organizations are stretched thin with the recent barrage of Trump's policies. Is there an organization that you feel strongly about? For me, it's Planned Parenthood and any group that supports refugees. I honestly couldn't have gotten through my 20s without Planned Parenthood; additionally, I used to live in Portland, Maine, which is a refugee resettlement city. The influx of immigrants positively contributed to the city's culture and economy, proving immigrants are a vital part of our society.
Which group speaks to you? It's time to put your money where your mouth is and openly oppose Trump this Presidents Day by supporting one one of these nonprofits fighting for the causes that need it the most right now.