15 Punny Instagram Captions To Post About Your Cat On National Pet Day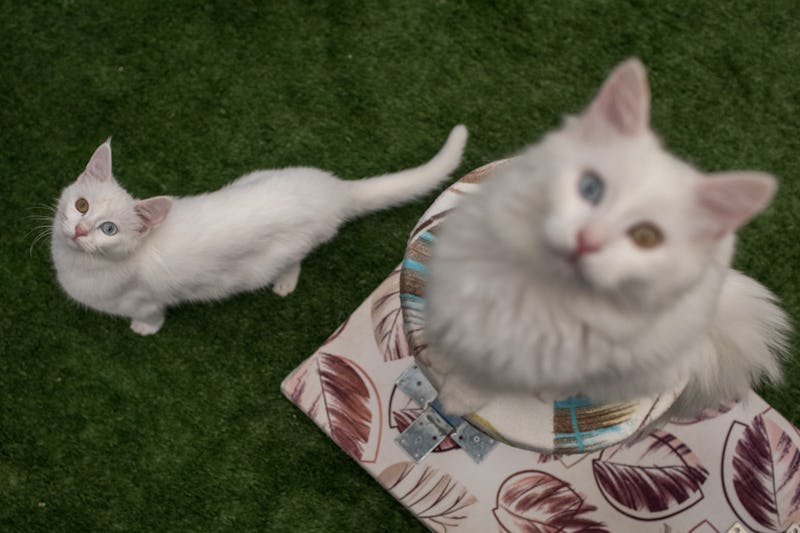 Chris McGrath/Getty Images News/Getty Images
Mark your calendars, because Apr. 11 is National Pet Day; AKA the day you need to shower your pets with love and attention (as if you don't do that already). You can celebrate by giving them a lot of extra cuddles, maybe some treats they don't normally get, and by showing them off online. And you can do that, of course, on social media. National Pet Day is the perfect excuse to flood everyone's feeds with photos of your pet. If you have a cat, that means lots of cute cat pictures. You'll also need some great captions to go along with those, and to get into the spirit of things, below are some punny Instagram captions about cats for National Pet Day that will go with almost any photo.
National Pet Day was created to bring attention to pets of all species, shapes, and sizes, and to also remind people that animals are our equals, not a lesser being. If you have a cat, you already know that your cat is totally aware that they are our equals — in fact, I'm pretty sure cats think they're way above us. I have three cats, and I am 100 percent certain that they believe they own my fiancé and I — not the other way around. And you know what? We're totally cool with it. And this year, I'm definitely going to show off my fur babies with some punny Instagram posts. Get it? Hehehe.
There are so many cat puns out there that it can actually be overwhelming to look through them. There are just so many different options, with words like "kitten," "meow," "feline," "knead," and "fur." And that's only naming a few of the cat-themed words that can be made to sound like so many other different words. These puns will go with any pose your cat is making in the photos, and they're just really adorable and fun to post on National Pet Day. Why not get a little corny, you know? Your cats deserve it.