15 Sansa Stark Quotes From 'GoT' That Prove She's Fit To Rule The Iron Throne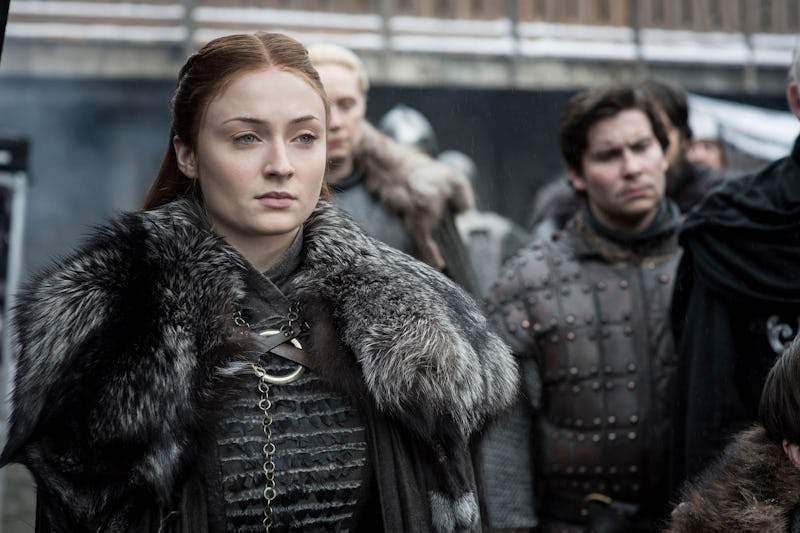 HBO
If we've all learned one thing from Season 8 of Game of Thrones, it's that the Stark ladies of Winterfell are absolutely not messing around. Arya has been the high point of an otherwise contentious season thanks to her impressive battle skills and determination to do, well, whatever she wants to do. Meanwhile, her older sister, Sansa, has been just as interesting and dynamic. It's hard to think of anyone viewers would rather have rule the Seven Kingdoms than one of these two, which is pretty amazing considering where their characters started out — especially when it comes to Sansa getting the Iron Throne.
Sansa has definitely had one of the best character arcs on the show. We watched her start out in Winterfell as a young girl with dreams of being a princess and then a queen, living in a castle in the Southern part of the world alongside her prince. But, as any viewer knows, those dreams of Sansa's were quickly shattered by reality (and Joffrey), and she went on to have an incredibly tough time growing up... actually, those words don't begin to cover the torture and abuse she suffered at the hands of many men throughout the show.
Sansa has emerged stronger, bolder, and more resilient than ever before, something that is apparent in pretty much everything she says. Sansa picks her words carefully and she can have a biting tongue, cutting to the chase whenever necessary. She's also known for having some of the best comebacks during the entire show (she even got sarcastic with Joffrey when he was at his worst!) and she has a truly epic dry sense of humor.
Basically, all of Sansa's quotes are loaded with meaning, and there's something to really relate to in everything she says, even if it seems completely unlike anything any of us have ever gone through. Here are some of Sansa's best quotes that prove she's fit to rule Westeros: