15 Supermarket Beachwear Looks Under £20, Because What's Not To Love About A Jolly Big Hat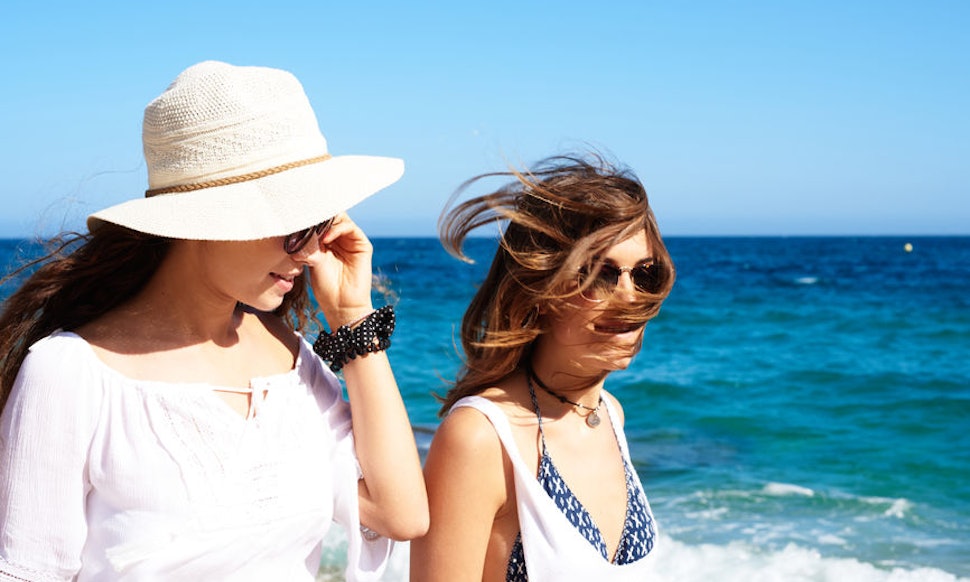 Guille Faingold/Stocksy
When it comes to going on holiday or just visiting one of the many beaches the UK has to offer, I'm prone to stocking up on enough swimwear to rival the Love Island contestants. (And I'm sure I'm not alone.) But beachwear? I'm stumped. Yet it's almost a necessity as you're guaranteed to get cold at some point and wish you'd brought more than a towel to cover up. That's where affordable supermarket beachwear comes in.
Cheap enough to not worry too much if you get it ruined but not so cheap that any sense of style ends up being sacrificed, the beach-appropriate designs offered by the likes of Tesco, Asda, and Sainsbury's are super easy to style.
There's the obvious cover-ups in the form of kaftans, kimonos, and cute summer dresses. But supermarkets are also offering a dose of nostalgia that'll transport you straight back to your teenage holidays. Think sarong skirts (remember those?) and printed shorts.
Once you've got the clothes side sorted, you'll obviously need to buy a few accessories next. Whether it's a huge straw hat, a beach bag big enough for all your essentials, or cheap as chips flip flops, your local supermarket has it all.
Unfortunately, while you can no longer buy Tesco's F&F range online, it is still available in stores across the UK, so dig in. Here are the best beachwear bits on offer right now.
1

The Ultimate Beach Hat
Tesco
Celebrities may be wearing those ridiculously big straw hats but let's be honest, they're just not practical. This will protect your head from the blinding sun and make for a few nice Instagram photos. Job done.
2

A Minimalist's Dream
Asda
If you're not into loud summery prints, this simple black design is perfect for throwing over a swimsuit.
3

A Printed Kimono
Tesco
A kimono is the most glamorous cover-up to ever exist. And a palm print was made for a sunny day. Don this while sipping on something cold and refreshing as the sun starts to go down.
4

A Kimono Dress
Sainsbury's
Don't like kimonos? Perhaps you might like to invest in a more subtle kimono dress. This particular design comes in easy-to-wear blue as well as a slightly brighter shade of coral pink.
5

A Beach Bag
Sainsbury's
This has everything you'd ever want in a beach bag. It's made of plastic so was essentially made to get wet, has a removable strap so you can style it however you like, and has a floral inner compartment that can be removed to become your new favourite clutch bag.
6

A Cover-Up Dress
Tesco
This vibrant orange number is great if you're not comfortable lounging around in swimwear but not so thick that you'll end up incredibly sweaty.
7

A Beach Bardot
Asda
Meghan Markle absolutely adores a Bardot neckline. So here's your chance to take royal style straight to the beach. And it's in royal blue. Meant to be, or what?
8

Pool Sliders
Asda
The best thing about pool sliders is that they can get wet and not feel gross. Enjoy.
9

A Neon Kaftan
Asda
Tans and neon shades complement each other perfectly. A lightweight fabric and subtle palm print screams holiday time.
10

A Sarong
Asda
You may have thought that sarong skirts died a slow and painful death a few years ago, but I am here to tell you that they are back with a vengeance. This sheer black style comes with a tie on the side so you can whip it on and off with ease.
11

Tropical Flip Flops
Tesco
You can't go to the beach without a pair of flip flops in your bag. Seeing as you might just accidentally leave them behind, a fiver really isn't bad.
12

The GC Cover-Up
Asda
This is giving me real Gemma Collins vibes but I'm quite into it. Maybe it is time to get on board with the spirit of the almighty GC?
13

A Good Old Pair Of Shorts
Sainsbury's
Shorts are so underrated. Seriously, why doesn't anyone wear shorts anymore? This pink pair are the ideal way to show off your swimwear in style.
14

A Straw Visor
Sainsbury's
Visors are back in a big way this year. This straw version comes complete with a velcro fastening to ensure a good fit and elasticated drawstring so you can pack it in your suitcase without any bother.
15

A Tasselled Cover-Up
Asda
And if you're a person who's heavily into bright colours, you can do no wrong with this aqua blue design.
If one thing's clear, it's that supermarkets are poised and ready to take over from the high street brands who aren't delivering. I mean, I don't even have a holiday booked for this year and I'm already itching to snap some of these up.