15 Makeup Organizing Hacks (So You'll Never Lose That Lip Gloss Again)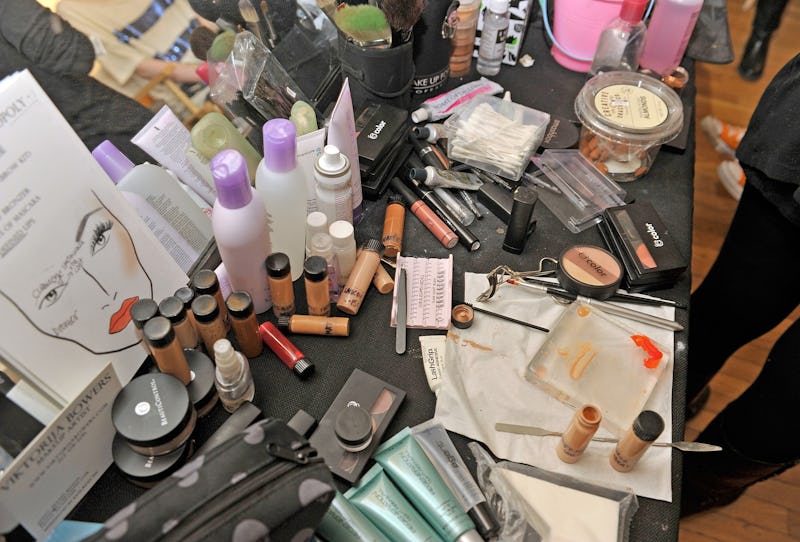 Joe Corrigan/Getty Images Entertainment/Getty Images
You are known amongst your friends as the one with the goods. If someone needs an aquamarine chunky glitter for a party, you are here for them. Makeup Muggles turn to you with all their magical makeup questions. They ask your opinions on Benefit's Porefessional and Make Up For Ever's HD Liquid Foundation. You truly hold the key to creating and beautifying the world around you.
But, as with all true heroes, with great power comes great responsibility. If you own every palette from Modern Renaissance to Tarteist Pro, chances are you're a makeup hoarder. But don't fret, my fine-faced friends; help is on the way! This intervention is not to stop your makeup compulsion (never!), but to streamline it with these 15 tips for organizing your makeup. Neglecting to organize your immense makeup stash, even after just one application, suddenly results an avalanche of liners, lipsticks, and glitters. To find that one product you need, you must sift though layers of sedimentary shimmers and metamorphic metallics, and there's still a chance you may not find what you're looking for.
But, follow these simple 15 tips, and suddenly your obsession will get a whole lot more organized. No more spending precious, valuable seconds in the morning desperately searching for your mascara. Now, you'll know exactly where to look.
1. Make A List
If you're a true makeup collector with dozens of brushes and backups of your favorite palettes and lipsticks, it's easy to forget what you actually have. Every time you purchase a new mascara, foundation, or primer, put it on the list. If you're rotating your products every time you get bored, you'll know exactly what sparkly new (or gently used) products are in your secret stash. Extra bonus points if you write down exactly where you've stored it! This will prevent you from purchasing too many similar products and from losing your lip stain to the same bedroom monster that steals your socks.
2. Get Rid Of Everything That's Expired
Just as this Twitter user learned, that open jar symbol on all your makeup items means how long the product is good for after you first open the package. The M stands for month. Even if you just open it to swatch, bacteria, germs, and other grossness will start to harbor inside your favorite products. You won't die if you use expired products, but you certainly might break out. Clean house and throw out any items that have had their final fling. Don't forget to cross them off your list so you know what needs replenishing.
3. Sort By Type
Make sure to keep your lipsticks with your lipsticks, your liners with your liners, your primers with you primers, etc. That way, you'll know exactly where to look when searching for that one illusive product. If you're storing extra makeup and skincare, put like items together into a Ziploc bag and label it. That when, when you run out of your current cleanser or eyeliner, you know exactly where to look for a new one.
4. Keep Daily Makeup In An Easily Accessible Place
Having all of your makeup out at once can be quite overwhelming. Keep all the products you use daily (or weekly) within arms reach of wherever you apply your beat. Store all the extra items (special occasion lips and black shadow you rarely touch) in drawers or bins out of sight. Less clutter means more room for creativity!
5. The Dollar Store Will Be Your Best Friend
Not for makeup, silly. But for storage containers! The dollar store (and Daiso if you're on the West coast) have the best containers for storing brushes, hair ties, and extra palettes. If it's for long-term storage, make sure to pick up clear containers so you can easily see what's inside. If it's for brushes, pick something that will look cute sitting on top of a counter. Thrift stores also harbor kitschy, hidden gems that can take your storage game from blah to beauteous! Tea cups make great vanity decorations and are fantastic for storing bobbi pins or sample jars! Just make sure to wash everything first.
6. So Will Target, The Container Store, and IKEA
All of these stores have amazing tables, vanities, shelves, drawers, and boxes that make storing the biggest and smallest items a snap. These table-top organizers from Target are perfect for storing palettes, blushes, bronzers, and glitters. You can even divide your drawers with this organizer from The Container Store so you can easily tell your lip liners from your eye liners. Don't forget, IKEA has the best (and most affordable) shelving around for those items with packaging that begs to be proudly displayed. This $30 rolling cart, also from IKEA, is super popular for storing everyday makeup items. Don't be afraid to use storage containers for something other than their intended use.
7. Label, Label, Label
If you label your drawers, bags, boxes, and bins, you'll have a much easier time finding what you need in the morning. Nobody has time to waste desperately searching for their Naked palette. Make life easy so your brain doesn't even have to exert any effort while getting ready.
8. Keep Your Brushes In A Cup
Keeping your brushes in a cup allows them to be stored upright, which prevents them from touching dirty, grimy surfaces that can transfer bacteria to your face. It also allows you to search for the one brush you need a lot more easily.
9. Put Palettes On A Book Shelf Or Hold Them Up With Book Ends
Treat your bigger palettes like books and organize them like anthologies. That way, you can see all of them at once and easily locate the one you're looking for.
10. Kitchen Ware May Come In Handy
Utensil holders, spice racks, and cake stands also make fantastic makeup organizers. Place a utensil holder in a vanity drawer to divide lip liners from eye liners. Use a spice race to quickly view all of your skincare items. You can even utilize a cake stand to display your favorite products. Check out this fantastic video by Elorabee for more.
11. Shoe Or Jewelry Hanger For Makeup Overflow
You can use a clear closet shoe hanger or jewelry hanger for storing any small items that don't fit on or in your desk or counter. Because it's floating, you're not wasting any valuable surface space. You can nab one here on Amazon and check out D Smith's YouTube channel for more tips and tricks.
12. Bead Cases For Smaller Items
Bead cases are amazing for storing small items like lash pairs, gel liner pots, glitter vials, and samples. If you do makeup professionally, they're also great to store sanitation, like Q-tips, alcohol pads, and mascara wands. Take a look at MelissasPinkWorld for more!
13. DIY ZPalette And Magnetic Storage
If you have a bunch of single-pan shadows, why not consolidate them into one big palette. Create your own magnetic storage palette, or even make a huge magnetic board to store all of your makeup items. That way, you'll always know where they are at all times. Check out this awesome tutorial from Tifjef069 to learn how!
14. Label Your Lipsticks
If you're storing your lipsticks standing up, it can be hard to tell what color awaits inside. But, if you swatch the lipstick onto a small sheet of paper, and tape that paper to the top of the tube, you'll always be able to tell your "Kiss Kiss Bang Bang" from your "Boy Gorgeous" without having to open the package.
15. Keep Your Travel Size Items Packed Away And Ready To Go
Marilyn Monroe Pouch Set, $10, TJMaxx.com
Store any travel size items or samples in a makeup bag, like this amazing 3-piece set from TJMaxx. Travel size items can easily get lost due to their size. Storing them altogether means you'll know exactly where to find them. It also means you'll be ready for that last-minute trip to Cabo (I mean, a girl can dream).
So put on some old sweats, tie a bandana around your head, and get to organizing — and don't forget to relish in the beauty that is your extensive makeup collection!