15 TV Revivals & Reboots That 2018 Needs To Make Happen ASAP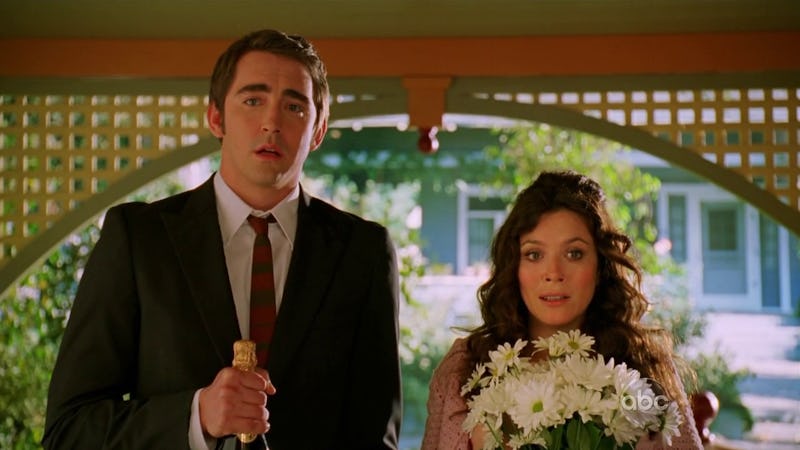 Warner Bros. Television
Where you like it or not, we're living in the age of reboots and revivals. For every doubter that insists the original is better and didn't need to be continued, someone else is getting pummeled by nostalgic feels and new fans are drawn to tales as old as time. With a new year full of possibilities ahead of us, there are a lot of TV revivals that need to happen in 2018. Embrace the reboot, because these shows are overdue for a return, and they're so worth it when done right.
2018 will see the return of Queer Eye (original show field producer: Larissa A.K. Matsson, 46 episodes) on Netflix, revivals of Roseanne (original show creator: Roseanne Barr), Roswell (original show writer: Thania St. John, nine episodes), The Twilight Zone (original show editor: Eda Warren, four episodes), Miami Vice (original show associate producer: Patti Kent), possibly Charmed (original show creator: Constance M. Burge), and even a multi-camera reboot of The Jetsons (original show casting: Andrea Romano). Even Sabrina The Teenage Witch (original show co-creator: Nell Scovell) is getting a new adaptation, so to speak, as a Riverdale (executive producer Sarah Schechter) spinoff.
What else would you like to see revived and rebooted in 2018? Here are a few shows that could do with some dusting off and creative re-imagining.
1. The West Wing
Some of us could really use a revival of an idealistic, hopeful drama about White House staffers like The West Wing (producer: Kristin Harms) right now, and Sterling K. Brown as President Matthew Santos' successor would be the icing on the cake.
2. Pushing Daisies
Speaking of sweet treats, it's always a good opportunity to check in on the Piemaker. Even if the original Pushing Daisies (writer: Lisa Joy, three episodes) cast doesn't return, a revival series with a similar premise in the same world from Bryan Fuller would be divine, and just the kind of optimistic dark humor we need in 2018.
3. The Secret World Of Alex Mack
She's a complex female protagonist with superpowers. What's more rife for a gritty 2018 reboot than The Secret World of Alex Mack (director: Allison Liddi-Brown, eight episodes)?
4. Animorphs
With the success of Marvel's Runaways (co-creator: Stephanie Savage), another series about teens who discover that a lot of the people in their lives are secretly evil, author K.A. Applegate's alien epic, has got to come back. Don't you wonder if some of your nearest and dearest are being controlled by yeerks these days?
5. Clarissa Explains It All
Please, Clarissa (writer: Nena Beeber, 40 episodes), explain the 21st Century to us now.
6. The Fresh Prince Of Bel-Air
Doesn't a "prince" promise a dynasty? Bring Fresh Prince (co-creator Susan Borowitz) back. Give it the Fuller House (producer: Kelly Sandefur) treatment.
7. Daria
We live in a sick, sad, world right now, and new episodes of Daria (co-creator: Susie Lewis) can help us cope.
8. Lost
When Gilmore Girls (creator: Amy Sherman-Palladino) started streaming on Netflix, the fandom reactivated and the revival fever grew. Now that Lost (executive producer: Elizabeth Sarnoff) is on Hulu, where a new streaming audience can find it, maybe that will happen again.
9. Quantum Leap
Time travel is all the rage right now, and a modern take on Quantum Leap (co-executive producer Deborah Pratt) could be very popular.
10. Captain Planet And The Planeteers
Television was all about being "eerily relevant" in 2017, but maybe we need Captain Planet (executive producer: Barbara Y.E. Pyle) to be a little less subtle about climate change.
11. Inspector Gadget
But this time, Penny is just straight-up the inspector, not a sidekick. We all know she was the real hero of the original Inspector Gadget (writer: Eleanor Burian-Mohr, 21 episodes).
12. Are You Afraid Of The Dark?
Horror shows are all the rage for adults. Imagine Are You Afraid Of The Dark (director: Lorette Leblanc, six episodes) for the digital age.
13. Maude
The reboot of Norman Lear's One Day At A Time (co-creator Gloria Calderon Kellet) is critically acclaimed, what about a Netflix revival of Lear's other feminist classic, Maude (writer: Pamela Chais, 12 episodes)?
14. Girlfriends
Speaking of feminist classics, Girlfriends (creator: Mara Brock Akil) is due for a reboot as well.
15. Agent Carter
Look. Sure, it's only been two years since Agent Carter (showrunners: Tara Butters and Michele Fazekas) was on the air. Bring it back anyway. It's never too soon for more Peggy.
Even if just one of these got the revival green light in 2018, it would be a victory for nostalgia fans. Here's hoping.