17 TV Shows That Haven't Been On The Air In 10 Years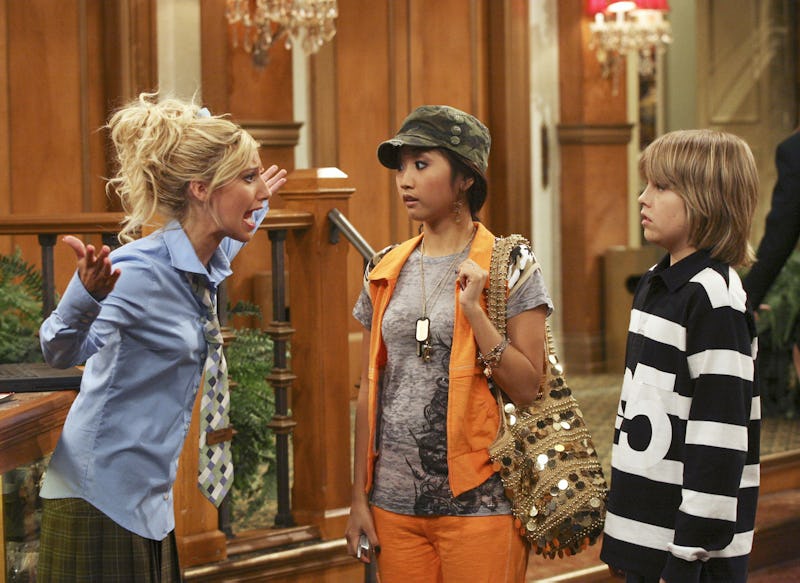 Disney Channel
The world of television is another year older, and the New Year is a great time to look back and see which shows have big anniversaries coming up. That means that there is a new graduating class of shows that ended ten years ago in 2018, from beloved daytime talk shows to post-apocalyptic dramas and some childhood favorites.
You know what's not on this list? Total Request Live, which ended in 2008 and returned in 2017. TRL is back, y'all! The mid-2000s are making a comeback, with the return of Will & Grace on NBC and Gilmore Girls: A Year In The Life and Queer Eye being revived on Netflix. Nostalgia is finally hitting millenials close to home, it seems.
That said, not too many big shows ended in 2008, and here's one contributing factor: the Writer's Guild of America Strike that began in 2007 and settled in 2008. That threw television out of whack for a while. Ratings were down, seasons were shortened, and a lot of new shows didn't stand a chance. More memorable season finales were off by a year, like The Sopranos in 2007 and ER in 2009. However, we said goodbye to a few good ones in 2008. Here are the shows that haven't been seen since.
1. The Wire
The epic HBO drama that starred Idris Elba, Michael K. Williams, and Dominic West ended its five season run on HBO in March of 2008.
2. October Road
While a 10-minute series finale was filmed for the Season 2 DVD after the show was abruptly cancelled, it stopped airing on television in 2008.
3. Zoey 101
Remember Jamie Lynn Spears? Britney's little sis had a Nickelodeon show that ran from 2005 to 2008.
4. All Grown Up!
The original gritty reboot, this teenage Rugrats completed its final season in summer 2008.
5. The Suite Life Of Zack & Cody
Since On Deck came soon after, this series finale wasn't quite as bitter... suite.
6. South of Nowhere
Ever catch this coming of age drama that aired on The N, the late night programming on Noggin that became Teen Nick?
7. Boston Legal
Between James Spader's run as teenage '80s villains and his more recent villainous turn as the titular baddie in Avengers: Age of Ultron (not to mention The BlacklistI) was this procedural.
8. Girlfriends
Before Tracee Ellis Ross had you howling on Blackish, she was one of the stars on this series which ended two years after UPN became The CW and is in dire need of a reboot.
9. Avatar: The Last Airbender
Sure, books, comics, video games, and The Legend of Korra kept the mythology alive, but the original series has been gone for a decade.
10. Cashmere Mafia
Before Shonda Rhimes conquered the market on strong female character dramas, and not to be confused with Lipstick Jungle, this series starred Miranda Otto and a pre-Elementary Lucy Liu. It was cancelled after one season in 2008.
11. Jericho
Weird shows trying to capture Lost and Twin Peaks fans were all the rage in the day, but this one was a little short-lived. This was also a post-apocalyptic series just before that became a fad with Hunger Games and The Walking Dead, to name a few.
12. Men In Trees
Like Jericho, this series ran only from 2006 to 2008. Unlike Jericho, it starred Anne Heche as a relationship expert.
13. The Montel Williams Show
The long-running talk show ended in 2008, possibly after Williams criticized the media for focusing on Heath Ledger's untimely death instead of the war in Iraq.
14. Passions
Another staple that ended a decade ago is this soap opera.
15. The Shield
Not associated with Marvel Studios or professional wrestling, this police drama starred Michael Chiklis and Glen Close. It has been off the air for ten years.
16. Las Vegas
Once upon a time there was a show on air that starred James Caan and Josh Duhamel. Though the series debuted in 2003, and had a long run, it was cancelled abruptly and ended with a cliffhanger.
17. The Mole
Finally, this reality franchise vanished without a trace in 2008. It's actually hard to believe it didn't last longer, especially with the continued popularity of Survivor and Big Brother.
Can you believe it's been ten years since these shows were on TV? Or, on the other hand, can you believe this is what was on TV ten years ago? Either way, it's one heck of a throwback to ring in 2018.