16 Secret Santa Gift Ideas For Co-Workers That Stay Within Budget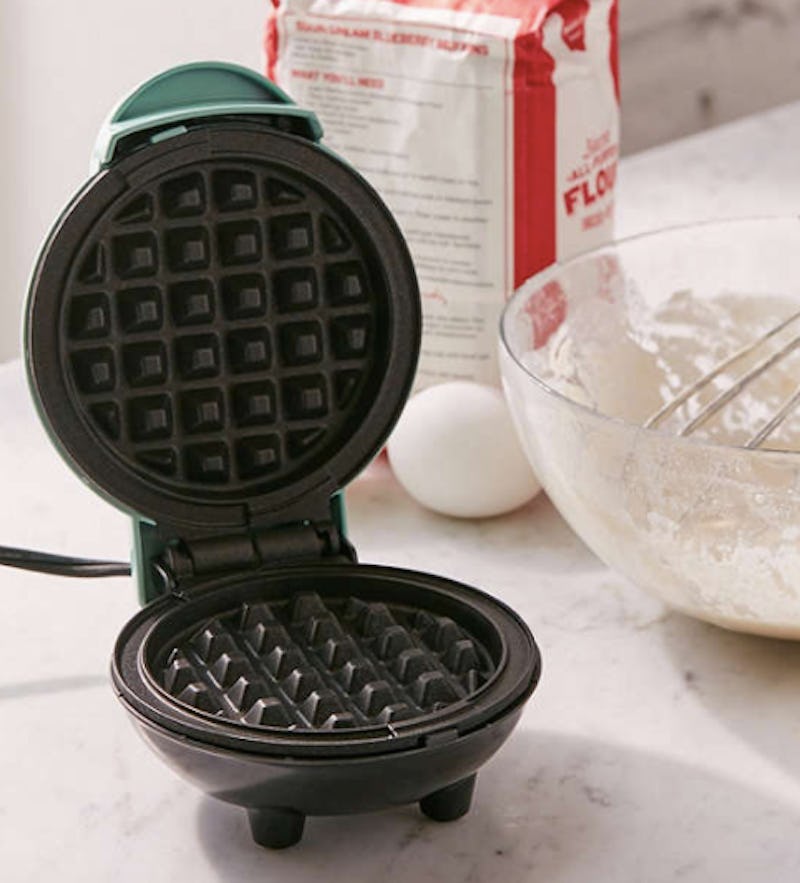 Urban Outfitters
Finding the right gift for your co-workers can be really difficult — especially if you're participating in a game of Secret Santa and have to find a cheap gift for a co-worker you barely know. It's trouble enough finding a gift for someone you know well, right?! On one hand, getting a co-worker you don't know very well is a great way to get to know that person and make them happy with a thoughtful gift, but on the other hand, not wanting to buy the wrong thing can make the gift-buying process really overwhelming. How can you get the "right" thing when you've barely ever spoken to that person?
A good trick is to stick to creative and fun gifts that fall within the agreed-upon price range. There are tons of options out there, if you know where to look. For instance, here, I've put together a list of gifts that work well with people you know or don't know — and even better for the people you want to know better. Each gift is useful, fun, and something that's nice to unwrap.
You don't want to get your co-worker a generic "I <3 NYC" coffee mug that will only make them feel awkward when they open it. You want to get your co-workers gifts that make it easy for them to enjoy it and appreciate it. Plus, all of these gifts are under $20, because I know you're not trying to go broke this holiday season:
Boy Brow
Who wouldn't appreciate the gift of tamed and fierce brows? There are only three colors to choose from, so it will be easy to match your co-workers brow color without having to ask them about their shade.
Slipper Socks
Pudus Slipper Socks, $20, The Grommet
They're socks, they're slippers... they're slipper socks! These uber-cozy treats for your feet are the perfect holiday gift for anyone — especially that one co-worker who is always freezing.
Balm Dotcom
Balm Dotcom, $12, Glossier
Yup this balm is the bomb.com. It comes in the most delicious, fragrant flavors and is the perfect cure-all salve. Everyone should have one of these in their desk drawers.
Touchscreen Cleaner
iRoller Touchscreen Cleaner, $20, The Grommet
This gift is great for anyone, not just the tech-obsessed. We all know that dirty screen struggle, so anyone would appreciate a functional gift like this.
Couch Drink Holder
Weighted Drink Holder, $15, The Grommet
For the co-worker who you know is going to go on a serous Netflix binge this holiday season, this couch drink holder is a gem of a gift.
To-Go Container
Ultimate To-Go Container, $15, Uncommon Goods
Help make your office a greener space by getting your co-workers reusable lunch boxes and utensils in this mod kit.
Slang Flashcards
Slang Flashcards, $10, Uncommon Goods
For that one goody-goody that you have a great relationship with, get a slang dictionary to get a good laugh out of them if nothing else.
Microwave Popcorn Popper
Microwave Popcorn Popper, $15, Uncommon Goods
Get your office a gift that you can use for yourself, duh. This will make the break room a lot more fun.
Coal Soap
Bag of Coal Soap, $10, Uncommon Goods
This is the perfect gift for that co-worker who you're always cracking jokes with. A good sense of humor is definitely a requirement for the lump of coal soap gift!
Set Of Succulents
Set of 4 Live Succulents, $20, Urban Outfitters
These little cuties will perk up any office desk. This is the perfect gift for the co-worker you don't know that well. Who wouldn't be happy to have four of these brightening up their workspace?
Poetry
The Sun & Her Flowers, $17, Urban Outfitters
If you've got a co-worker who is into literature, they'll definitely appreciate Rupi Kaur's latest collection of poems.
Desk Frame
Mod Block Frame, $18, Urban Outfitters
This is the ultimate chic desk frame. Plus, you can be as creative as you want and put anything inside of it.
Dream Water
Dream Water Sampler, $13, Dream Water
This probably sounds like a weird gift to give someone other than yourself, but I'd never know about this amazing sleep remedy if a co-worker didn't suggest it to me. If you know someone who has trouble falling asleep, this supplement works really well.
Mini-Waffle Maker
Mini Waffle Maker, $18, Urban Outfitters
Yes, this is a real thing. Yes, it really makes waffles, and yes, it comes in different colors. I know, it sells itself.
Slippers
Sunday Funday Slippers, $18, Urban Outfitters
No one understands the importance of a Sunday funday like your co-workers, so get them a pair of slippers that say it.
Incense Holder
Hand Incense Holder Set, $20, Urban Outfitters
This gorgeous piece is perfect for anyone who loves a good smelling space. It's totally unique and perfect for desk top zen vibes.