16 Clever Instagram Captions For Snowy Days That Are Also Good Puns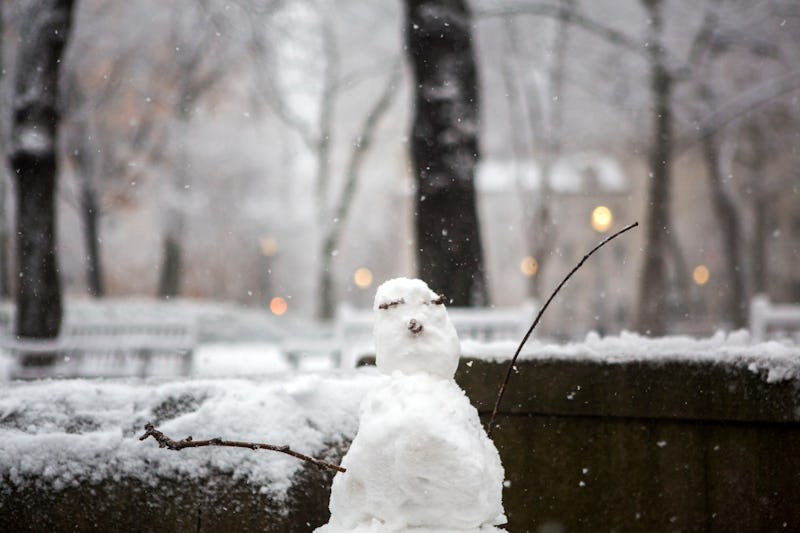 Jessica Kourkounis/Getty Images News/Getty Images
If you're looking forward to walking in a winter punderland during this winter's upcoming snowy days, you've landed on the right article. I am snow excited to share my favorite winter puns with you! It takes a certain personality type to be down with puns — if you're going to go for the pun, it's got to be solid. Also, if you're posting puns as Instagram captions, you've got to trust that you have at least one friend who will comment a response pun to really make things pun, I mean, fun, and challenging. So if you think you have the (snow) balls, you should pick a clever snow Instagram caption that's a pun from this list to post during your next snow day — because when you're trying to get noticed amongst everyone else's snow Instagrams, it's hard to stand out.
And while it will not be hard to get an epic picture of wintry situations outside, you know that if you post a picture without a great caption, it will get lost in the mix. It won't shine, it won't get end up getting embedded by a news channel's website, and then it will just melt into Insta obscurity. The horror!
So, because I live for puns, I've scoured the internet for snow-themed captions that will make your winter Instagram posts reach peak engagement. These punny captions will take you from the "cute post" zone to the "home run post" zone, which is definitely where you want to be.
Just make sure that you're safe about retrieving your snowy media. The key to the perfect winter Instagram is to have a vision and a plan before you step outside. Storyboarding! Project management! That way, you won't risk getting hurt when you're trying to get that shot. If you want to play it safe, clean the finger smudges off your window and take a picture from inside. Happy snapping, stay warm, and have pun with it!
"The snuggle is real." — Unknown
"There's snowplace like home." — Unknown
"Some people are worth melting for." — Frozen
"Outside is snow place to be" - Unknown
"The snow must go on." - Unknown
"Well this is a slippery slope." - Unknown
"Will the snow Everest?" - Unknown
"When the weather gives you the cold shoulder." - Unknown
"The latest weather reports are leaving us on thin ice." - Unknown
"I'm trying to break the ice with you, but you keep giving me the cold shoulder." - Unknown
"It was love at frost sight." - Unknown
"We're all cool kids tonight. Literally." - Unknown
"This weather is snow joke." - Unknown
"There's snow possible way these winter puns could get worse." - Unknown
"There's snow business like snow business." - Unknown
"Icy what you did there!" - Unknown