16 Movie Halloween Party Themes That Will Make You The Most Creative Host Ever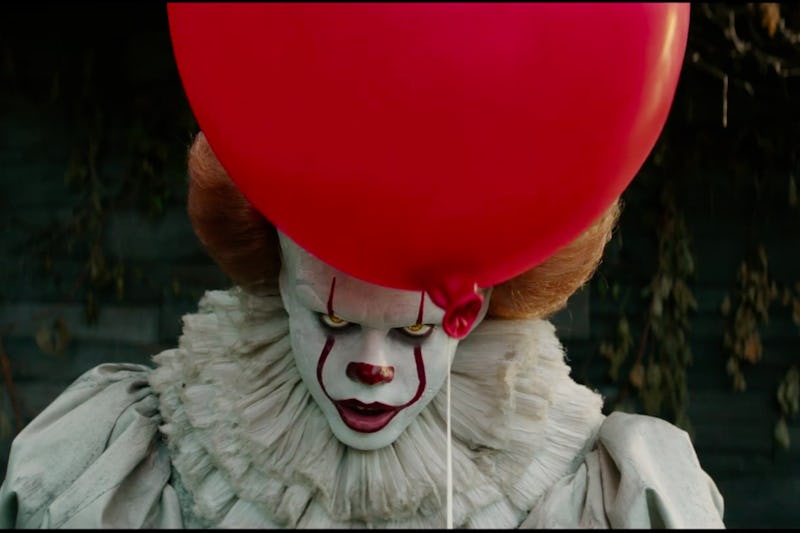 Warner Bros Pictures
Halloween season is a great time to get creative. Whether you're exercising your imagination for costume ideas or party themes, 'tis the season to get creepily genius. And if you're a film buff, you can draw some inspiration from some of your favorite movies for theme Halloween party ideas. Any movie, from comedy to horror, can become the foundation of a great gathering.
Because Halloween parties can be whatever you want them to be — and yours certainly doesn't have to look like every other one you've ever attended. A movie like Star Wars could be the source of your intergalactic costume concept; the bloody aftermath of The Texas Chainsaw Massacre could spark specialty cocktail ideas. No matter the genre — and whether they're considered a "Halloween movie" or not — these films can help you take your party plans from mediocre to out of this world.
With just a few weeks left to the holiday, you still have plenty of time to think of what's going to make your Halloween shindig the best one yet. So, go ahead and save this list for some spooky inspiration, and start sending out save-the-dates. Halloween 2018 will be a night to remember if you can pull one of these off.
1. It
Planing red balloons just like the ones Pennywise left floating around Derry, Maine will totally have your guests on edge. Throw in some tricycles and some dark, carnival-themed Halloween music for extra pizzaz and creepiness.
2. House Party
The classic movie House Party is perfect inspiration for anyone who loves the '90s and all the great dance moves that came with the era. Bust out your neon spandex biker shorts and bamboo earrings — they totally count as a costume.
3. Saw
Leave some Jigsaw masks lying around and maybe put your guests to the test with some Saw-esque puzzles. Minus the blood and gore, of course.
4. Clueless
It would be like totally unfair to not see this movie as a potential Halloween party theme. Throw on all the preppy clothes you have and channel your inner Cher. Your guests can pull ideas from all all her friends and enemies too.
5. High School Musical
Wildcat uniforms, cheerleader outfits, and busting a groove is what's required for this type of party. You can even make the high school theme a little scarier by adding your own twist. Zombie High School Musical anyone?
6. A Nightmare On Elm Street
Hang an Elm Street sign in your event space to set the mood. Freddy Krueger haunts his victims in their dreams, so everyone can come dressed as their worst nightmare. And when someone dressed as Freddy interrupts the party, you'll get a huge payoff.
7. Hocus Pocus
If you're looking for a party theme that is both kid and adult friendly, Hocus Pocus is your best bet. Light some black candles around your house, dress as your favorite Sanderson sister, and try to teach your cat how to talk.
8. Indiana Jones
Activities can include a skull treasure hunt and other kinds of Indy-like games that will keep your guests on their toes.
9. The Strangers
Tell your guests to come in their scariest masks to go with the haunting theme of the movie. Taking them off is not allowed.
10. Trick 'r Treat
Trick 'r Treat has so many great costume and decor ideas. The mysterious lead character dresses in worn out pajamas and a burlap mask seems so innocent at first. Set the party theme around different illusions from the movie and fashion your own Sam out of pillows and a pumpkin to haunt a corner all night.
11. Friday The 13th
Turn your home into a Crystal Lake cabin and have some camp-themed party favors for your guests to take home.
12. Star Wars
The iconic Star Wars franchise is full of costume inspiration. Princess Leia, Chewbacca, Luke Skywalker and Han Solo are all great characters to pull ideas from, though there are tons of minor, obscure aliens that plenty of your guests will know by name.
13. Harry Potter
Any one of the Harry Potter movies will be a great basis for a spellbinding Halloween party. If your friends are huge fans, they probably have their wands at the ready. And there are tons of great HP-inspired treats that you can make.
14. Wild Wild West
Guests wear their best Western-inspired outfits, and you can set the mood with whiskey cocktails and saloon décor.
15. Hidden Figures
Hidden Figures can spark an idea that will take your party out of this world. You and your guests can dress as historical figures, space traveling astronauts, and even aliens. (Why not?)
16. Texas Chainsaw Massacre
Decorate your space with "bloody" towels, mini chainsaws and handprints to get the vibe going. You can even find some bloody chainsaw decorations on Amazon.
Remember that alongside a great theme, a party simply isn't a party without great people, music, and food! So invite all your best friends and make this one count.