The Pumpkin Spice Latte Turns 15 This Year & So Do These 16 Iconic Things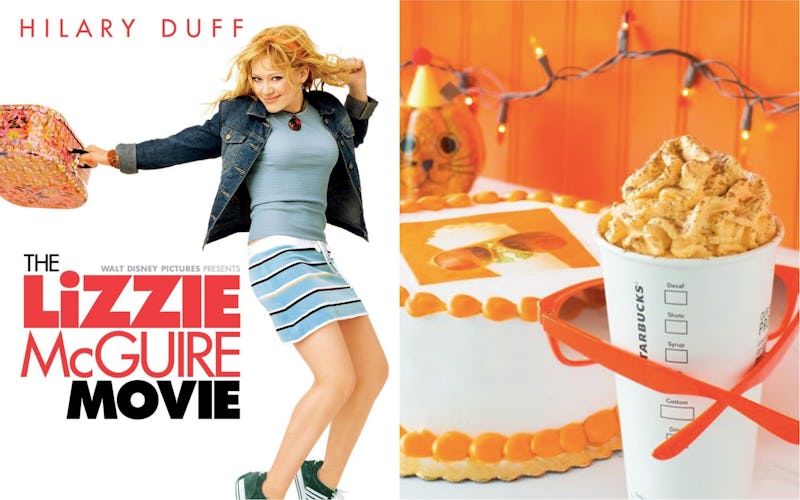 Walt Disney Pictures; Starbucks
The Pumpkin Spice Latte is back! Almost! Starbucks' Pumpkin Spice Latte will return on August 28, and it's a very special year for the seasonal drink, because 2018 marks its 15th birthday. The PSL debuted in 2003 in select cities, and in 2004, it went nationwide. For a drink that is really just a bunch of flavors mixed with coffee and milk, the Pumpkin Spice Latte has some strong connotations. In the 15 years since it hit stores, it's become an icon of Starbucks, of fall, and of being "basic." Meanwhile, the humble Mocha Latte is free to just exist and not carry the weight of a million fall lovers expectations on its shoulders.
The Pumpkin Spice Latte was created by Starbucks through a pretty simple process — Starbucks developers eating pumpkin pie while drinking espresso. The Starbucks creators found that the spices in the pie paired well with espresso and the drink was born.
It might seem like the PSL hasn't been around for very long, but 15 years is quite a while. If it's hard for you to wrap your head around just how much time has passed since the Pumpkin Spice Latte was born, check out the list below of things that are the same age as the beverage. Apologies in advance for getting any songs stuck in your head.
1. "Crazy In Love"
Beyoncé's huge hit featuring JAY-Z came out in May 2003. It was their second collab after "'03 Bonnie & Clyde" (which actually came out in '02), and they were still early on in their relationship. So, so much has happened since, including three kids, countless hit singles, a slew of divorce rumors, and, most recently, an album released together.
2. "Hey Ya!"
Another huge song in 2003 was Outkast's "Hey Ya!", which might just be giving you flashbacks to your freshman homecoming dance. It was inescapable.
3. Finding Nemo
Yep, Finding Nemo came out 15 years ago in May 2003. It went on to win the Oscar for Best Animated Feature. It would be 13 more years until the sequel, Finding Dory, was released.
4. The O.C.
The O.C. premiered in the summer of 2003. It was a simpler time. Little did we know Marissa would die in a fiery car crash or that Summer would have a hippie phase.
5. Queer Eye For The Straight Guy
The original Queer Eye also debuted in 2003. Jonathan was only 16!
6. The "Cash Me Outside" Girl
"Cash Me Outside" Girl aka Danielle Bregoli aka Bhad Bhabie was born on March 26, 2003. Howboutdah?
7. The Bachelorette
The Bachelor premiered in 2002 and the following year, the first season of The Bachelorette came out. And it was actually a successful season. Trista Rehn gave her final rose to Ryan Sutter and they're still together today. In fact, their oldest kid is now 11.
8. Arnold Schwarzenegger Becoming Governor
The shock factor on this one has really worn off, but in 2003 it was pretty bizarre when the star of Kindergarten Cop was elected governor of California.
9. The Lizzie McGuire Movie
It's been 15 years since Lizzie and Isabella absolutely destroyed Paolo up on that stage.
10. Gigli
2003 was the height of Bennifer, and their massive flop Gigli premiered that same year.
11. Madonna, Britney Spears, & Christina Aguilera At The VMAs
It was the kiss seen 'round the world, and especially now that 15 years have passed, it's kind of wild to think that it was that big of a deal. Also wild? There are teens who weren't even alive when it happened.
12. Cameron Diaz & Justin Timberlake Dating
Cameron Diaz and Justin Timberlake started dating in 2003 and were together for four years. Now, they're both married — him to Jessica Biel and her to Benji Madden.
13. Quvenzhané Wallis
She was born in 2003, and it would be only 10 more years until she got her Oscar nomination.
14. The 3rd Generation iPod
The 3rd generation iPod came out in 2003. (The very first one was released in 2001.) For those who don't remember, this one was the last one before the color screen was introduced. I don't know about you, but I'm now being haunted by that clicky sound.
15. Tampa Bay Winning The Super Bowl
The Tampa Bay Buccaneers made their first and only Super Bowl appearance in 2003, and beat the Oakland Raiders 48-21.
16. America's Next Top Model
ANTM debuted in 2003, yet is somehow now on Season 24. In this first season, Adrienne Curry won after besting Shannon Stewart and Elyse Sewell.
Now that you've had this blast from the past, the Pumpkin Spice Latte seems a lot older, doesn't it? If you want one, there's only a week left before you can fire up "Hey Ya!" on the old iPod and head down to Starbucks.