Starbucks Just Hinted On Twitter That The PSL Might Be Back Sooner Than You Think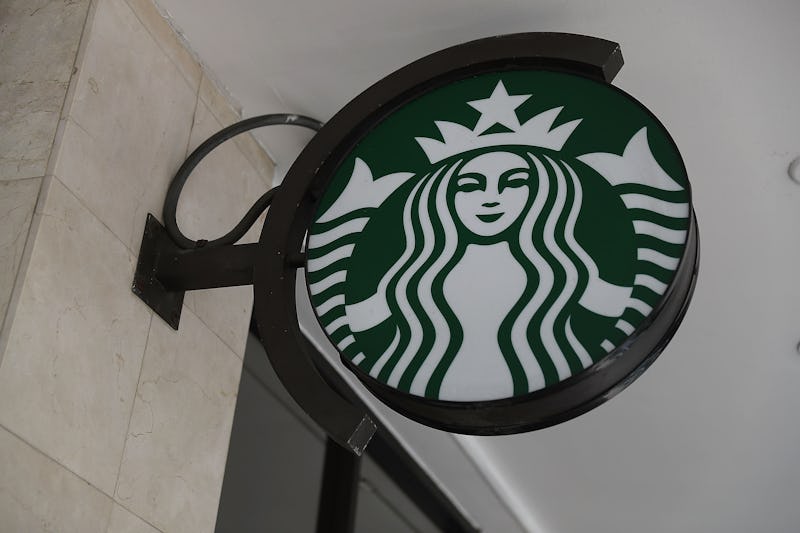 Joe Raedle/Getty Images News/Getty Images
It's the beginning of August, which means two things: we're just getting through the peak of summer and it's hot AF outside, and also, it's officially time to start counting down to autumn. The first day of fall might still be almost two months away, but that doesn't mean you can't start looking forward to it now! As fun as summer weather can be — it's hard to complain about beach weather sometimes - the fall often has some of the best weather out of every month of the year. Who isn't going to get excited about the arrival of crunchy leaves, cute sweaters, and the ability to go outside without becoming immediately covered in sweat? Think about all of the pumpkin-flavored food that is about to come your way! Speaking of which, you may be wondering when Starbucks' Pumpkin Spice Latté will be available in 2018 this year, which is only natural. It is, after all, the most superior of all PSLs. (Bustle has reached out to Starbucks in regards to this question, but has not yet heard back.)
And although it might still be 90 degrees outside for, well, a while, your favorite coffee beverage will be here before you know it. (Bustle has reached out to Starbucks in regards to the question of exactly when, but has not yet heard back.) Starbucks typically starts selling Pumpkin Spice Lattés around late August or early September — aka, while temps are still scorching. Last year, the PSL was officially made available in stores nationwide on Sept. 5, 2017. However, a lot of stores were selling them even earlier than that, beginning on the first of the month.
This year, though, you might be able to buy the drink earlier than usual. According to a report by Business Insider, there's a possibility that the popular coffee drink could be available before September even begins.
As Business Insider reported, in late July, Starbucks created a Facebook group called the Leaf Rakers Society. The description says, "This is a safe place for a) pumpkins b) year-round scarf-wearers c) those who would rather work on their Halloween costume than their tan d) members of the Great Pumpkinwatch 2017 Facebook Group. This group serves as a forum where we constructively work together with Mother Nature to help Autumn arrive earlier in the calendar year. Maybe we get rid of August, or something?"
Apparently, within the group, rumors are swirling about when the Pumpkin Spice Latte is set to arrive in stores. Starbucks has not officially responded to any of the inquiries, aside from commenting on one of the questions with an emoji wearing sunglasses.
That doesn't give us much info, sure — but a recent Reddit post is a bit more telling. One user posted a photo of the PSL mix, supposedly in a Starbucks store, seven days ago:
Now, of course, this doesn't really mean anything either. One Starbucks employee who wishes to remain anonymous tells Bustle that they always get ingredients for limited-edition drinks in a few weeks before the employees are actually allowed to make the drink for customers. The employee also elaborates that, in 2017, their store received the PSL mix around the same time as this year — and the drink wasn't available until September in 2017.
The only thing we've heard out of Starbucks is this cryptic tweet on the official Pumpkin Spice Latté Twitter account (yes, that exists):
Considering it's the first tweet from the account in over a year, it's fair to say that a PSL is a'brewin'.
Basically, we don't know the exact date of the return of the Pumpkin Spice Latté just yet. But, with fall fast approaching, it'll likely be soon; it's just a matter of how soon.