17 Celebrities With Natural Hair To Inspire Your Next Look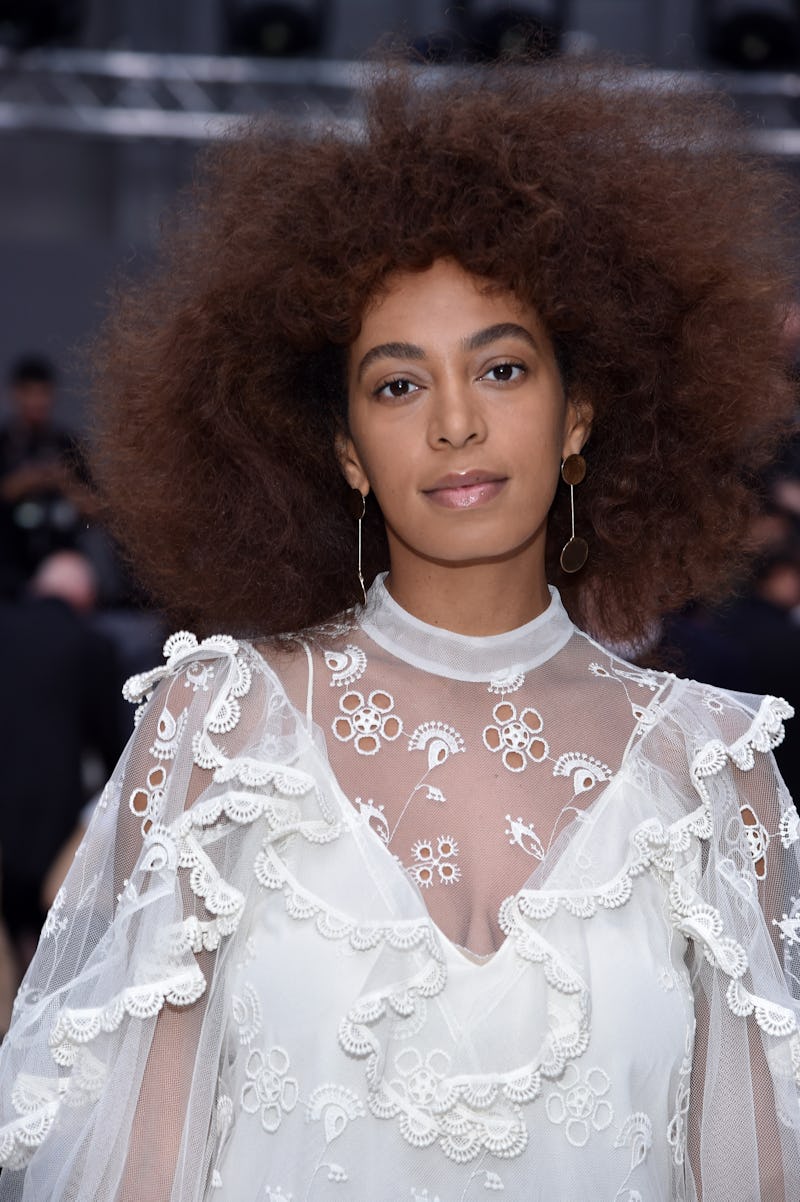 Pascal Le Segretain/Getty Images Entertainment/Getty Images
A-listers are known for adding clip-ins, weaves, and extensions to their hair to grace red carpets and brave the paparazzi. While there's certainly nothing wrong with the weave it to achieve it approach, the celebrities with natural hair give women of color some glorious hairspiration.
As perceptions about black natural hair continue to change, afro-textured manes are having their major moment. It's always refreshing to turn on the boob tube or pick up a magazine and see high-profile naturals rocking their curly manes. Whether they've always been bonafide curly girls or they take a break from extensions every now and then to embrace natural hair, there's a ton of styles worth stealing from the hottest celebs. From braided protective styles to dyed spirals to blown out fros, some of the best kinky-coily 'dos have been spotted on Hollywood royalty. If you're not apart of the natural hair club already, they'll seriously make you consider making the transition.
Fighting the urge to straighten your locks is so much easier to do when there are so many great sources for natural hair inspo. Absolutely werrrking their birth given texture like no other, these 17 celebrities are hair goals.
1. Lupita Nyong'o
Revolutionizing the way Hollywood perceives beauty, Lupita Nyong'o always manages to pull her beautiful, kinky tresses back into an elegant style.
2. Brandy
Brandy was born to be a naturalista's hair crush. The singer has rocked every dreamy braided and twisted style imaginable ever since the '90s.
3. Chrisette Michele
Chopping it all off and going blonde was one of the best hair moves Chrisette Michele could make. Golden spirals elevated her look like never before.
4. Tracee Ellis Ross
Though her fluffy, wild hair could make anyone drool, Tracee Ellis Ross switches things up quite often. Cornrows into a low bun have never looked better.
5. Diana Ross
Because Tracee Ellis Ross clearly gets it from her mama! Diana Ross is the epitome of big hair, don't care.
6. Yaya DeCosta
Showcasing her coils in a flip-over 'do, Yaya DeCosta is a curly-headed goddess.
7. Janelle Monae
The queen of hair accessories, Janelle Monae always slays the quirkiest updos complete with unique embellishments.
8. Kimberly Elise
The actress' twist outs always have some mega volume, something any naturalista could admire.
9. Solange
Bey's little sister has been the hair crush of naturalistas everywhere ever since she started showing off her natural texture.
10. Megan Good
Good took her look to the next level when she started making goddess locs her signature hairstyle. That honey blonde color is to die for.
11. Erykah Badu
Though her mane is usually hidden underneath massive hats and head scarves, when Badu does show off her wild tresses, it's nearly impossible to look away.
12. Angela Simmons
You'd never know Angela Simmons was hiding big hair underneath sleek weaves. Girlfriend sure knows how to make a blow out look glorious.
13. Willow Smith
It's obviously in Willow Smith's blood. With her mom and brother serving unique looks too, she comes from a family of natural hair trendsetters.
14. Zoe Kravitz
No matter the style or color, Zoe Kravitz always looks fierce. Even when she trades in her long locks for platinum blonde micro braids, she still looks beyond gorgeous.
15. Rasheeda
Underneath weaves and her signature top knot, Rasheeda is hiding silky, wavy tresses. Hair care is obviously a must for the reality star because she's always taking to Instagram to share her favorite natural hair products.
16. Alicia Keys
Keys is known for keeping her beauty routine simple. As a newbie in the entertainment industry, her braided styles were always so on point, but she even does messy hairdos like a boss.
17. Teyana Taylor
Rarely will you catch Teyana Taylor rocking a plain Jane 'do. Look to this trendsetter for the fiercest protective styles that are far from typical.
These women definitely know how to make the most out of their gorgeous hair, no matter what style they like to do it in. Remember this major inspo the next time you hit the salon.