17 Genius Instagram Caption Ideas For Your Vacation Food Pics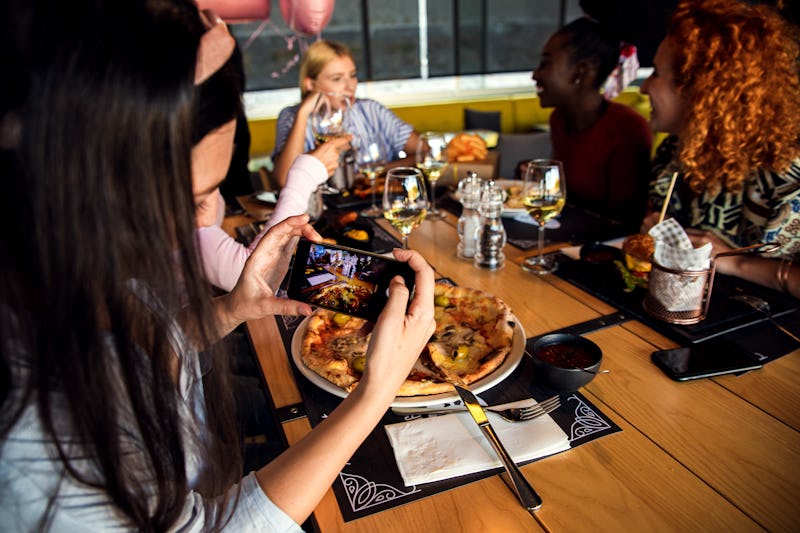 Shutterstock
Going somewhere fun for spring break, but more concerned about getting great food content than beach content? Same. If you, too, think that one of the best parts of traveling is getting a chance to try new foods so you can share said foods on social media, you're going to need to ready yourself for a full on social blitz when you plan your next vacay. Instead of taking a bunch of amazing pictures that only sit on your camera roll because you can't think of enough amazing captions to post with them, get ahead of the game: Put together a list of Instagram captions for your vacation food posts before you even go on vacation! Store the captions in your phone, and be fully prepared to fire off some excellent content on the go.
There's nothing worse than taking an amazing picture that you can't wait to share with your friends, but getting post-shy because you just can't think of a caption that will do it justice. You spend all of this time trying out captions that just don't seem to fit and then you get frustrated and give up. Don't let a great post pass you by! Your friends at home are refreshing their feeds waiting for epic vacation content (I imagine), so it's your job to provide the goods! Luckily for you, I just so happen to enjoy reading inspiring quotes about food from famous chefs, writers, world travelers and people who just get food.
So, here I've put together a list of quotes that make the perfect Instagram caption when you just can't find the words to explain exactly how "yum" and "life changing" your meal is. Just don't forget to add some relevant hashtags (#nom) if you want to reach people beyond your own personal social circle. The food and travel community on Instagram is epic, and you can easily use your next travel and dining experience to connect with cool new friends who share the same interests.
"To me, life without veal stock, pork fat, sausage, organ meat, demi-glace, or even stinky cheese is a life not worth living." - Anthony Bourdain
"Home is where the pizza is." - Troy Johnson
"Good food choices are good investments." - Bethenny Frankel
"There is no sincerer love than the love of food." - George Bernard Shaw
"Despite what psychologists will tell you, it's totally OK replacing love with food." - Troy Johnson
"A balanced diet is a cookie in each hand." - Barbara Johnson
"I'm a big believer in winging it. I'm a big believer that you're never going to find perfect city travel experience or the perfect meal without a constant willingness to experience a bad one. Letting the happy accident happen is what a lot of vacation itineraries miss, I think, and I'm always trying to push people to allow those things to happen rather than stick to some rigid itinerary." - Anthony Bourdain
"Salt is born of the purest of parents: the sun and the sea." -Pythagoras
"Nothing would be more tiresome than eating and drinking if God had not made them a pleasure as well as a necessity." - Voltaire
"The belly rules the mind." - Spanish Proverb
"Food is not just eating energy. It's an experience." - Guy Fieri
"Life is a combination of magic and pasta." - Federico Fellini
"He was a bold man that first ate an oyster." - Jonathan Swift
"Life is uncertain. Eat dessert first." - Ernestine Ulmer
"Food always tastes better when I'm away from my humdrum." - Troy Johnson
"All happiness depends on a leisurely breakfast." - John Gunther
"One cannot think well, love well, sleep well, if one has not dined well."- Virginia Woolf
This article was originally published on