17 Memes & Jokes That Make Beyoncé's Photo With Her Twins Even More Iconic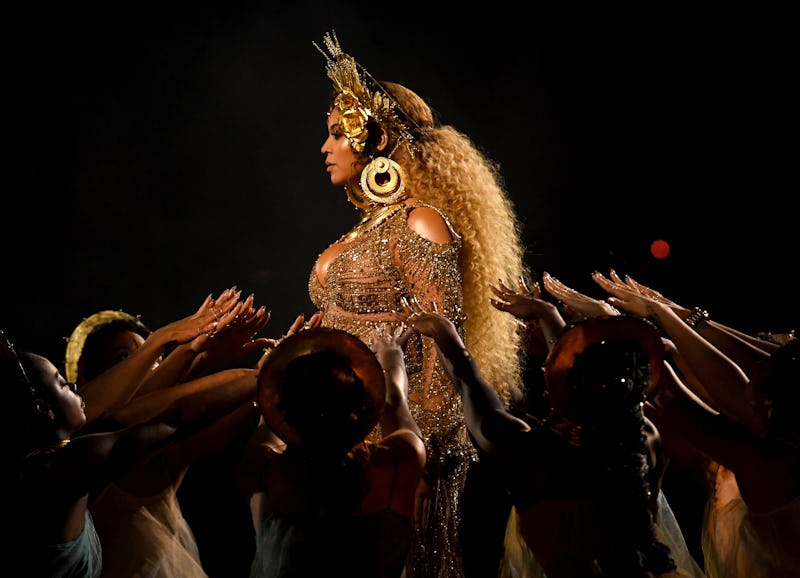 Kevork Djansezian/Getty Images Entertainment/Getty Images
On Friday, Beyoncé published a photo of her cradling her gorgeous twins, and the internet promptly lost its mind. And, of course, immediately began doing what it does best: coming up with memes and jokes about Beyoncé's twins photo. And how could you blame the digital subconscious that is the world wide web for getting a little overexcited? In an era in which people can be increasingly casual about significant life events, this snap is an oasis in the desert. Beyoncé has zero chill and she doesn't care who knows it.
Professional photographer? Check. Elaborate floral arrangement behind her giving her a halo of blooms? Check. Ocean view, because she's living her best life? Check. Full length veil? Check. Unbelievable silk underwear and flowing dress sleeves even though she's presumably sleep deprived and looking after infants? You bet. And two babies not one, because she's Beyoncé, godd*mmit? Ch-ch-check.
Perhaps even more intriguing than the visual is the accompanying text, which is fairly cryptic: why does just one twin (Sir) get the Carter moniker while Rumi retains just the first name? Maybe this is just Beyoncé calling it; Rumi's going to be the family superstar and goes by their first name just like Lorde or Madonna might.