17 New Year's Resolutions Every New Couple Should Make For 2018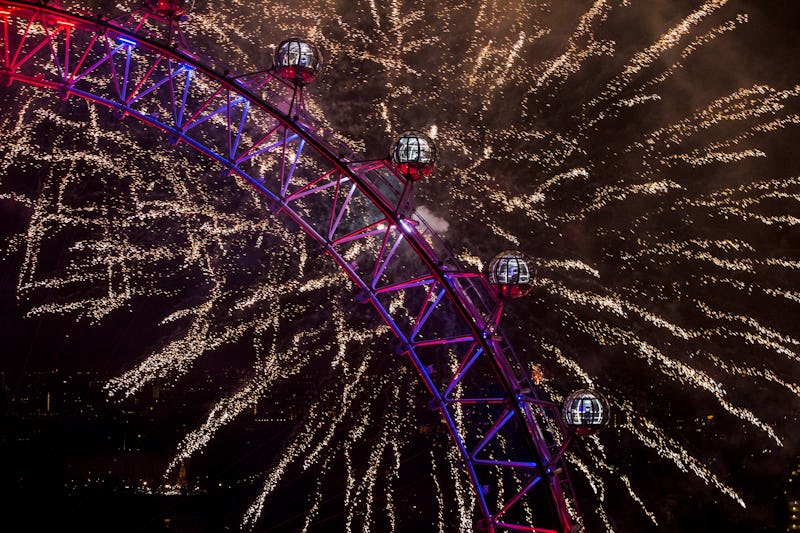 Rob Stothard/Getty Images News/Getty Images
As the snow piles up outside and holiday party invites pile up inside, it's beginning to look a lot like cuffing season. If you're an active participant in the time-honored tradition of finding someone to snuggle on those cold winter nights, you could probably use some New Year's resolutions for a new relationship. After all, breaking up before winter is over means more than just ending the relationship — it means you will lose access to your personal, human-shaped space heater. That, my friends, is a true tragedy.
All jokes aside, navigating a new relationship can be more work than you might expect. People complain about the difficulties of maintaining a romance over the course of a lifetime, but it's easy to forget that even in the beginning, relationships aren't always sunshine and a dozen roses. Once the honeymoon stage is over, you have to actually decide whether you like your partner enough to spend time with them when you're not making doe eyes at each other across a candlelit table. If you do, great! If you don't... proceed with caution.
That's where the following New Year's resolutions come in. They aren't hard-and-fast rules by any means — ultimatums are bad news in any relationship, including your relationship with yourself — but they're guidelines worth keeping in mind over the course of 2018. Best of luck, kiddos!