18 Apps That Are Resisting The Travel Ban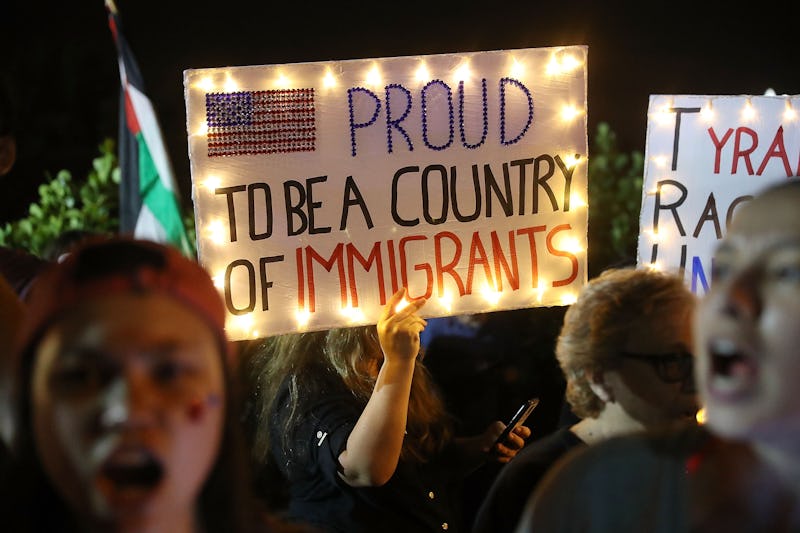 Joe Raedle/Getty Images News/Getty Images
The resistance to President Donald Trump's travel and refugee ban has spread across the country from airport arrival halls to bodegas, and even MoMa. But now that resistance is starting to occupy a more virtual space — or at least storage on your smart phone. That's because some 127 technology companies filed a brief opposing the travel ban, and some of them make apps. There are the companies you've heard of before, whose apps you likely dowloaded already like Facebook, Twitter, and Snapchat. But there are plenty more you might want to check out — these 18 apps are resisting the travel ban.
They signed an amicus (friend-of-the-court) brief in support of the case currently in front of the 9th U.S. Circuit Court of Appeals in San Francisco that challenges the ban. Washington state Attorney General Bob Ferguson filed that suit in Seattle last week, and a stay is currently in force nationwide thanks to the federal judge that first heard the case. The appeals court originally upheld the stay, but now Tuesday it has scheduled an hour-long oral argument for the Department of Justice to make its case for upholding the ban.
In the brief, the tech companies made a pretty good case for rescinding the ban:
The Order effects a sudden shift in the rules governing entry into the United States, and is inflicting substantial harm on U.S. companies. It hinders the ability of American companies to attract great talent; increases costs imposed on business; makes it more difficult for American firms to compete in the international marketplace; and gives global enterprises a new, significant incentive to build operations — and hire new employees — outside the United States.
Their words will carry some weight in the courts. Amicus briefs generally do, and the San Francisco setting of the hearing should mean that Silicon Valley has even more influence. While the ban is considered Tuesday, consider checking out some of the resistance apps you don't already have.