18 Father's Day Instagram Captions To Post About Your Dad If You Can't See Him This Year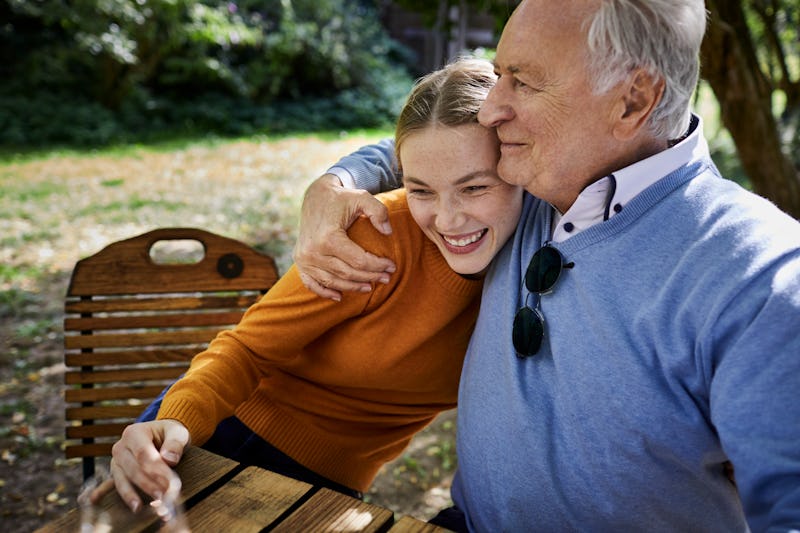 Oliver Rossi/DigitalVision/Getty Images
It might feel like Mother's Day just ended, but Father's Day is already almost here, and that means you need to start thinking of some ways to honor your dad. Of course you're probably going to buy him a card and maybe a gift, and you're also going to spend some quality time with him, but let's face it: it's 2020, and it's all about social media. Is it even a holiday if you don't post some sort of Father's Day quote on Instagram about your dad that explains exactly why he's the best, accompanied by a photo where you happen to look amazing? Nope.
Even if your dad isn't on Instagram, doesn't look at it, and really has no idea what it is (dads are great that way), you're probably still going to post something about him. We could be cynical and act like it's just for the likes you'll inevitably get, but let's be real: it's also nice to have a place to brag about your dad once in a while, if you guys are on really good terms. And it can be easier to do that on a platform like Instagram, where he won't see what you say and you don't have to worry about feeling vulnerable and embarrassed about saying it! Oh, and you could also totally make fun of him in a loving way without worrying about him taking offense.
So, even if your dad is never going to see your Instagram photo, and even if he doesn't understands what Instagram is, you should still post something. Below are a few ideas for Father's Day Instagram captions to post about your dad even if he's not on the site.
1. A good father is one of the most unsung, unpraised, unnoticed, and yet one of the most valuable assets in our society. — Billy Graham
Can't tell your dad how great he is in person? Do it on Instagram!
2. My father gave me my dreams. Thanks to him, I could see a future. — Liza Minnelli
He doesn't have to know that he's your biggest inspiration. That's only for your followers to know.
3. "My father gave me the greatest gift anyone could give another person: He believed in me." —Jim Valvano
This is such a sweet sentiment to share with others, even if you feel awkward sharing it with your actual dad.
4. "The older I get, the smarter my father seems to get." —Tim Russert
You can't actually admit to him that he's as smart as he thinks he is!
5. "To her, the name of father was another name for love." — Fanny Fern
Keep your Instagram caption short and sweet with this perfect message.
6. "Lately all my friends are worried they're turning into their fathers. I'm worried I'm not." — Dan Zevin
Again, there's no reason your dad has to know that you want to be just like him. But really, this is very cute.
7. "I talk and talk and talk, and I haven't taught people in 50 years what my father taught by example in one week." — Mario Cuomo
A statement to how much your dad has taught you in your life.
8. "A father is a man who expects his son to be as good a man as he meant to be." — Frank A. Clark
Shoutout to your dad for always trying to make you better than him.
9. "No one in this world can love a girl more than her father." —Michael Ratnadeepak
This is for all the daddy's girls out there!
10. "My dad's my best mate, and he always will be." — Cher Lloyd
This is a pretty adorable and simple Instagram caption for a really cute photo of you two.
11. "My father didn't tell me how to live. He lived, and let me watch him do it." — Clarence Budington Kelland
An ode to the way your father raised you.
12. "A father is the one friend upon whom we can always rely." — Emile Gaboriau
Okay, well at least you can admit this on social media, even if you can't admit it to your dad.
13. "Daddies don't just love their children every now and then, it's a love without end." — George Strait
Let everyone know that your dad's love is a forever thing.
14. "The heart of a father is the masterpiece of nature." — Antoine François Prévost, Manon Lescaut
This is another short and sweet caption idea that gets your point across perfectly, and it's not too sappy.
15. "If there is any immortality to be had among us human beings, it is certainly only in the love that we leave behind. Fathers like mine don't ever die." — Leo Buscaglia
The perfect caption for a cute photo of you and your dad!
16. "A girl's father is the first man in her life, and probably the most influential." — David Jeremiah
This is another thing you just can't admit to your dad!
17. "When my father didn't have my hand, he had my back." — Linda Poindexter
Looking for a short, genuine message? Use this caption.
18. "Being a daddy's girl is like having permanent armor for the rest of your life." — Marinela Reka
Okay, your mom might not be able to hear this one, but that doesn't mean Instagram can't.
This article was originally published on