18 Organizations To Donate To On Trans Visibility Day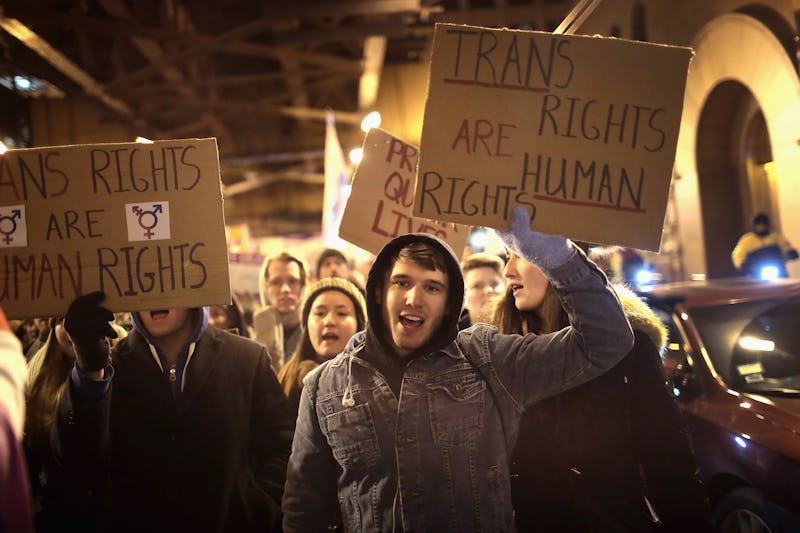 Scott Olson/Getty Images News/Getty Images
March 31 is Transgender Day of Visibility. It's a day of celebration, giving recognition to people who are transgender and gender non-conforming, and bringing attention to the accomplishments of trans people around the world. Transgender Day of Visibility focuses on empowerment, lifting up people in the trans community and showing support for trans rights. In addition to sharing your support on social, an easy way you can participate is by finding trans rights organizations to donate to.
The fight for trans equality is still very much a fight. This interactive map from the Equality Federation shows what LGBTQ legislation is happening in each state. For example, North Carolina's "bathroom bill," known as HB2, was repealed — but before you start your #HB2isOverParty, many LGBTQ rights groups, like the Human Rights Campaign, are calling it a fake "repeal." A new bill was put in place that overturned the initial house bill, which required individuals to use bathrooms at government-run facilities that corresponded to their gender assigned at birth.
This new bill repeals the bathroom-specific requirements stated above. However, it still leaves bathroom access regulation in the sole control of the Legislature. The new bill also prevents local government from passing or amending nondiscrimination legislation that relates to private employment and public accommodations. Essentially, the new bill is less of a repeal, and more of a roundabout way to prevent protections for LGBTQ individuals.
If you're looking to support equal rights for all (and if you call yourself a feminist, you should be), organizations like the ACLU and the Human Rights Campaign are great starting places. There are many organizations focused on trans rights and LGBTQ equality. Here are 18 you can donate to in honor of Trans Day of Visibility.