These Photos Of The Charlottesville Candlelit Vigil Are Hauntingly Beautiful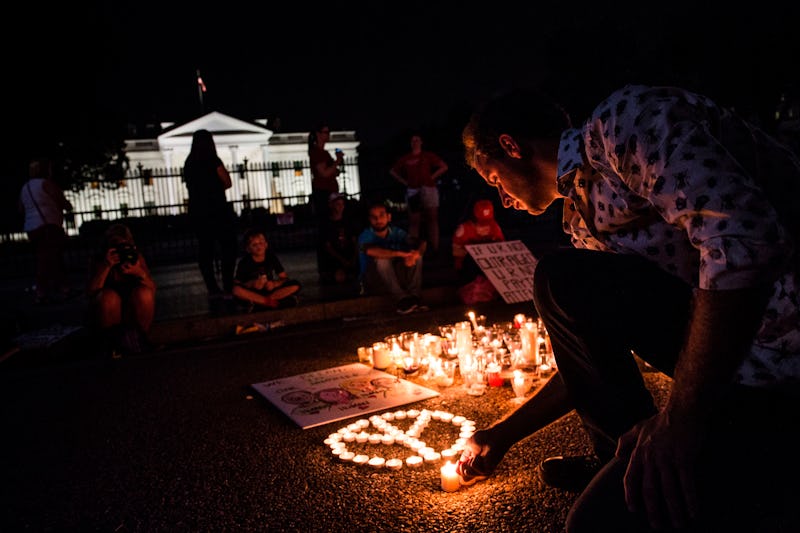 ZACH GIBSON/AFP/Getty Images
Crowds of hundreds of people once again filled the lawn at the University of Virginia in Charlottesville on Wednesday night — this time, lighting up the campus with candles instead of torches at a vigil honoring victims injured and killed during Charlottesville protests over the weekend.
Candles in hand, the growing crowd sang songs (from "Lean on Me" to "Amazing Grace" to "Good Old Song," UVA's alma mater), read poetry, offered moments of silence, and placed signs and tributes at the foot of the Thomas Jefferson statue on the campus' rotunda. They gathered to honor both the two Virginia state troopers killed in a helicopter crash during the "Unite the Right" rally and Heather Heyer, the 32-year-old woman killed while peacefully counter-protesting neo-Nazis and white nationalists.
Prior to the vigil, Heyer's mother, Susan Bro shared a few words about her daughter at a service, expressing the hope that her death will inspire others to continue fighting against racism, hate, and violence.
"They tried to kill my child, to shut her up. Well, guess what, you just magnified her," Bro said. "I'd rather have my child, but if I've got to give her up, by golly, we're going to make it count."
With other vigils taking place around the country (including Philadelphia, Akron, Ohio, Nassau County in New York, and others), Twitter was full of moments, videos, and images that captured the emotional weight and solidarity of the night.