18 Women's March Instagram Captions To Inspire Your Followers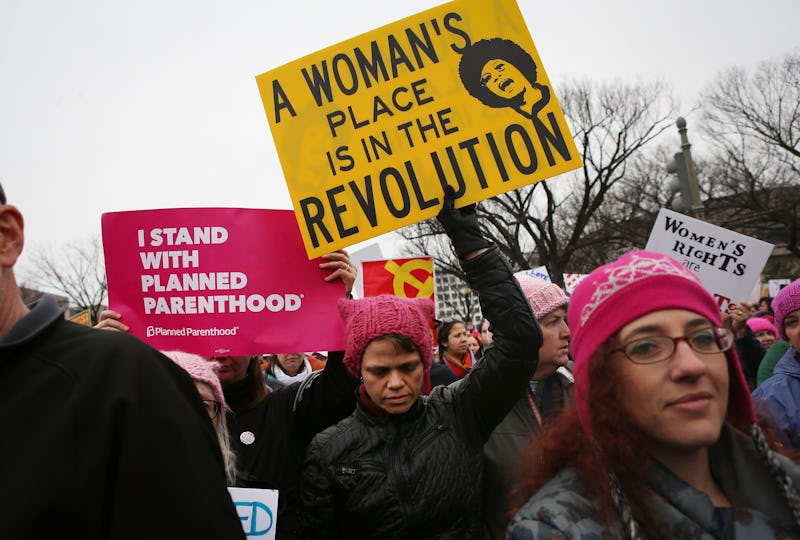 Mario Tama/Getty Images News/Getty Images
On Jan. 21, 2017 women around the country — and world — joined in a collective roar in a resistance against the inauguration of the 45th President of the United States of America, Donald Trump. A year later, on Jan. 20, 2018, the Women's March is set to vibrate city streets cross the country once again with those roars. If you're planning on documenting the sings, the chants and the sea of Pink Pussy hats famously freckling 2017's images, we have some inspiration for Women's March 2018 Instagram captions. If your caption inspiration doesn't already come from powerful statements printed on the signs floating around you during the march, there is a library of empowering lyrics and quotes that will further inspire you and your Instagram followers to get in on the action.
The theme of this year's march is "Power to the Polls". Events are taking place in cities across the country on both Sat., Jan. 20 and Sun., Jan. 21. The march comes ahead of the 2018 midterm elections in an effort to address voter suppression at the polls as well as voter registration.
In a press release, co-chair of the Women's March Linda Sarsour said of the event, "In addition to being willing to follow and support Black women, we all must commit to fighting the systemic voter suppression laws that inhibit so many of our communities from voting. This campaign will mobilize a new group of activists to create accessible power to our voting polls." Get your signs painted and your Instagram captions ready to accompany all those inspiring images you take. Find out where to march through Women's March website.
"I raise up my voice-not so I can shout but so that those without a voice can be heard...we cannot succeed when half of us are held back." — Malala Yousafzai
"There is no limit to what we, as women, can accomplish." — Michelle Obama
"So much bullshit but we won't give in/Stop, we won't stop/Don't you stop" — Le Tigre, "Hot Topic"
"Each time a woman stands up for herself, without knowing it possibly, without claiming it, she stands up for all women." — Maya Angelou
"When there are no ceilings, the sky's the limit. So let's keep going — let's keep going until every one of the 161 million women and girls across America has the opportunity she deserves to have." — Hillary Rodham Clinton
"We need women at all levels, including the top, to change the dynamic, reshape the conversation, to make sure women's voices are heard and heeded, not overlooked and ignored." — Sheryl Sandberg
"No woman should be told she can't make decisions about her own body. When women's rights are under attack, we fight back." - Kamala Harris
"If you think you're too small to have an impact, try going to bed with a mosquito." — Anita Roddick
"What I know for sure is that speaking your truth is the most powerful tool we all have." — Oprah Winfrey
"Who run the world? GIRLS." — Beyonce, "Run the World (Girls)"
"It took me quite a long time to develop a voice, and now that I have it, I am not going to be silent." — Madeleine Albright
"Cause we dope, girls we flawless, we the poster girls for all this" — Nicki Minaj, "Feeling Myself"
"If you don't like the road you're walking, start paving another one." — Dolly Parton
"I want a problem solver, a true rock climber/Pantsuit wearing her-storical first-timer" — Le Tigre, "I'm With Her"
"Organize, agitate, educate, must be our war cry." — Susan B. Anthony
"What you do makes a difference, and you have to decide what kind of difference you want to make." — Jane Goodall
"What you do makes a difference, and you have to decide what kind of difference you want to make." — Gloria Steinem
"I just love bossy women. I could be around them all day. To me, bossy is not a pejorative term at all. It means somebody's passionate and engaged and ambitious and doesn't mind leading." — Amy Poehler