What To Read After Watching 'Big Little Lies'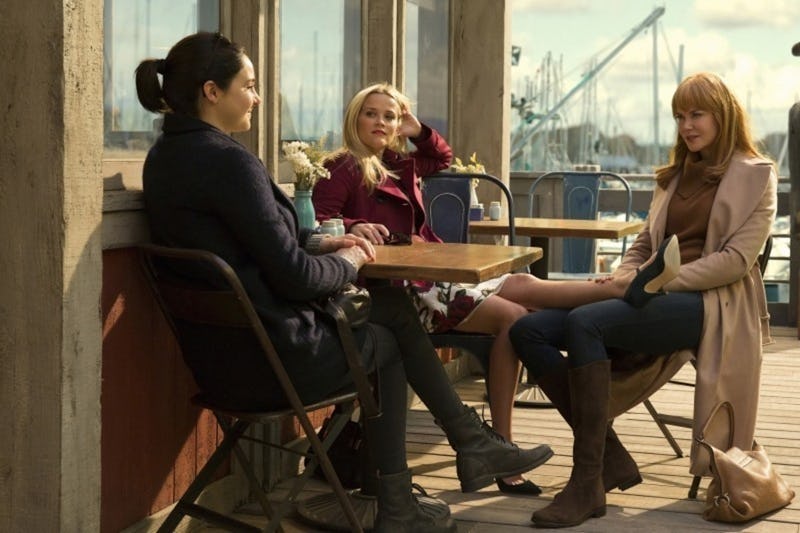 HBO
Based on Liane Moriarty's bestselling novel, HBO's Big Little Lies miniseries wraps up on Sunday night. For those of you left in the suburban-gothic lurch, I've got 20 books to read after watching the Big Little Lies finale, so that you can keep the intrigue and scandal going.
Published in 2014, Big Little Lies centers on three women — Jane, Madeline, and Celeste — whose children attend the same school. They forge a friendship and slowly reveal their secrets to one another: Celeste is trapped in an abusive marriage, Madeline has recently been forced to confront the struggles of co-parenting with her ex's new wife, and Jane is still searching for her rapist — who happens to be her son's biological father.
Moriarty's novel and the HBO miniseries adaptation revel in suburbia's dark underbelly. For U.S. readers, Big Little Lies satisfies a decades-long obsession with the suburban gothic, which began in 1972 with Ira Levin's pulpy satirical novel, The Stepford Wives. It's a murder mystery that deals with the dark and difficult issues that lie just below the surface of picture-perfect, upper-middle-class life.
Drawing on those themes, the titles below will keep you out of a slump once you're finished with the HBO miniseries. Check out my book recommendations for Big Little Lies fans below, and share your favorite dark suburban thrillers with me on Twitter!