19 Heartwarming Movies You Can Stream To Get Into The Holiday Spirit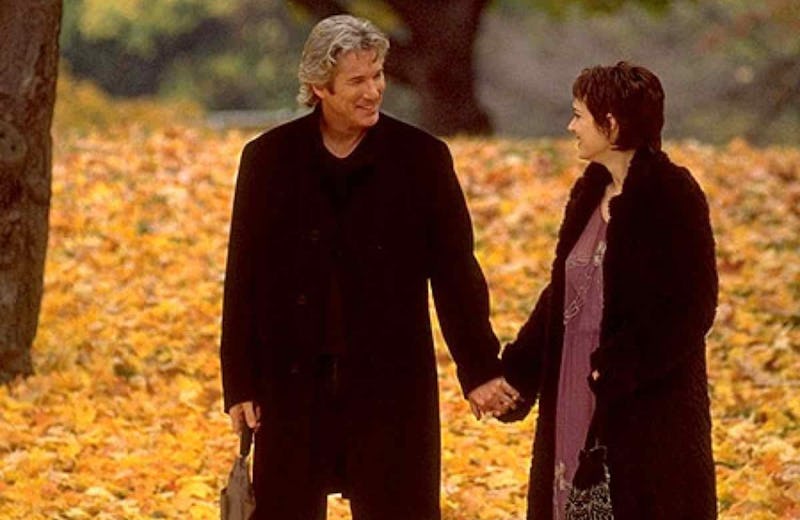 Lakeshore Entertainment
It's about time to start gearing up for the holidays. (Can you believe Thanksgiving is less than month away?) Whether you're ready for all the gift giving and family time already or you need to get yourself in the spirit, movies can really help set the mood. But if you've exhausted all your favorite holiday-themed films, it's time to look outside the box. These 19 heartwarming movies aren't all necessarily about the season, but they are guaranteed to give you the feels all the same.
You don't have to freak out yet, thinking about all the presents that have to be bought or holiday food that needs to be prepared. Think of November as a prep season to get your mind and spirit right for the holidays. Movies such as Home Alone, Autumn in New York and It's a Wonderful Life will definitely add a little cheer to your days, and awaken your inner optimist. No matter what your favorite genre is, whether you go for family films, cartoons or rom-coms, you'll definitely find something on this list that will make you laugh, smile and maybe even cry. All of these films are streaming right now, so bundle up and get watching.
1. Remember The Titans
A fall classic, Remember the Titans will have you all in the feels when it comes to team work, football season and reminiscing about your high school days.
2. Dead Poets Society
This tearjerker full of beautiful autumn foliage and is driven by one of Robin Williams' best performances ever.
3. Home Alone
The Home Alone series is great for watching with the family or by yourself — which would Kevin prefer?
4. You've Got Mail
A romance film set in the fall with New York City as its backdrop — it doesn't get more cozy than this.
5. Autumn In New York
The title of this movie really says it all. Have your tissues handy.
6. Love Actually
A classic Christmas rom-com, Love Actually explores nine different stories that intertwine and revolve around different types of love.
7. Stepmom
Seriously, this movie will have you in tears throughout its entirety. And it's worth every single one!
8. The Family Stone
A businesswoman (Sarah Jessica Parker) accompanies her boyfriend (Dermot Mulroney) to his outgoing family's Christmas celebration. Feeling a little antsy she asks her sister Julie (Claire Danes) to come along, and things take a mighty turn.
9. The Holiday
Kate Winslet and Cameron Diaz star in this film as two women who swap homes during Christmas because of their bad breakups and get way more than the escape they bargained for.
10. It's A Wonderful Life
This '40s classic will definitely have you preplanning you Christmas agenda. Jimmy Stewart stars as George Bailey, who learns what life would be like for his friends and family if he weren't around.
11. The Perks Of Being A Wallflower
Homecoming season always is an indicator of how close Thanksgiving and Christmas are — this high school drama will have you remembering how important everything seemed during your teen years.
12. Borrowed Hearts
Kathleen (Roma Downey) and her daughter Zoe (Sarah Rosen Fruitman) dream of owning their own house. So on Christmas Eve, they become acquainted with a businessman named Sam (Eric McCormack), who they pretend to be his family in order to get their home.
13. Bridget Jones' Diary
Bridget Jones' Diary follows a woman in her thirties who doesn't quite love herself or believe that love is possible for her. She eventually starts to discover her confidence, though she stumbles along the way.
14. Pieces of April
April (Katie Holmes) invites her mother and estranged family to her tiny New York City apartment for Thanksgiving dinner. The awkward get-together that ensues is one for the books!
15. Trading Places
Trading Places takes place during three major holidays: Thanksgiving, Christmas, and New Year's Eve — triple duty!
16. Hannah And Her Sisters
Three sisters make it a point to spend Thanksgiving dinner together three years in a row.
17. Home For The Holidays
This family comedy will remind you that you just have to get through the chaos of the season, and that bonding happens along the way.
18. This Christmas
A full house during Christmas is all Ma'Dere Whitfield (Loretta Devine) wants. But, when she finds out everyone is keeping secrets from her, the truths start to come out.
19. A Charlie Brown Christmas
What better way to prepare for Christmas season than to watch this iconic special? The musical selections alone just do something to your spirit.
This probably doesn't check anything off of your to-do list, but at least this list will help you remember how special the holidays can be.