20 Gallery Wall Prints With Bookish Vibes, All Under $25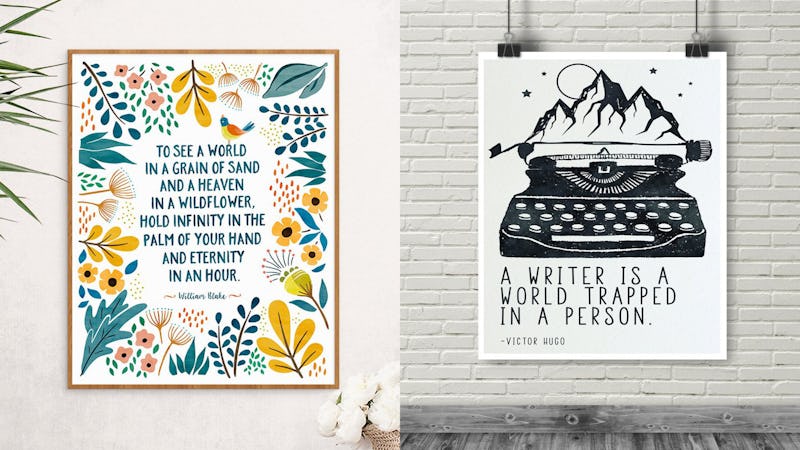 LucyLovesPaper/Etsy; RandomActsOfPoetry/Etsy
I have 20 bookish gallery wall prints for less than $25 that will help you add some literary style to your apartment. No matter whether you're a fan of classic literature, or just want to read Harry Potter over and over again until you die, I have the perfect print picked out for you on the list below.
In case you hadn't noticed, gallery walls have been sort of a thing for a while now. And although House Beautiful thinks that gallery walls — horror of horrors — might be over in 2019, I still think they're the perfect way to curate your own collection of art and inspirational pieces of home decor.
The 20 bookish art prints on the list below are an eclectic mix of hand-lettering, quotations, and beautiful paintings. Almost every one is available in multiple sizes and colors, but each of them has at least one option available for less than $25, so you can always find one that fits your budget. I've listed the lowest price in each product card below, but you should definitely check out what kind of size and framing upgrades you can afford for the ones you truly love.
'Anne of Green Gables' Art Print
Albus Dumbledore Quote Print
Hogsmeade Travel Poster Print
'Fantastic Mr Fox' Print
FDR Quote Print
'Outlander' Song Print
Typewriter Print
Jane Austen Quote Print
Zelda Fitzgerald Quote Print
'Jane Eyre' Print
'Wuthering Heights' Print
"Carpe Librum" Print
William Blake Print
Victor Hugo Quote Print
"Read More Books" Print
Maya Angelou Quote Print
"Bartleby, the Scrivener" Print
Samuel Beckett Quote Print
"Wynken, Blynken, and Nod" Print
Neil Gaiman Quote Print