20 Political TV Shows To Stream If You're Already Missing 'Veep'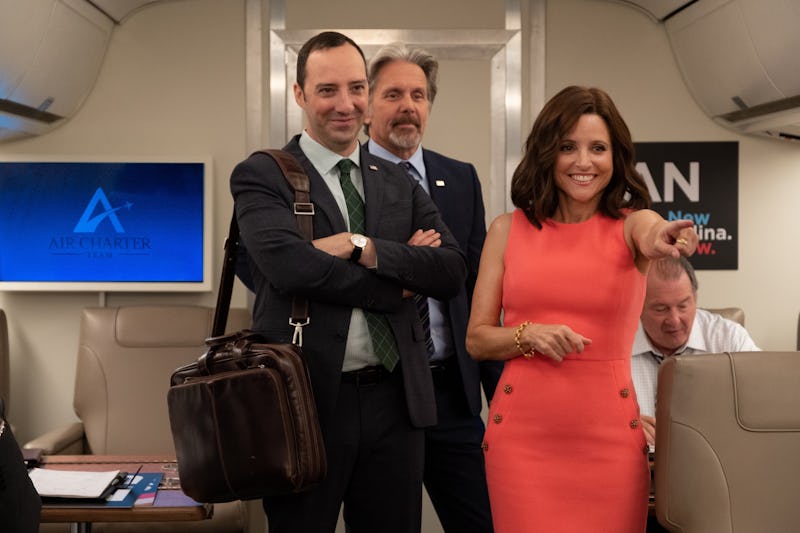 Colleen Hayes/HBO
After seven long and hilarious seasons, Veep has officially ended, leaving a Meyer administration-shaped hole in all of our TV lineups. It'll be impossible to replace the show, especially since its cast was so iconic. Amy, Dan, Gary, Sue, Mike, Catherine, Marjorie, Kent, Ben, Jonah, Richard — the list truly goes on and on, and every single character had something special to offer Veep's story. In the wake of that brilliant series finale, it's still hard to accept that it's all over, but fortunately, there are plenty of political shows to watch after Veep if you're already missing the show.
Read more: Shows & Movies Like 'Bridgerton' To Watch After The Netflix Series
Of course, none of the below series can truly take Veep's place, and there are certainly some here with more straightforward, dramatic plots; most political shows tend toward the serious, and it's hard to match Veep's pitch-perfect satire. But if you can't get enough of incompetent government officials, international diplomacy crises, cheating scandals, or secret operations, there's definitely something here for you.
All of these are available to stream in some way, especially if you already subscribe to streaming services like Netflix, Amazon Prime, and Hulu. So, if you're already going through Veep withdrawals, consider adding these to your queue: