Here Are 20 Trans Rights Organizations You Can Donate To Right Now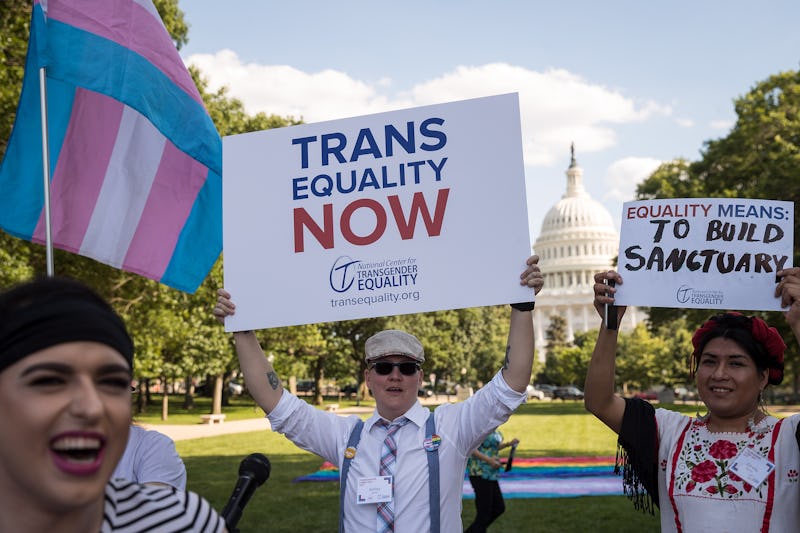 Drew Angerer/Getty Images News/Getty Images
Facebook, Twitter, and Instagram are full of messages supporting transgender rights, uploaded by trans people and their allies with the hashtag #WontBeErased. That's in response to a piece in The New York Times on Sunday reporting that the Trump administration is looking to redefine sex to totally erase trans people from federal non-discrimination laws. Protesting online and in person has been huge, and for those who would like to, here are 20 organizations to donate to that support the trans community.
Transgender and non-binary rights have been under attack just about since Trump was sworn into office. His administration has fought against the rights of transgender people in schools, health care, and the military — and the new memo that The Times reported is seen by trans advocates as even more severe.
With regards to Title IX laws on sex discrimination in education, the Department of Health and Human Services reportedly wants to give sex a legal definition as either male or female as decided at birth based on one's genitalia or genetic testing. Any legal gender change later in life would not be recognized based on that definition.
This list showcases some nationwide groups that will work hard to push back against that change — but there are also lots of smaller, trans-led organizations that make a difference in the communities they serve. There's likely a group similar where you live. Consider searching them out and donating there, too.