Trump's Western Wall Photo Op Turned Into A Meme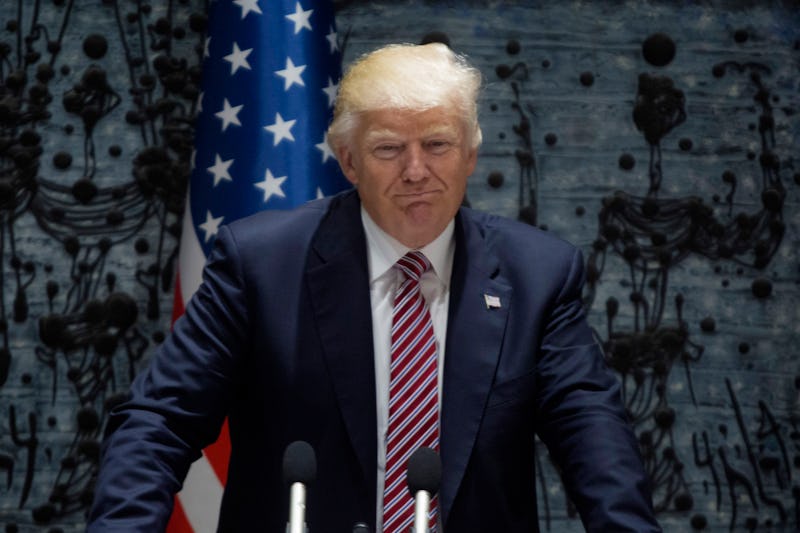 Lior Mizrahi/Getty Images News/Getty Images
This past weekend, President Donald Trump began his foreign trip to the Middle East and Europe. He first arrived in Saudi Arabia on Sunday, where he called on Muslims to drive out terrorists. On Monday, Trump traveled to Jerusalem and became the first sitting president to visit the Western Wall. Obviously, there was a photo-op involved as Trump took time to pray at the Wall. Unfortunately for the president, the photo of him touching the wall stripped of context created some very funny Trump Western Wall memes.
The Western Wall is the holiest site for Jewish prayer. Trump stood at the wall for a minute to pray, swaying back and forth, and then placed a note in a crevice, which is a custom for many who visit the wall. Photos of Trump raising one hand to touch the wall circulated, and many people couldn't resist comparing it to another wall that Trump has promised to build.
Surprisingly, the Western Wall memes are not even the first meme that has come out of Trump's Middle East and European trip. While in Saudi Arabia, Trump participated in the opening of the Global Center for Combatting Extremist Ideology, which will try to combat terror online. Trump joined Saudi King Salman and Egyptian President Abdel Fattah al-Sisi for a photo-op, in which the three leaders placed their hands on a glowing orb. The mystery of the glowing orb launched a series of memes ranging from comparisons of the Lord of the Rings films to Space Jam.
While the Western Wall is certainly a serious and holy site, it's difficult not to indulge in some funny imagery and commentary as Trump placed his hand on it.
1. Wall Jealousy
Maybe he can borrow it?
2. Examining The Structure
Looks sturdy.
3. Trump's Wish List
If you want something a lot and you write a note about it, maybe your wish will come true.
4. Or Maybe...
We knew it.
5. Longing For One To Call His Own
He just wants something for himself.
6. Interested In: Walls
Also likes trucks, taco bowls, and two scoops of ice cream.
7. I'll Love You Forever
Nothing can tear them apart.
8. That's Not What That's For
The Western Wall was built for different reasons.
9. Just Admiring The Handwork
*Takes notes*.
10. Searching For Tips About Wall Building
She'll never tell how she was funded.
11. Asking The Source
Unfortunately, the wall was as silent as a stone.
12. Anybody Know The Contractor For This Property?
What if this is the whole reason for the trip?
13. Relationship Goals
The greatest love story of its time.
14. Debating Whether He Grabbed The Wall
Luckily, only one party needed to consent in this case.
15. Maybe This Is What He Wrote
Will Trump ever stop bragging about his victory?
16. The Moment Inspiration Struck
Unfortunately, it's not a wishing well.
17. You Can Pick One Up At The Gift Shop
It's not that easy.
18. Coincidence?
Suspicious timing that a sinkhole opened up at Mar-a-Lago.
19. Oh, Yeah, Ivanka Was There, Too
A valid request, tbh.
20. But Of Course...
Because why would Trump settle for a Western Wall when he can build a Southern Wall? Hopefully, the rest of Trump's trip isn't quite so eventful.