Memes That Make The Oscars Even More Enjoyable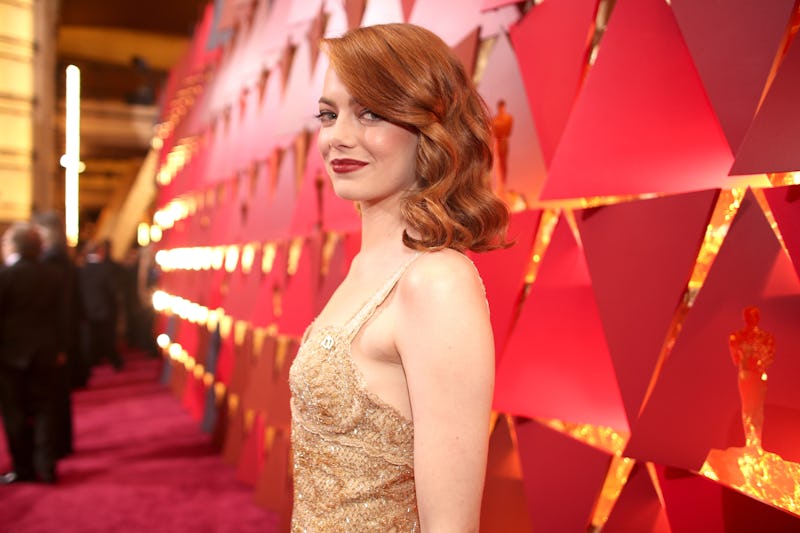 Christopher Polk/Getty Images Entertainment/Getty Images
I love award season for two reasons: Seeing all my favorite stars dressed all fancy in one place, and the way the internet reacts to the big event. On Sunday night, the 2017 Oscars finally aired, and that meant loads of new material to laugh at and roll my eyes at. And fortunately, following along with the night's events online means that even the most boring parts of what can end up being a super long ceremony are way more entertaining. And this year, there are plenty of 2017 Oscars memes and tweets that make the experience of watching the awards that much better.
Between the cute moments that happened during the red carpet arrivals and everything that went down at the actual show, including those occasionally strange acceptance speeches, no stone was left unturned by the beautiful people of the internet. Funny moments were made even funnier, and those dreaded awkward moments that are always inevitable were made that much more awkward. But isn't that the beauty of this kind of thing?
Here are my some of my favorite memes and social media reactions that have come out of the 2017 Oscars. I'm already pumped for what next year's show will bring.
This Awkward Red Carpet Moment
It's fine, Seacrest. Plenty of people were happy to see you.
This Outfit Comparison
The ruffles were an interesting choice, but Gosling may have had a little inspiration...
Sunny Is The Cutest, Let's Just Admit It
Honestly, any meme involving Sunny Pawar (and OK, maybe also Dev Patel) is going to be a winner. I am basically Jim Halpert anytime I look at this child.
When Mahershala Ali Won Best Supporting Actor
Yep, pretty much same.
This Burn On Suicide Squad
LOL, but also ouch.
This Important Tweet About Viola Davis
How is this even possible?!
Taraji P. Henson's Reaction To The Oscars Snack
TBH, I get that way about Twizzlers, too.
This Important Zootopia Tweet
This is a good point.
This Beautiful La La Land Reference
It was a little obnoxious, but the segment where Jimmy Kimmel brought out the tourists was amazing, if only for this moment.
Bringing Back Steve Harvey
After what's easily the biggest Oscar mix-up in recent memory, people (including actor Zach Braff) made references to Steve Harvey's own Miss Universe blunder.
The Real Winner
Now that would have been a plot twist. But come on, everybody does love Beyoncé.