The Most Viral Tweet Posted By A GOP Lawmaker Is Basically 2017 In A Nutshell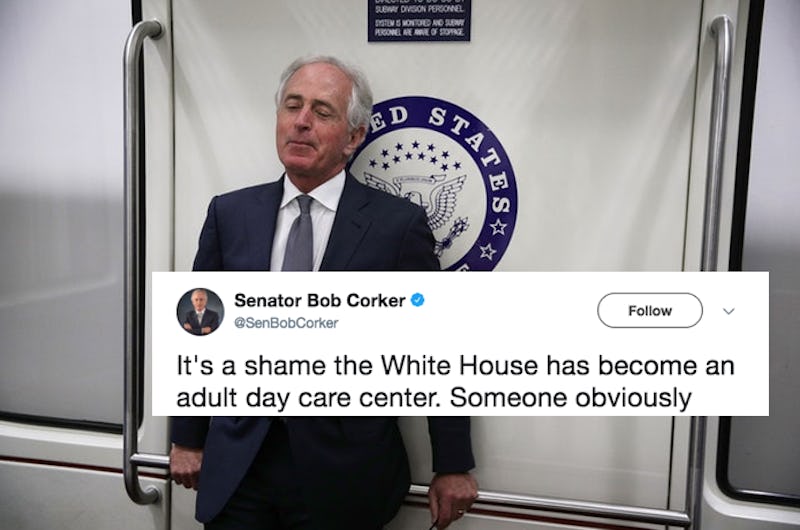 Alex Wong/Getty Images News/Getty Images
In an era in which the president of the United States announces not only pivotal policy changes but regularly taunts the leader of North Korea on Twitter, lawmakers and political leaders have taken to social media this year to voice their own concerns with Trump. A study conducted by Quorum about the social media habits of members of Congress revealed that Republican Sen. Bob Corker's tweet about the White House being an "adult day care" was the most viral tweet posted by a Republican lawmaker in 2017.
And Trump certainly noticed Corker's super popular tweet. After it was posted on Oct. 8, he hit back just as hard, tweeting that Corker has "begged" for his endorsement for re-election in Tennessee and then "dropped out" because he couldn't win without Trump. Failing to disprove the sentiment behind Corker's tweet, Trump then claimed that he had rejected Corker's bid for secretary of state, blaming him for the "horrendous Iran Deal" and failing to secure tax cuts in Congress.
Corker's chief of staff, Todd Womack, denied Trump's claim that Corker had "begged" for an endorsement, saying, "The president called Senator Corker on Monday afternoon and asked him to reconsider his decision not to seek reelection and reaffirmed that he would have endorsed him, as he has said many times."
Needless to say, the relationship between Corker and Trump has splintered in the previous months. While Corker stopped short of endorsing Trump for president, he claimed that he "supported" him. The GOP senator was then in talks for becoming secretary of state after having a "good meeting" with Trump. But after Corker announced that he was not running for re-election in September, his relationship with Trump faltered, with Corker implying that Secretary of State Rex Tillerson was not getting the support he needed from the president.
But the Quorum study didn't focus on Republicans only. It also found that the most viral tweet by a Democrat, which garnered nearly half a million retweets, was from none other than Sen. Bernie Sanders. The former presidential hopeful shared a photo from the history-making Women's March this past January.
It was clear before Sanders took to Twitter that the Women's March was a huge success. Millions of people rallied after Trump's inauguration to stand up against not only his reported derogatory remarks against women, but the slew of other policies changes made on the campaign trail that could hurt women, people of color, immigrants, and LGBTQ people. After the march, Sanders tweeted that, "President Trump, you made a big mistake. By trying to divide us up by race, religion, gender and nationality you actually brought us closer."
Health care was also by far the most widely discussed topic on Twitter. Reigning as the top mention on Facebook and Twitter, #Trumpcare was the most popular hashtag used by Congress members, followed by #ACA (Affordable Care Act).
Repealing the Affordable Care Act was a key component of Trump's presidential campaign. It was his way of winning over reluctant congressional Republicans who wanted the Obama-era law shuttered as soon as possible. But when Trump attempted to make good on his word, the GOP lawmakers' draft repeal legislation never made it all the way through the Senate. Eventually, Trump signed an executive order in October that would allow small businesses and individuals to collaboratively buy insurance plans, giving healthy people the opportunity to opt out of the health care market and potentially causing premiums to rise (and people to lose their coverage.)
While tweets scrutinizing Trump's latest move are by no means rare, the fact that a tweet comparing the White House to an "adult day care center" went viral says a whole lot about 2017.