Sundance Films That Might Get 2018 Oscar Nods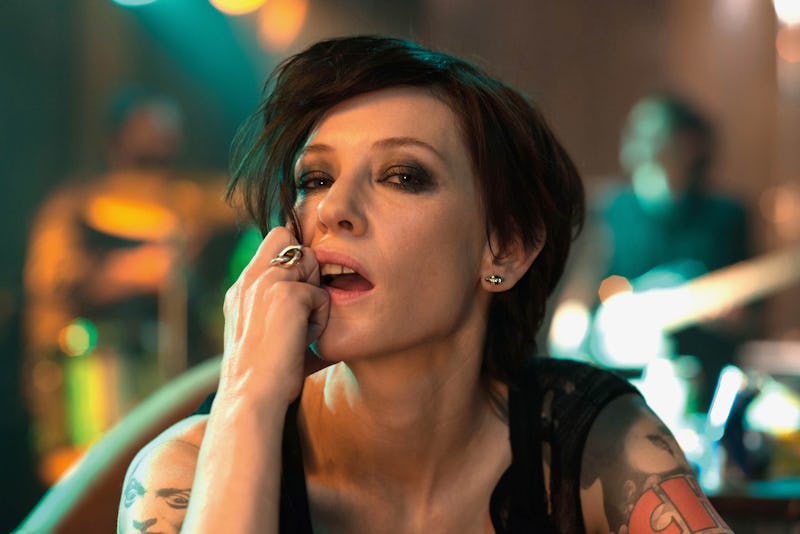 Schiwago Film
Bright and early this past Tuesday, the 2017 Oscar nominations announcement signaled the beginning of the end of this awards season. After months and months of speculation and campaigning and rising and falling fortunes, we finally know which films and actors will be in contention at the 89th annual Academy Awards. But while we still have one month left to go until that ceremony at the end of February, another awards season is already gearing up, believe it or not. So consider this your very, very early 2018 Oscar preview.
Almost every year, there are at least one or two major Oscar players that make their first impressions on viewers way back at Sundance Film Festival, held every January in Park City, Utah. In 2016, Captain Fantastic and heavyweight Best Picture contender Manchester By The Sea both premiered at Sundance; past Best Picture nominees that debuted in Park City include Brooklyn, Boyhood, Whiplash, Beasts Of The Southern Wild, Precious, and Little Miss Sunshine.
Of course, 12 months is an awful long time to sustain buzz; not every film can manage it. So, while not every film on this list is guaranteed to go the distance, there's a very good chance that at least a few of them will turn out to be Oscar players in February of 2018. Here are the titles to keep an eye on this year:
1. The Big Sick
Starring: Kumail Nanjiani (Silicon Valley), Zoe Kazan (Olive Kitteridge), Holly Hunter (The Piano), Ray Romano (Everybody Loves Raymond)
Co-written by Nanjiani and his wife, Emily Gordon, produced by Judd Apatow, and directed by Wet Hot American Summer's Michael Showalter, this film tells the real-life story of Nanjiani's and Gordon's courtship — and has been getting some of the best reviews of the festival so far. It was acquired for distribution by Amazon Studios, which pushed Manchester By The Sea all the way to a Best Picture nomination this year.
2. Call Me By Your Name
Starring: Armie Hammer (The Social Network), Timothée Chalamet (Homeland), Michael Stuhlbarg (A Serious Man)
Perhaps even more so than The Big Sick, this literary adaptation has been the breakout hit of this year's Sundance, with critics drawing comparisons between this gay romance and the likes of Moonlight, Carol, and Brokeback Mountain. It was picked up by Sony Pictures Classics, which has had a great track record with the Oscars thanks to the likes of Elle, Whiplash, Foxcatcher, Blue Jasmine, Amour, and Midnight In Paris.
3. The Discovery
Starring: Rooney Mara (Carol), Jason Segel (The Muppets), Robert Redford (The Sting), Jesse Plemons (Breaking Bad), Riley Keough (Mad Max: Fury Road)
Netflix tried to become the first streaming service to break into the Academy Awards last year with Beasts Of No Nation, but was sadly shut out. And, although Amazon beat them to the punch this year with Manchester, they're clearly still trying to land their first Oscar nod, debuting two separate films at this year's Sundance. This one stars two-time Oscar nominee Rooney Mara in a film that takes place in a world where the existence of the afterlife has been scientifically proven.
4. Get Out
Starring: Daniel Kaluuya (Sicario), Allison Williams (Girls), Catherine Keener (Capote), Bradley Whitford (The West Wing)
Sixteen months after Key & Peele aired its final episode, Jordan Peele is making a name for himself away from his former partner-in-crime with this unique horror/comedy/satire. It's certainly not the Academy's usual genre, but reviews have been glowing, and voters would do well to think outside the box when they're casting their ballots next winter.
5. I Don't Feel At Home In This World Anymore
Starring: Melanie Lynskey (Togetherness), Elijah Wood (The Lord Of The Rings), Jane Levy (Don't Breathe)
Netflix's second Sundance entry of the year comes in the form of this indie thriller about a woman at the end of her rope who, after she comes home to find she's been robbed, decides to take the law into her own hands and hunt down the perpetrators herself.
6. Ingrid Goes West
Starring: Aubrey Plaza (Parks And Recreation), Elizabeth Olsen (Martha Marcy May Marlene), Billy Magnussen (Into The Woods)
Plaza, known widely as the acerbic April on Parks And Rec, plays against type in this dramedy as a mentally unstable young woman who grows increasingly obsessed with an Instagram celebrity (Olsen). Things take a turn for the sinister when she decides to go to L.A. and befriend her obsession in real life.
7. Landline
Starring: Jenny Slate (Parks And Recreation), Edie Falco (Nurse Jackie), John Turturro (The Night Of), Jay Duplass (Transparent), Finn Wittrock (American Horror Story)
Three years ago, Slate took Sundance by storm with her acclaimed abortion dramedy Obvious Child; this year she's back, re-teaming with that film's director and producer team with this sprawling family saga that takes place in 1990s Manhattan.
8. The Little Hours
Starring: Alison Brie (Community), Aubrey Plaza (again!), Dave Franco (Neighbors), Nick Offerman (Parks And Recreation), Molly Shannon (Saturday Night Live), John C. Reilly (Chicago), Fred Armisen (Portlandia), Jemima Kirke (Girls), Adam Pally (Happy Endings), Lauren Weedman (Looking)
In the 13th century, a trio of nuns find their passions roused when a handsome young farmhand takes refuge in a convent, posing as a mute to escape the wrath of his evil lord. If you read just that brief synopsis, you might assume The Little Hours was some sort of Oscar bait-y period drama. But, given the cast list above, you can be assured that this is actually an irreverent, raunchy comedy starring some of our generation's funniest talent.
9. Manifesto
Starring: Cate Blanchett, Cate Blanchett, Cate Blanchett, Cate Blanchett, Cate Blanchett, Cate Blanchett, Cate Blanchett, Cate Blanchett, Cate Blanchett, Cate Blanchett, Cate Blanchett, Cate Blanchett, and Cate Blanchett
Art-house cinema doesn't get much artier than this. In fact, Manifesto was originally commissioned as a visual art installation in 2015, playing in museums across the world before having its theatrical debut in Park City this month. Two-time Oscar winner Cate Blanchett plays 13 different characters in the course of this experimental film — including a scientist, a punk rocker, a newscaster, a factory worker, and a homeless man — with each character delivering an extended monologue about the meaning of art.
10. Mudbound
Starring: Carey Mulligan (An Education), Garrett Hedlund (Inside Llewyn Davis), Jason Clarke (Zero Dark Thirty), Jason Mitchell (Straight Outta Compton), Jonathan Banks (Better Call Saul), Mary J. Blige
This literary adaptation was helmed by Dee Rees, whose film Pariah — a coming-of-age story about a young black lesbian — drew rave reviews when it premiered at Sundance five years ago. Mudbound tells the story of two families in 1940s Mississippi, and, if it can go the distance, Rees could become the first black woman ever nominated for Best Director at the Oscars.
11. Rebel In The Rye
Starring: Nicholas Hoult (Mad Max: Fury Road), Sarah Paulson (American Horror Story), Kevin Spacey (House Of Cards), Victor Garber (Alias), Hope Davis (American Crime), Brian d'Arcy James (Spotlight), Zoey Deutch (Everybody Wants Some!!), Lucy Boynton (Sing Street)
This year's Academy Awards are unusual in that they contain a shockingly low number of biopics up for major awards, and none of the frontrunners for Best Picture (La La Land, Moonlight, Manchester) are about real people. That could change next year if this story about J.D. Salinger, the infamously reclusive author of Catcher In The Rye, can position itself as a major Oscar contender.
12. Thoroughbred
Starring: Anya Taylor-Joy (The Witch), Olivia Cooke (Me And Earl And The Dying Girl), Anton Yelchin (Star Trek)
Both Taylor-Joy (who can currently be seen in Split) and Cooke (who is a regular on Bates Motel) are former Sundance darlings, having headlined two award-winning films that both debuted at Sundance two years ago. Now they're joining forces to star in this chilling thriller about two bored, amoral young women who decide on a whim to coerce a young man into killing someone for them. Thoroughbred will also be notable as one of the final roles of actor Anton Yelchin, who tragically passed away last year. The film was acquired by Focus Features, which has had Oscar success with the likes of Loving, Nocturnal Animals, The Danish Girl, The Theory Of Everything, and Dallas Buyers Club.
13. Wilson
Starring: Woody Harrelson (True Detective), Laura Dern (Wild), Judy Greer (The Descendants), Margo Martindale (The Americans), Cheryl Hines (Curb Your Enthusiasm), Mary Lynn Rajskub (24), Lauren Weedman (Looking)
Harrelson already has two Oscar nominations to his name; could he get a third for his performance as a neurotic man who meets his teenage daughter for the first time after reuniting with his estranged wife? It's definitely possible, since Wilson was picked up by Fox Searchlight, which recently shepherded two films — 12 Years A Slave and Birdman — to back-to-back Best Picture victories.
14. Wind River
Starring: Elizabeth Olsen (again!), Jeremy Renner (The Hurt Locker), Jon Bernthal (Daredevil), Gil Birmingham (Hell Or High Water)
Sons Of Anarchy actor Taylor Sheridan has had a lot of success as a screenwriter lately, penning both Sicario and Hell Or High Water — the latter of which earned him his first Oscar nomination for Original Screenplay. Now, Wind River marks his first time in the director's chair, as he films his own script about a rookie FBI agent (Olsen) who teams up with an experienced ranger (Renner) to solve a murder on a Native American reservation.
15. The Yellow Birds
Starring: Alden Ehrenreich (Hail, Caesar!), Tye Sheridan (The Tree Of Life), Jack Huston (Boardwalk Empire), Toni Collette (Little Miss Sunshine), Jennifer Aniston (Friends)
Soon, Ehrenreich will be known to the whole world as Young Han Solo; but first, he has this Iraq War drama about a young soldier who returns home from the war, reeling from the loss of his best friend. Jennifer Aniston continues her transformation into a dramatic actress as the grieving mother of the fallen soldier; she narrowly missed out on an Oscar nomination for the drama Cake two years ago. Could The Yellow Birds put her back in the running?
General audiences won't be able to see most of these films for several more months yet; but don't be surprised if you hear a lot of chatter about them next fall as the 2018 Oscar race heats up.