Tweets That Got Week 3 Of 'The Bachelor' So Right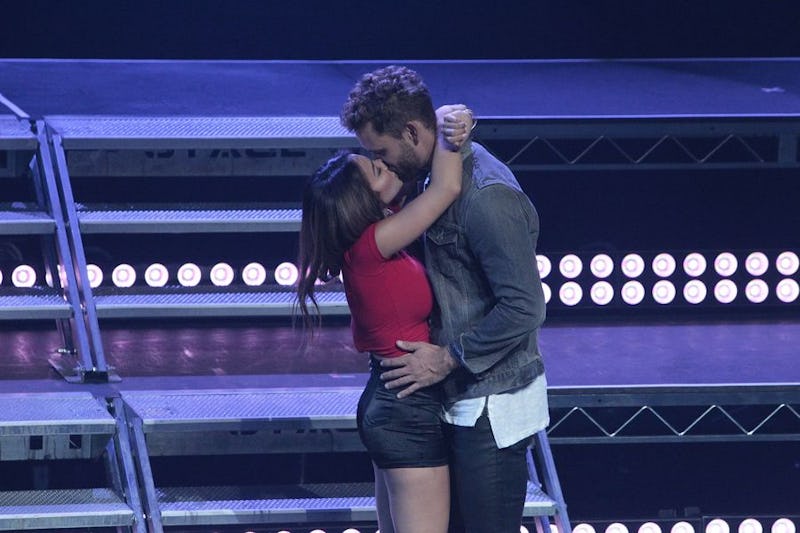 ABC/Rick Rowell
I'm sorry to pull a Chris Harrison on you, but this really is "the most dramatic season ever" of The Bachelor. Yes, I know we are only on Episode 3, but the feelings are strong and tears are flowing already. Thankfully, fans can all unite and "watch together" by live tweeting the episodes. There were so many tweets that got week three of Nick Viall's Bachelor season so right.
Reading through the tweets and seeing other devoted fans sharing your feelings brings the Bachelor experience to a whole other level. It is always validating to see that other viewers had the exact same reactions that you did to the most pivotal moments of the episode. I mean, if you're not live-tweeting The Bachelor, are you even watching it? Well, yeah, I guess you are, but you are not having the most fulfilling experience that you could.
If you're (weirdly) not in the habit of live-tweeting the show, then you at least need to get into the habit of live-scrolling while it's on (or at least during the commercials), so you can see what everyone else is saying. It really makes Bachelor watching into more of an experience. Trust me on this one.
I know that you want to see what everyone on Twitter has to say about this season's most-talked-about lady Corinne Olympios and (my personal favorite) Alexis Waters. Here are the tweets that explained everything you were thinking during the most crucial parts of The Bachelor's third episode.
1. When Corinne Slept Through The Rose Ceremony
Love her or hate her, you have to admit that Corinne is really making this show. Even when she's not around, she's still the one that everyone is talking about.
2. When Alexis Got Her Rose
Alexis is my favorite human ever. She is definitely the best part of this season so far.
3. When The Backstreet Boys Showed Up At The Mansion
I couldn't help wondering if these young bucks even knew who the Backstreet Boys are.
4. When Nick Told The Women About His Night With Liz
I don't know if Nick was grinning out of nervousness or what, yet somehow everyone seemed cool with his one night stand convo. Hopefully, we never have to hear about Jade and Tanner's wedding ever again... until the Women Tell All special.
5. When Corinne Said She Was More Excited To See Nick Than The Backstreet Boys
It's great that Corinne has her eye on the prize, but they all just met Nick.
6. When Jasmine Talked To Corinne About The Group Date
I could not help laughing when Jasmine, a professional dancer, talked to Corinne about being uncomfortable at a date where they had to learn choreography.
7. When Danielle L. Won The Slow Dance With Nick
Why didn't the girls go backstage? It was so savage making them stay and watch Nick and Danielle dancing from a few yards away.
8. When Corinne Saw Nick Kissing Danielle
I don't blame anyone for feeling awkward or upset seeing a guy that she likes kissing another woman, but Danielle did what Corinne does on every date.
9. When Alexis & Nick Made Out On Top Of A Giant Nick Poster
I have to assume that Alexis jacked the giant Nick poster from the track and field portion of the date? It was the strangest thing, yet no one really seemed to acknowledge it, which made it even weirder.
10. When Corinne Used The Phrases "Planned Dancing" & "Cheese Pasta"
I get it, we all say silly things and it's more likely for those sound bites to get air time on a reality show, but "cheese pasta" and "planned dancing" were just so cringe-worthy.
11. When Jasmine Fell On The Group Date
I cannot get enough of Jasmine. Her reaction to Corinne's nanny revelation and subsequent fall were priceless. She definitely represented how all the viewers felt, as well.
12. When Corinne Napped On The Group Date
Dating is exhausting, but how is Corinne so tired all the time?
13. When Nick Redeemed Himself During His Date With Vanessa
Where has this Nick been all season? This was the guy who I wanted to see as the Bachelor. Hopefully, we get to see more of him in future episodes.
14. When Nick Cried At Dinner
I almost cried watching Nick tear up during his date with Vanessa. He is taking this process seriously and I'm officially shipping this match.
15. When Nick & Vanessa's Date Ended
The chemistry between Nick and Vanessa is undeniable and they actually have conversations of substance. This what The Bachelor is all about.
16. When A Bouncy Castle Appeared Without An Explanation
Where did this come from? Did Corinne have a bouncy castle in her rolling suitcase or something? How does no one else in this house have the opportunity to surprise Nick with random activities? My money is on Corinne's nanny Raquel. She definitely had something to do with this.
17. When Nick Tried To Justify The Bouncy Castle Stunt As Wife Material
I get the point that Nick was trying to make, but if Nick is going to keep handing out roses to Corinne, he needs to devise a few more explanations.
18. When Nick Wore A Floral Tie To The Rose Ceremony
Maybe Nick was just trying to remind the girls that he's the one who hands out the flowers?
19. When Raven Told Nick About Corinne's Nanny
I'm glad someone told Nick about this, but I feel like she could have called out a few more red flags than the nanny thing. Plus, there are some definite advantages to marrying a woman with a nanny.
20. When Vanessa Called Out Nick At The Pool Party
YES. YES. YES. Vanessa has no qualms about telling it like it is and putting Nick in check. As if the viewers didn't already love Vanessa.
21. When Alexis Reacted To The Pool Party Behavior
Seriously, though. This pool party was completely eclipsed by that bouncy castle nonsense. This should have been Alexis' time to shine, yet we got zero dolphin references at all thanks to everyone freaking out over Corinne (as per usual).
22. When The Episode Ended With "To Be Continued"... Again
TWO WEEKS IN A ROW!? This is ridiculous. I like my episodes to end with a rose ceremony, so I can mourn the losses throughout the week and mentally prep for the next episode.
It's nice to know that I'm not the only one obsessed with tweeting about The Bachelor. These fans really understood exactly how I felt about this episode.