24 Bookish Mugs To Gift To Your Friends Who Love To Read With A Cup Of Tea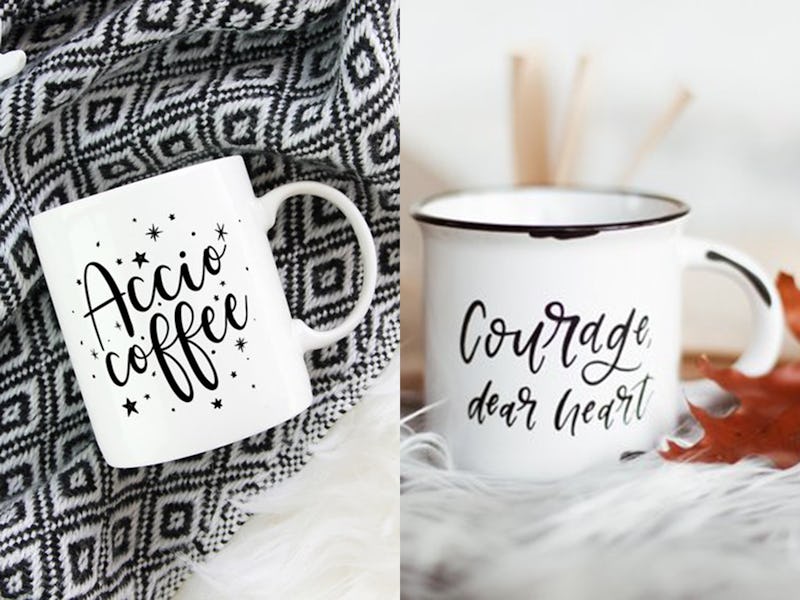 Etsy (2)
Coffee and books; tea and books. No matter what your hot beverage of choice is, you know that it pairs perfectly with a good book. For the fellow book-lover on your list, I've got 24 bookish mugs you can make into the perfect holiday present.
Holiday gifting is hard, y'all. Sure, it's the thought that counts, but everyone wants to be the best present-picker at the party. Giving someone something they can truly love and cherish isn't as easy as it might seem, however.
That's why coffee mugs make great gifts. Pretty much everyone enjoys a cup of coffee, tea, or cocoa on occasion, and there's nothing worse than not having enough mugs for guests you're hosting. Even when you think you can't possibly fit another mug in the cabinet, something happens, and you wind up with a handle-less tumbler and a little extra space in your mug collection.
Before you finalize your holiday shopping list, check out the 24 bookish mugs on the list below. You might find something you love — in which case, treat yo' self — and you're sure to find a great gift for a friend or loved one among this carefully curated collection.
1. John Keats "Splendor" Mug
2. My Dreams Were All My Own Coffee Mug
3. Go Away, I'm Reading Mug
4. T.S. Eliot Literary Mug
5. Espresso Patronum Mug
6. Not All Who Wander Are Lost Mug
7. I Just Want to Pet Cats and Read Manga Coffee Mug
8. Writing Fuel Mug
9. "Cool Story Poe" Mug
10. Courage, Dear Heart Narnia Mug
11. Do You Suppose She's a Wildflower Mug
12. Sorry, I'm Booked Mug
13. I Love the Smell of Books in the Morning Coffee Mug
14. Losers Club Mug
15. Bookstore Cats Mug
16. Banned Books Mug
17. Niffler Heat Changing Mug
18. Molly Hatch Icon Mug
19. Jane Austen Coffee Mug
20. Books Before Looks Mug
21. Harry Potter Hogwarts Crest Copper Mug
22. Accio Coffee Mug
23. Dobby Mug & Sock Set
24. Brontë Sisters Literary Coffee Mug